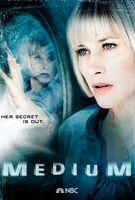 TV Info
---
Episode Premiere
April 27, 2009

Distributor
CBS, NBC

Genre
Drama

Show Period
2005 - 2011

Production Company
Picturemaker, Grammnet, Paramount Network


Cast and Crew
---
Director
Peter Werner
Screenwriter
Michael Narducci
Main Cast
Synopsis
---
Allison wakes up to realize Joe isn't next to her. She finds him lying on the lounge chair in the backyard. He is stressed by the mandate from his boss Terry to cut costs and lay people off. Allison explains that it was Lucas Harvey, her stalker, coming to her in dreams altering what and how she saw things. He is to blame for her bad information on the stocks Joe's boss purchased.
That morning, Joe reads the morning paper, but finds that Marie has cut out paper dolls from it, making it difficult for him to decipher the finance and stock section. At work, Allison speaks to Devalos, but becomes distracted when she sees Lucas Harvey watching her. At the morgue, Scanlon fills her in on a case that is similar to that of the women from her previous dreams that were being gassed and then murdered.
Lucas Harvey is still messing with her visions. While at the morgue, instead of seeing the actual dead body of the victim, she sees the body of her daughter Ariel. She knows that he is still messing with her, but becomes distracted. At the office, Joe is saying goodbye to some of his employees when one of them tells him about jobs many of them were able to find at "WILT," which is rumored to have been purchased by a company named "May." Joe remembers Marie's comment about her paper dolls that morning: "May will buy Wilt's house."
At school, Bridgette sees the nurse about a scratchy throat. When the nurse walks out of the room, she has a vision of Lucas Harvey, who threatens her life. That night, when Bridgette doesn't want sleep with the lights off, she tells Allison about having her vision of Lucas Harvey. Joe tells Allison later that night about Marie's paper doll prediction from earlier that morning. Joe thinks she is able to pick winning stocks.
Allison dreams of a man who is speaking to a cable company. While on the phone, he gets a drink from his refrigerator; in it are the gas containers. Then when he opens a drawer, she sees photos of his victims -- the women that were murdered from her previous dreams. She wakes up, calls Scanlon to tell him the news. She was able to hear the man's address in the dream and despite Scanlon's hesitation, he takes it down and pays a visit the following day.
Scanlon calls Allison with the news that the man from her dreams was in fact where she said he would be, except he apparently committed suicide. After Allison meets with Scanlon and Devalos about the death and capture of their murderer, Kevin Flynn, Allison has another vision of Lucas Harvey.
Joe meets with his boss Terry and proposes a new stock option. Terry is hesitant and tells Joe that he can buy the stock, not him. Joe offers to buy back his company from Terry if he makes the money from the stocks. Joe asks him for a couple days to get the money together. That night, Joe presents the idea to Allison, suggesting they invest their savings in Marie's predictions.
Allison has another dream. The murderer, Kevin Flynn, was visited by another man, a man who does the same thing in Scottsdale. They work in tandem. Afraid their cover may have been blown, the unidentified man kills Flynn. Allison pays Devalos an early morning visit to give him the news. Lucas Harvey appears as a vision again, telling Allison that he is simply allowing people who are meant to perish, perish. He believes that her interference alters God's work and therefore he must stop her.
Joe calls Allison to tell her that the stock they spoke about the previous night has exploded overnight. They should have invested. Terry called to congratulate Joe on the stock information and he in turn offers Joe the opportunity to buy his company back. That night, Joe encourages Marie to cut out more paper dolls, but she doesn't feel like it anymore because paper dolls are for babies.
That night, Allison has a dream about the Scottsdale murderer. Devalos calls to find out if Allison has any more information about the body of a young woman found in Scottsdale. The next day she and Devalos drive to Scottsdale to pay a visit to the morgue, where Allison takes some private time to ask the body of the woman for help, hoping her soul will come to her in her dreams.