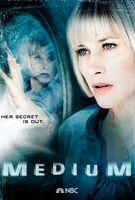 TV Info
---
Episode Premiere
April 20, 2009

Distributor
CBS, NBC

Genre
Drama

Show Period
2005 - 2011

Production Company
Picturemaker, Grammnet, Paramount Network


Cast and Crew
---
Director
Peter Werner
Screenwriter
Diane Ademu-John
Main Cast
Synopsis
---
Allison dreams of a stalker who writes her a letter threatening her life. He calls her "Devil Woman" and begs her to stop what she is doing or he will have to stop her. The next morning, Allison and Marie go through their mail. Marie picks up an envelope and asks her mom if they need to keep it. Allison recognizes the envelope and the writing on it from her dream.
Allison takes the stalker's letter to Devalos later that morning. Devalos shares with Allison his extensive folder of threatening letters he has received over the years. He also tells her that nothing has ever come of them. Joe meets with his boss Terry. Concerned with work costs, Terry asks Joe to look at places to cut back. As a favor, Terry asks Joe to ask Allison if she could provide some advice on whether to purchase stocks from a specific company he has been hearing chatter about.
While looking at a body at the morgue, Allison tells Devalos and Scanlon that she thinks the woman might have been gassed and to test the air in her lungs. On the way home from work, Allison runs into some car trouble. When she pulls over, a tow truck driver is there to help. Just as Allison is about to get into the tow truck, she notices the driver's tattoo. She immediately recalls her stalker dream from the night before; he has the same tattoo. She screams and runs for help.
While Allison is telling Devalos about the car incident, Joe is informed by the service shop that Allison's car pump was cut, not worn. Allison is now convinced that the stalker cut it purposely and followed her until the car needed to be pulled over. While at Allison's, Devalos gets a call from Scanlon, who is at the stalker's home. He asks Devalos to come and take a look alone, without Allison.
Devalos and Scanlon inspect the stalkers apartment and are taken aback by the wall covered in articles and photographs of Allison. He has dossiers on each member of her family. Devalos is concerned and has requested a 24-hour detail on the Dubois house.
The next morning, the house is booming with cops, and detectives waiting for any contact from the stalker. Terry calls Joe for an update on the stock conversation, but Joe hasn't had a second to ask Allison for help, considering the current circumstances. Scanlon stops by the house later the night to let them know that there is no new news on the stalker. While at the house, Scanlon fills Allison in on the case from the morgue. Allison was right, she was gassed.
Joe finally gets around to asking Allison to look at information about the company Terry is interested in buying stocks for. Unfortunately, Allison doesn't see anything while reading, but Joe hopes that she will eventually dream about it and be able to provide some information.
Allison has another dream, this time a woman jogging was attacked and gassed like the other woman at the morgue. The next morning, Devalos comes by and brings donuts and coffee for the family, assuming they are low on groceries. Devalos lets her know that the woman was in fact murdered and the gas traces were found, but she was found at a high school, not in the woods, and outside their normal jurisdiction.
While speaking to Scanlon, Joe brings Allison the phone; it's the stalker. The police attempt to trace the call while Allison speaks to him. Lucas Harvey, the stalker, tells Allison that he has been looking for her at work and for her kids at school. She argues with him that God gave her this power for good, not for evil. The police get the trace.
Joe hears the news that Lucas Harvey has gone missing again. While standing in the hallway, waiting for the groceries that Scanlon has picked up to be dropped off in the kitchen, Allison hears water running in her bedroom. She walks in and finds Lucas Harvey waiting for her. She screams. He grabs her, tries to drown her in the bathtub. As she struggles under water, a shot goes off; Lucas Harvey drops into the water covered in blood. Scanlon has killed him.
That night, Allison and Joe discuss Lucas and the impact he has had on the family. Scanlon is feeling guilty that the stalker got past him by posing as the grocery delivery guy. Allison dreams of another jogger. She sees a man with a dentist's license plate use the gas device and kill her. Allison tells Joe that she also dreamed about the stocks, and to tell Terry to buy them, the stock will be going way up.
Once he's at work, Joe calls Terry and passes on the information about buying the stocks. Later that night, Allison is waiting to hear from Devalos or Scanlon on the tooth doctor that she dreamed about. Scanlon arrives at the station to tell Allison that the girl in her dream about was killed yesterday and not by the dentist. The dentist has been in the hospital for four months after suffering from a stroke. Allison is confident about what she saw in her dream and confused how this happened.
That night, Terry calls Joe to fill him in on the bad news. He bought the stocks that Allison said would skyrocket, but the company went under. She was wrong. Joe now has to cut costs at the company to make up for the loss. Allison again defends her dreams.
That night, Allison dreams of the same jogger. But this time she is being held in a basement... by Scanlon, Devalos and Joe. Allison wakes up from her dreams and goes into the kitchen, confused.
Allison has a vision of Lucas Harvey. He has come to tell her that her dreams have been rendered useless by him. He has been messing with her dreams. That it must be God's will to have him sculpt her dreams since he was left to perish.