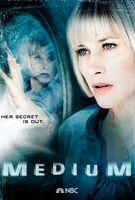 TV Info
---
Episode Premiere
March 23, 2009

Distributor
CBS, NBC

Genre
Drama

Show Period
2005 - 2011

Production Company
Picturemaker, Grammnet, Paramount Network


Cast and Crew
---
Director
Vincent Misiano
Screenwriter
Matt Witten
Main Cast
Additional Cast
Synopsis
---
In Allison's dream she sees a young man stop at a diner and ask a man standing outside for directions, but he is ignored. When the young man walks into the diner, he notices everyone in it has been brutally murdered. The man outside of the diner walks in and shoots the younger man. Just as the gun goes off, Allison awakes. When Allison gets up to research what she saw and comes up empty handed, Agent Cooper pays her a visit.
Agent Cooper gives Allison information on discovering a murderer who is moving the bodies of his victims. She takes the bait and alerts the police of Cooper's info, despite his lies in the past. Devalos is okay with sparing a few squad cars to check out the location Cooper gave Allison. Cooper was right; the police caught the man and he was arrested. Allison also fills Devalos in on her diner dream and the potential murders.
Lee checked out the diner Allison dreamed about. The waitress was okay, but it appears that the man doing the murdering in Allison's dream actually killed himself instead. That night, Allison dreams about the man again. Except he didn't take his own life, he was forced to hang himself. At work, Joe meets up with a man who was recommended to him by his boss, but he certainly doesn't seem to have any people skills.
Joe decides to hire his boss' recommendation. Turns out he has amazing intellect and provides solutions that may improve their process, or so it seems by the information he provided. Allison can't fall asleep and goes into the kitchen where she is met by Agent Cooper again. He gives her a name -- Michael Bradley, a serial rapist that the police have been looking for.
Allison awakes from a dream where she saw a woman who was forced to kill herself by the same teenage boy that forced the man in the diner to hang himself. Devalos and Scanlon are skeptical, but look into it. After getting the information she needs to find the teenage boy from her dreams, she gives Devalos the address Agent Cooper provided to find the serial rapist.
Ariel asks Joe about the drawings he had on his laptop. She had a dream about them the previous night. In her dream, a man named Clay asked her to tell her dad that they belonged to someone else, that the man claiming they are his is lying; he stole them. Joe isn't sure what to make of it. Allison heads to a local high school after finding the boy from her dreams pictured in the school's yearbook. She waits for him. Cooper appears in her car to provide her with an updated address for the serial rapist, but is more intrigued by her new fascination with high school boys.
Joe investigates if there's any truth to Ariel's dream. He finds an obituary for a man who worked with Hal, his new hire. He was a genius and Hal shared an office with him at their previous job. Joe tells his boss about it, but his boss can't trust a source he doesn't know.
Agent Cooper visits Brandon, the teenager Allison has seen in her dreams. He has been instructing the boy on how to conduct these "suicide missions." Cooper congratulates him on the success of his work thus far. Cooper has asked him to instruct these people to commit suicide as a preventative measure; as they would have killed others if they weren't killed first, or so Agent Cooper has told him based on information from Allison. Cooper has the young boy believing that he is saving lives by ending only a few.
Allison woke up from her dream after seeing that young Brandon is being coached by Agent Cooper. She gets up to call the police, but is greeted by Agent Cooper, who tells Allison that he needed someone to help, and since she wouldn't help him, he had to find someone who did. Allison promises to stop Brandon despite Cooper's warning not to interfere.
Joe asks Hal, his new employee, to talk through the schematics he previously provided, knowing he won't be able to solve the problem. Allison confronts Brandon at his school bus stop and tells him she knows everything that Cooper has asked him to do. She follows him home to discuss it further, telling Brandon that he can be tried for murder and she wants to help him.
Ariel wakes Joe up, who has fallen asleep on the dining room table, to tell him about her dream. The same man, named Clay, made her promise to wake up from her dream and write down some information to pass onto Joe about the schematics. Joe listens.
Allison wakes up from another dream. She sees a man who commits suicide by shooting himself in the head. She immediately calls the police. His wife was one of the women Brandon forced into suicide. Devalos gives her the news later that day that he has passed away, despite the hospital's efforts to keep him alive.
Joe meets with his boss to pass on the information that Ariel gave him the previous night. The information was correct and he has solved a major problem, making his boss very happy.
Allison leaves work late and gets into her car. Brandon has already written a suicide note for her and asks her to sign it. She then drives to the roof as he told her to do. Brandon holds Allison at gunpoint, telling her that he and Agent Cooper's work is too important for her to get in the way.
Allison puts doubt in Brandon's head about Agent Cooper's motives. Still being held at gunpoint, she continues to talk to Brandon. Agent Cooper arrives and tells Brandon to pull the trigger. The doubt that Allison's instilled in Brandon causes him to turn the gun on himself.