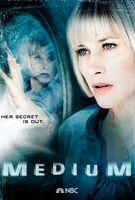 TV Info
---
Episode Premiere
March 10, 2008

Distributor
CBS, NBC

Genre
Drama

Show Period
2005 - 2011

Production Company
Picturemaker, Grammnet, Paramount Network


Cast and Crew
---
Director
Leon Ichaso
Screenwriter
Javier Grillo-Marxuach
Main Cast
Additional Cast
Gretchen Egolf
Bret Loehr
John Sloman
Robet Maxhmer
Synopsis
---
Ariel is at school where she sees a young man waving to a woman on the street. The woman picks up a gasoline container, pours it on herself and then lights herself on fire. Just then Ariel awakes from a dream. In Allisons dream, Joe is out hitting golf balls at the driving range with his father. His father tells him to take a vacation and go away for a few days to avoid a visit from his mother.
Allison wakes up to hear Joe talking to his mother. She has agreed to bring the money that Joe requested. Scanlon is in bed with his wife while his phone rings off the hook, but he won't answer it because he is supposed to be on a "sick out." Allison is getting the girls ready for school while Joe questions her about why she doesn't want his mother here. She confides that she's nervous about his mother's reaction to everything that came out about her in the papers.
Despite being a "sick cop," Scanlon takes a call to investigate a house fire where a woman has died. The firefighters believe that the fire was set on purpose; Scanlon isn't sure. Cythnia arrives at Allison's with a folder full of papers. Cythnia shows Allison folders of unsolved files in hopes of drumming up some buiness for the two of them.
The boy from Ariel's dream, Owen, is taken of out class and told something terrible; Owen breaks down outside the classroom. Ariel later finds out his mother has died. Ariel tells Allison about the dream and is unsure what she is supposed to do.
Scanlon is explaining to his wife why he isn't answering the phone and the overall purpose of the "sick out." She decides to take a call for him, and learns details about the house fire he checked out earlier. She passes on the information to him.
A man pickes up a woman on the streets. He takes her to his office - a dental office - instead of a hotel room. They begin to make out in the dentist's chair when she asks whether he has any good drugs. Allison wakes from a dream. Not sure, she looks through the files Cynthia left, thinking she may have hit on something. She finds a file on the woman in the dream - a hooker.
Allison tells Cynthia about her dream. While Cynthia steps away for a moment, Allison takes a call from Devalos who asks her to meet him at police headquarters later that day. Joe picks up his mother at the airport. He lets her know that they feel weird about never telling her about Allison's powers and her job, but she seems to understand.
Scanlon shares with Allison that he is working on an arson case and wonders if she has dreamt about any fires recently. She says no, not recalling Ariel's dream, but mentions that she is there at Devalos' request. Scanlon opens the door to the interrogation room and realizes they are working the same case, as Devalos is already in the room. While Allison works, Joe is at home with his mother, who gives him a check for $10,000.
The husband, Mr. Stacy, explains that he and his wife, whom he was divorcing, had gotten into an argument and that he left the house while she was still alive. After they finish the interrogation, Allison, Devalos and Scanlon go into the hallway to discuss the case. Allison suggests that she isn't seeing anything about that case.
Allison walks into the living room while Joe's mother is teaching the kids a new song. She welcomes Allison with open arms. Allison confides in Joe that she had a premonition they should run from her visit, but they are surprised to see her happy, easy and enjoyable. Just as they are getting into bed, Ariel comes in with a case file. She tells Allison that the woman in the file is Owen's mother, the woman she saw kill herself in her dream. Joe confronts Allison, asking why she didn't tell him that their daughter is dreaming about a woman who killed herself.
Ariel said the woman's last name was Kern, but in the articles she is referred to as Stacey, her married name from her second husband. Allison called both Devalos and Scanlon asking them to meet her at a local coffee shop. She tells them about Ariel's dream. Scanlon's argument is that no one actually kills themselves by burning to death when there are pills to take and other easier, less painful methods. Allison returns home to Joe, questioning why Ariel is having the dreams and not her.
Back to the dentist dream, Allison sees the woman in the dentist chair. Allison goes to Cynthia's to tell her about her new dream, that the man performed extensive dental work on the girl. Cynthia however isn't as impressed with her dream, telling Allison that she is paying her to dream information that is helpful to the cases; discovering the hooker is now a toothless hooker doesn't help much. At school, Ariel is called into the principal's office and asked to gather some of Owen's files from class.
Ariel gets Owen's file from class and reads a postcard that drops out, from Owen's mother. Back at police headquarters, Scanlon is questioned by the new DA as to why Mr. Stacy isn't behind bars for the burning death of his wife. Devalos is at home and takes a call from Mr. Stacy, who is unsettled about the case. Devalos asks him whether he knew his wife to be suicidal, but Stacy doesn't think that was the case, explaining that his wife loved to travel and be around people.
At home, Allison wants to talk to Joe's mother since they haven't had a chance to catch up. She explains to Joe's mom how her ability works. His mom confides in Allison that she isn't there on a whim, that she is sick and on her way to get treatment. She thought that maybe Allison may know something about her future, about the outcome. Allison explains that she doesn't know anything, but that she might as the date of the procedure nears.