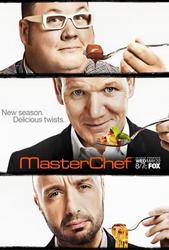 TV Info
---
Episode Premiere
July 24, 2012

Distributor
FOX

Genre
Reality

Show Period
2010 - now

Production Company
Reveille, Shine TV, One Potato Two Potato


Cast and Crew
---
Main Cast
Gordon Ramsay as Himself - Host / Judge
Joe Bastianich
Graham Elliot Bowles
Synopsis
---
With Josh back in the game, the three judges - Gordon Ramsay, Graham Elliot, and Joe Bastianich - introduce the remaining seven home cooks to the next Mystery Box Challenge. As usual, the person with the best dish will get a huge advantage in the next Elimination Test. Before opening the boxes, Chef Ramsay warns the competitors to open the containers carefully because what's inside is alive. The blind player, Christine, is nervous about the task ahead.
All the cooks take the covers off their boxes to find Santa Barbara spot prawns. Graham and Joe discuss some of the many upscale dishes that can be made using prawns, including jambalaya and prawn cocktails. In addition to the prawns, the home cooks will have access to a limited amount of ingredients in the MasterChef pantry.
The judges observe the contestants as they prepare their dishes. After winning a second chance to be in the competition last week, Josh promises Chef Ramsay that he's back to stay. Meanwhile, David worries about Josh's return, and Monti struggles with removing the live crustacean from her tank, splashing water all over Chef Ramsay.
Having carefully tasted everything throughout the preparation phase, the judges take one last look at the final presentations to select the three standout dishes. The first person they call up is Becky, who has now made the top three in five out of seven Mystery Box Challenges this season. She presents her grilled prawns with salsa verde and saffron rice. Chef Ramsay says that her dish is very smart and delicious. Graham tells her it's topnotch, and Joe calls it great.
The second cook to make the final three is Christine. Graham remarks that her spot prawn dish with pineapple broth is "wildly flavorful." Chef Ramsay welcomes her back to the top after a few weeks of less-than-successful dishes.
The final cook called to the judges' table is David. Joe describes David's spot prawn ceviche dish as having a "great sense of balance, something we rarely see from home cooks."
After discussing the three prawn dishes, the judges choose David as the winner. It's the first time David has won a challenge. Now he gets a huge advantage in the upcoming Elimination Test. Gordon, Graham, and Joe take David into the MasterChef pantry, where he's given the opportunity to choose the ingredient with which he and his competitors will cook. He can choose between bacon, corn, and beets. He's also told that as an added twist, the item must be used to create a dessert.
After careful consideration, David selects the corn. He decides that everyone would be able to use the bacon easily, and he's not too familiar with beets, so that would put him at a disadvantage. As an extra bonus David is shown three examples of desserts made with corn, giving him a further leg up over his competitors. The judges warn him that he does not have immunity and he can be sent home if he does not deliver.
David decides to make a corn-based rice pudding. He is given five minutes to shop the pantry by himself, but he makes a critical mistake when he forgets to grab the rice, his key ingredient.
The other chefs are then told about the challenge and are sent to the pantry to get what they need for their corn-based dessert. As they begin to prepare their dishes, David goes from one player to the next, begging for rice. Becky has some and generously shares it with her competitor. The judges are shocked, saying that David is a lucky boy. Chef Ramsay warns him that after being saved by Becky, he better turn out his best dish ever.
When time is up, each cook presents his or her dessert to the judges. First up is David, with his corn and rice pudding with salted caramel sauce. He thanks Becky for graciously giving him her rice. Joe asks which other contestants would have done the same thing if they had the extra ingredient. All except Josh raise their hands. Despite David's huge advantage, the judges tell him that his dish is inedible, disgusting, and weird.
Next, Becky brings forward her classy and trashy popcorn and panna cotta. Joe praises her sense of humor, Graham thinks it works, and Gordon tells her she gets stronger with each dish.
Christine makes a sweet corn and coconut pudding, which Joe calls complex and smart. Chef Ramsay then declares that Monti's corn soufflé is amazing.
However, Felix's corn profiteroles do not go over as well with the judges. Chef Ramsay says that they are dense, and Joe warns her to stay away from desserts.
Frank brings the mood back up with his corn budino with a chocolate ganache; his dish gets nods for being solid and well done.
Last up is Josh, with a corn crème brulee and corn caramel sauce. Joe thinks the dish is gross-looking and the taste is no better.
The judges confer about the dishes and select Frank as the runner-up and Becky as the winner in the Elimination Test. They will be captains in the next team challenge. Next, they call up Josh, Felix, and David for making the three worst desserts. Since Josh has been given a second chance in the game, he fears that he will be sent home. David, who knows he had a huge advantage and blew it, thinks he might be eliminated.
However, it's Felix, whom Chef Ramsay had once predicted could make the top three overall, who is sent home.