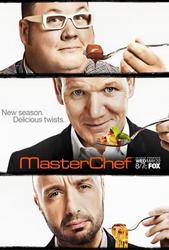 TV Info
---
Episode Premiere
June 19, 2012

Distributor
FOX

Genre
Reality

Show Period
2010 - now

Production Company
Reveille, Shine TV, One Potato Two Potato


Cast and Crew
---
Main Cast
Gordon Ramsay as Himself - Host / Judge
Joe Bastianich
Graham Elliot Bowles
Christina Tosi
Synopsis
---
The remaining 15 cooks are greeted in the MasterChef kitchen by judges Gordon Ramsay, Graham Elliot, and Joe Bastianich. Chef Ramsay informs them that the next test is their second Mystery Box Challenge. The person with the best dish will have a huge advantage in the elimination challenge that will follow.
As with every Mystery Box challenge, the contestants must prepare, cook, and present one incredible dish using all or some of the ingredients inside the box. This time around the package include some gruesome looking items, including veal brains, lamb hearts, bull's testicles, pig's kidney, chicken livers, cow's tongues, and lamb's heads. They have 90 minutes to make a dish using these exotic, gourmet ingredients.
Most of the cooks are baffled, staring at the cutting board not knowing what to prepare. Some, however, are very comfortable with unusual proteins. The judges make the rounds and find out that Ryan, Becky, and Christine are making sweetbreads, Monti is frying testicles, and Stacey is creating a slider from pork hearts. The judges are encouraged by what they see.
Throughout the Mystery Box Challenge, the judges taste elements of all the home cooks' dishes as they come together. When time is up, they take one last look at the completed presentations to choose the top three standouts. They first call up Becky. She brings her sweetbread duo with chicken liver pate and buttered toast. Chef Ramsay raves, "It's a bold move, but it worked beautifully."
Next they select Ryan, who has made sweetbreads with potato and shallot curry oil. Graham comments, "Great dish. I don't know if you could have done this better."
The last person selected for the top three is Christine. Joe calls her panko fried sweetbreads with bok choy "really terrific, a great accomplishment." In the end, the three judges choose Ryan as the winner of the Mystery Box challenge.
As a reward, Ryan win a big advantage in the elimination challenge. After the judges escort him into the MasterChef pantry, Chef Ramsay tells him the theme is fresh versus convenience. They show him three ingredients: ahi tuna versus canned tuna, bone-in ham versus canned ham or live crabs versus canned crabmeat. Due to his win, Ryan has immunity and does not have to compete - but he gets to choose the ingredient everyone else must use in the challenge. He selects crab.Ryan is also given the opportunity to divide the contestants into groups. Half will cook with live crab, and half will use canned crab. Ryan doesn't hold back when it comes to assigning the ingredients to handicap his fellow contestants. He makes some very personal decisions based on friendships and rivalries he's formed during the competition.
The cooks will have 60 minutes to create a stunning crab dish worthy of remaining in the competition. In the pantry they find out whether they will be using live crab or canned. Christine, MasterChef's first blind contestant, is able to get the live crab in the pot without incident, but she struggles to get the crabmeat out of the shell.
When time's up, Tali is first to present. Ryan, his buddy, gave him a live crab to work with. But the help may have backfired due to his inexperience. Graham says Tali's paprika butter with saffron and watercress sauce "looks like a horror movie." All three judges are dismayed to find that Tali used the crabmeat to flavor the sauce and not as the main element in the dish.
Next, Josh presents his Thai crab trio with curry and rice made from canned crab. Joe remarks, "The dish rises to the top."
Mike, who has never worked with a live crab before, brings up a crab bisque. Chef Ramsay wonders why he would take fresh crab and process it so it tastes like canned.
Tanya makes a Thai green curry with crab and rice. Graham calls it "a shining example of balance." Frank creates an orecchiette puttanesca with homemade pasta with canned crab. Joe compares it to Hamburger Helper.
Chef Ramsay is amazed by the visual presentation of Christine's dish and asks, "Are you really blind?" After tasting her ceviche cocktail with tomato juice, Chef Ramsay tells her that she "cooks like an angel." He then asks Ryan to come up and taste her dish, proving that his attempt to set her back by giving her the live crab did not work.
Helene is next with her Dungeness crab soup with cornbread made with the live crab. Joe tells her she has done a beautiful job of making fresh crab taste just like canned crab.
Last up is Monti. Her Scotch egg with a crab shell made with canned crab prompts Chef Ramsay to ask her, "What were you smoking when you came up with this idea?" But he chuckles as he admits that it's delicious. When Joe asks her why there is a sadness to her dishes, she explains that she just recently got a divorce. He replies, "He's missing some good cooking."
After conferring, the judges make their decision. They select two cooks who have made the most spectacular dishes. They say Josh has a brilliant dish, but the winner of the challenge is Christine. These two home cooks will be team captains for the next challenge.
Chef Ramsay then announces that usually they choose three dishes for the bottom, but this week there are four. Frank, Tali, Mike, and Helene are called forward. Three of the four cooks had fresh crab to work with but wasted the opportunity. Helene is named the person with the worst dish, and she is asked to leave the MasterChef kitchen and the competition.