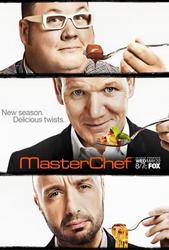 TV Info
---
Episode Premiere
June 11, 2012

Distributor
FOX

Genre
Reality

Show Period
2010 - now

Production Company
Reveille, Shine TV, One Potato Two Potato


Cast and Crew
---
Main Cast
Gordon Ramsay as Himself - Host / Judge
Joe Bastianich
Graham Elliot Bowles
Christina Tosi
Synopsis
---
It's Day 3 of the "MasterChef" auditions. The home cooks have one hour to prepare their dishes and then just five minutes in front of judges Gordon Ramsay, Joe Bastianich, and Graham Elliot to plate them. If two of the three judges think that the contestant has what it takes, he or she will move on to the next stage of the competition.
The first contender who's hoping to taste success is 29-year-old Stacey, from Apple Valley, California. The farmer's market manager is a recovering alcoholic who gives cooking credit for helping her maintain her sobriety. She serves an espresso-crusted New York strip steak with a chimichurri sauce.
Stacey gets a no from Gordon, but Graham sees her focus and gives her a yes. Joe is the tiebreaker, and he sends the dejected cook home. Graham asks Gordon and Joe to try the dish one more time. After reconsidering, Joe hands Stacey the first white apron of the night.
Next up is Rami, a car dealer from Dallas. One of the top salesmen in the country, Rami is full of confidence as he presents his scallops Florentine. He says that he'd pay $25 for the dish in a restaurant. After tasting the dish, Gordon tells him to get real. But along with Graham, Chef Ramsay sends Rami through to the next round.
Another batch of contestants come forward to face the judges with such dishes as seared skirt steak, surf and turf, a pan-roasted chicken, and a grilled veal chop. But after a number of split votes, none of these aspiring chefs gets an apron.
Only one home cook remains, 32-year-old David - a Graham Elliot look-a-like - who serves pescado with poblano atole. All three judges give David a yes, and he is the final contestant to win an apron.
The time to celebrate is short. The 36 competitors must now fight the ultimate battle in the "MasterChef" kitchen. Chef Ramsay announces that after the challenge is completed, the judges will take back at least half of the aprons.
Each cook will have 60 minutes to prepare a dish using two pounds of ground beef. Joe challenges them to use their imaginations and not prepare a bland burger. All the competitors will have access to the "MasterChef" pantry, where they will find everything they need to make their ideal dish.
Although she already feels behind, homemaker Monti takes up the challenge by making a beef roll with a romesco sauce. Christine makes a Thai Basil beef dish. As "MasterChef's" first blind competitor, she works with an assistant who guides her to the ingredients she has selected.
A.J. makes an orecchiette with broccoli rabe and miniature meatballs with fennel. His wife, Anna, prepares tarragon beef stuffed onion. Neither spouse has shared strategy with the other.
David creates what he calls a faux marrow by hollowing out a potato to serve as a vessel for the meat. He admits that he's afraid of other competitors' skills, but he absolutely feels he's keeping his apron.
Melanie is doing a Salisbury steak, but the meat looks overworked and mushy. Michael Chan is creating a fragrant broth, which shows good technique.
With one minute left, the contestants start to plate their dishes. Considering what they observed and tasted during the last hour, the judges split the challengers into three groups. Two of the groups are called forward, while the other competitors remain at their stations.
One group of 12 will already go straight to the competition. The immediate winners include Felix, Ryan, and Stacey, who had almost been eliminated at the beginning of the night. Unfortunately the members of the second group of 12 are all told that they are going home. That includes U.S. Army Station Commander Joel and Brazilian artist Raiza.
As for the final group, the judges say that they weren't sure. So they are asked to bring their dishes down to the front. Joe asks David Mack, Anna, A.J., and Tanya to step forward together.Joe finds Anna's beef stuffed onion interesting, but he finds her husband A.J.'s orecchiette pasta to be bland. Tanya presents her Persian kebab with red onion pickle salad and fried eggplant, but Gordon wonders if she can step outside of her comfort zone. The judges allow David and Tanya to continue. When it comes to the husband-and-wife duo, only Anna is told to keep her apron, while A.J. is sent home.
The next group of four consists of Christine, Bubba, Nandini, and Monti. Bubba has prepared a ranch stew with corn bread topping. Unfortunately, Chef Ramsay thinks that the crust outshines the beef.
Nandini presents her beef and spinach curry with Israeli couscous and potatoes. Graham says the dish is one-dimensional. Monti just hopes her beef roll doesn't make the judges vomit. She gets her wish and then some - the judges give her a spot in the "MasterChef" kitchen.Christine also moves forward, but Bubba and Nandini are both sent home.
The final four present their dishes. Courtney serves his spaghetti Bolognese, Rami his grape leave patties, Dave his faux bone marrow, and Cherie her roasted eggplant with garlic mash.
Courtney and Cherie are eliminated from the competition. With just one spot left, Dave and Rami step forward, and Rami is asked to relinquish his apron. With that, David becomes the final contestant rounding out the Top 18.