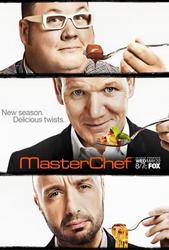 TV Info
---
Episode Premiere
June 05, 2012

Distributor
FOX

Genre
Reality

Show Period
2010 - now

Production Company
Reveille, Shine TV, One Potato Two Potato


Cast and Crew
---
Main Cast
Gordon Ramsay as Himself - Host / Judge
Joe Bastianich
Graham Elliot Bowles
Christina Tosi
Synopsis
---
In the second day of auditions, the competition intensifies as the search for the next "MasterChef" continues. As judges Gordon Ramsay, Graham Elliot, and Joe Bastianich take their places, the home cooks prepare the dishes that could change their lives forever.
First up to face the judging pane is a 24-year-old food server from Los Angeles named Felix. Like all the contestants, she has five minutes to finish her dish in front of the judges. If two of the experts think she has what it takes, she'll move on to the next round of the competition.
Felix prepares a crispy risotto with a steak tartar on top. The self-proclaimed wild card amuses the judges with her off-color remarks, but her dish underwhelms Chef Ramsay. Joe disagrees and gives her a yes. Graham is the tiebreaker, and he sends Felix through to the next round.
Next up is Luca, an Italian-raised restaurant manager from Astoria, New York. As he whips up his Venetian calf's liver with Parmesan polenta, he and Joe have a quick chat in Italian.
When Joe and Graham split the vote, it's up to Gordon to make the final call. He can't get past the imperfect presentation and tells Luca he's not advancing, but he does encourage him to come back next year.
However, it's not all bad news in the "MasterChef" kitchen. The following batch of contestants all walk away with aprons.
The next competitor is 24-year-old Brazilian artist Raiza, who has a sweet tooth that she hopes will impress the judges. She makes chocolate custard with a raspberry center and a cashew-nut crust. All three judges give her visually stunning and delicious-tasting dessert a resounding yes.
With nine aprons already given out on Day 2, a posse of cowboys present their creations to the judges. Bear's pan-roasted duck and Al's multi-ingredient egg dish don't pass muster. Even though El Bronco's offering doesn't look very appetizing, Gordon says that it "tastes proper" and gives him an apron for his efforts.
Another cowboy follows that trio. Mike is a 40-year-old contractor. He has entered the "MasterChef" competition in honor of his sister who was killed in a car accident six months earlier. Hoping to get the judges' attention, Mike pulls off a first in competition history, riding up to the judge's table on a white horse.
Luckily for him, his dish of pan-seared venison, creamed potatoes, and haricots verts lives up to the flashy entrance. Despite some hesitancy on Joe's part that Mike doesn't have what it takes to go all the way, he is sent through to the next round.
An unusual group of contestants comes forward next with their own batch of attention-grabbing tricks. But it's a no for a sorceress who wants to "bewitch the judges with desire," and another no for an eager puppeteer. While Gordon gives one hopeful chef's pet monkey a yes, the cook himself gets a no.
The next two home cooks are married to the kitchen - and each other. Anna and A.J. are supportive of each other, even if they can't agree on who's the better chef. As A.J. points out, "I love my wife, but I will take her down." A.J. is up first, preparing a New England dirty lobster. Anna brings up the rear, serving a white clam pizza. The question of who's the better chef remains unanswered when both A.J. and Anna score aprons.
This season "MasterChef" took to the backroads of America on a mission to find meals fit for an apron. Some of the small town home cooks made it to the auditions, but they don't fare well in front of the judges. Joe dubs Ned's smoked salmon a "conceptual, categorical, catastrophic" failure. The judges also reject the chefs who prepare squirrel pie and porcupine balls.
But Bubba still has a chance to turn things around in honor of the food truck competitors. Joe doesn't like the harmonica-playing cook's bacon-wrapped venison, but Graham and Gordon both see his potential and send Bubba through to the next round.
Call center assistant Craig prepares eggplant rollatini with truffle ricotta and linguini. Joe cringes when Craig uses a torch to melt his cheese, but he can't deny that Craig's dish is good and gives him a yes. Gordon doesn't see any finesse in the presentation and says no. Graham agrees with Chef Ramsay and sends Craig home.
A bulked-up group of tough guys fails to impress the judges and all strike out. That means there's still room for 28-year-old stockbroker Frank to win a slot in the competition. He serves guanciale ravioli with brown butter sauce. His pasta is too greasy for Gordon, but Graham and Joe see past the fat in the dish and give him an apron.
The final contestant of the day is Joel, a 37-year-old U.S. Army Station Commander originally from Jamaica. He started cooking when he was 12 years old, and he believes that he is America's next "MasterChef."
He prepares traditional Jamaican rice and peas with chicken and Scotch Bonnet sauce. Joel tells the judges that his dream is to have a restaurant called Jermaine's named after his son who drowned five years ago. He says, "I've been shot at, trucks blew up, and I'm still here." He feels this is the reason. Joe finds the dish to be under-seasoned and says no, but Graham and Gordon decide to put Joel through. With that, the second day of auditions is complete.