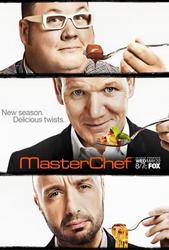 TV Info
---
Episode Premiere
August 25, 2010

Distributor
FOX

Genre
Reality

Show Period
2010 - now

Production Company
Reveille, Shine TV, One Potato Two Potato


Cast and Crew
---
Main Cast
Gordon Ramsay as Himself - Host / Judge
Joe Bastianich
Graham Elliot Bowles
Christina Tosi
Additional Cast
Synopsis
---
Tonight's "MasterChef" starts off with another Mystery Box challenge. The remaining 11 contestants must prepare, cook, and present one "incredible" dish using the ingredients in the box.
Tracy, a baker, is looking for the opportunity to bake, and she gets it: the challenge is to make the "most amazing" cupcake. "This is cash money in the bank," a confident Tracy declares.
The judges will only taste the three most enticing cupcakes. And the person who wins has a huge advantage for the next stage of the competition. The amateur chefs have only 45 minutes to bake and decorate the perfect cupcake; and they're off!
Sharone has no idea what he's doing. He's never made a cupcake before. Whitney has made lots of cupcakes; so has Tracy, who is using one of her mom's recipes.
Early on, Whitney, Tracy and Sharone appear to be in the lead. "God, she's so smart," Gordon says of 22-year-old Whitney.
But Tracy wasted time prepping -- her cupcake isn't done. "My cupcake is horrible," Tracy says as she starts to cry. Gordon gives her a "zero" for presentation.
Finally, the 45 minutes are up, and the Top 3 are named. Jake wows the judges with his chocolate lovers delight with raspberry coulis.
"He's clumsy like a bull in a china shop, but comes up with a handsome cupcake," Gordon says. Gordon thinks it could have been even better, but for only 45 minutes, he thinks Jake did a nice job.
Sharone, who never made a cupcake before, also makes the Top 3 with his hazelnut and pistachio cupcake with hazelnut cream cheese icing. Gordon calls it "absolutely brilliant, and Graham says it's "the prettiest one we've seen."
Rounding out the Top 3, Whitney shines again with her coconut cupcake with lemon glaze. Joe calls it a "very smart cupcake." But the winner of the challenge is Sharone. His cupcake was "absolutely phenomenal," Gordon declares.
At this point, an interesting behind-the-scenes facet of the competition is revealed: several of the other contestants don't care for Sharone.
"I don't like the dude," Slim says. "He likes to kiss ass a lot," Jake complains.
Nevertheless, Sharone now has a huge advantage: Three dishes have been prepared by celebrity chef Cat Cora: truffled halibut, fast beef tenderloin with a spanish rub, and greek-style marinated lamb chops with feta salsa verde. Sharone gets to pick the dish the contestants will make in the next challenge. He goes with the halibut.
Jake, who likes fish, thinks he has it in the bag, but Sharone has another huge advantage: If his dish is better than Cat Cora's, he will catapult to the final 4. Cat demonstrates her technique, which the contestants should imitate to prepare a stunning halibut dish. They have just one hour.
Sharone decides to use butter instead of olive oil and shallots instead of red onion to top Cat. "Put all that confidence and cockiness on the plate," Gordon warns Sharone. Meanwhile, the other contestants are trying to avoid elimination. David hopes his sauce is better than Cat's, and Slim thinks she is going home.
When the hour is up, the judges do a blind taste test: they don't know which dish is Cat's and which is Sharone's. One dish is "truly wonderful," the other is "world class." But Gordon says one is "absolute perfection"; it's Cat's! So much for Sharone catapulting to the Top 4.
Meanwhile, who's going home? Slim's halibut is "completely overcooked." Joe won't even taste her sauce. Tracy's fish is "excellent." David's sauce is NOT better than Cat's, and Mike's halibut is a little raw inside. "It's not working for me at all babe; I don't even want to eat it," Cat chides Mike.
On the other hand, Cat says Jake's dish is "absolutely beautiful" and the sauce is "absolutely stunning." Whitney's sauce is "a little runny," and her fish is "slightly overcooked." Faruq's fish is way too dry.
And the winner is Jake! Gordon says his dish was closest to Cat's. As Jake celebrates, Mike enters the bottom three. "How can you go from hero to zero in such a short space of time?" Gordon asks. Slim joins him (she forgot to strain her sauce), as does Faruq, whose fish lacks finesse. The contestant going home is Faruq.
"Keep your head high, you have come a long way in a short time," Gordon says as Faruq removes his apron. Faruq is happy to have had the experience, but he's bummed to leave so soon.
"I didn't get a chance to show what I can really do in the kitchen. I can cook, damn it!" he declares.
In the latest episode of "MasterChef," the Top 10 are about to be split into two opposing teams. Deep in the California desert, they'll be cooking for the backbone of America as they feed 100 hungry truck drivers. For this challenge, they'll be making the ultimate truck-stop dish: hamburgers.
"Nothing says America like a hamburger," Gordon says.
Jake, who won the last challenge, gets to hand-pick his team. He also has another advantage: He was a trucker for many years.
For the blue team, he picks Tracy, Whitney, Lee, and Tony. He does NOT pick rival alpha male Sharone. That leaves Sharone, Sheetal, Slim, David, and Mike for the underdog red team.
Each team has access to a truck full of amazing ingredients. To make the ultimate burger, they'll have to grind the meat themselves. They'll also have to decide whether to go "gourmet" or "Americana" for these long-haul truckers. They have 30 minutes of prep time; and they're off!
The blue team decides to make a 100 percent beef burger with old-fashioned coleslaw. Things are running smoothly, and the blue team appears to be a well-oiled machine.
The red team is making a beef and blue cheese burger with chipotle BBQ sauce. They're also adding bacon -- because what trucker doesn't like bacon? The judges fear these flavors don't make sense, and think the red team may be falling prey to "celebrity chef burger syndrome."
With ten minutes left, the red team is running into crucial problems. The blue cheese gunks all over the griddle: it's a complete disaster. They switch over to Swiss cheese just as the first truckers roll in. One driver is forced to wait for a red team burger, which Gordon resents. "Would you really wait for a burger when you've been driving for six hours?" he asks the trucker.
Meanwhile, the blue team is prepped and ready to go. But the truckers appear to prefer the red team burgers. "The sauce was good; the burger was done just right," says one trucker. "The red team burger is electric chair food: if I'm going to the chair I want a red team burger," says another trucker.
Sharone has another idea for the red team -- they start dipping the buns in bacon grease. They also start serving double burgers. One trucker says it's the "best burger he's ever had."
Gordon thinks the blue team's burger is a little too plain, but Jake doesn't want to jump ship now. Plus, he thinks the red team's burger is "gross."
Finally, the red team has 51 votes, and the underdog team wins! "We kicked the really cocky team's butt," Sharone says.
Now, the losing blue team will be subjected to a pressure test, after which one person will go home. Under a black curtain are 25 ingredients, some of which the contestants may have never seen before. Whoever guesses the fewest ingredients will be leaving "MasterChef."
A "super-emotional" Jake is up first; he's doing great, until he gets to watercress. Nevertheless, he has 11 correct guesses. Tony fizzles out with only nine. Lee has ten, Whitney has ten; can Tracy top Tony? "This ingredient will be my favorite ingredient or haunt me for the rest of my life," Tracy says. Finally, Tracy names her 10th ingredient. She's safe! Tony is going home.
Gordon has kind words for Tony. "Your journey's been amazing and you took us all by surprise. Deep down inside there's an amazing, passionate chef there. Keep following that dream," he says.
Tony is bummed -- he really wanted to have that day where he had the best dish. But he learned that he can cook with ingredients that are outside his comfort zone. "If I can do that, it made me feel like I can do anything," he says.