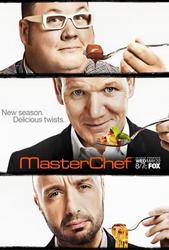 TV Info
---
Episode Premiere
August 03, 2010

Distributor
FOX

Genre
Reality

Show Period
2010 - now

Production Company
Reveille, Shine TV, One Potato Two Potato


Cast and Crew
---
Main Cast
Gordon Ramsay as Himself - Host / Judge
Joe Bastianich
Graham Elliot Bowles
Christina Tosi
Synopsis
---
America, your final 30 MasterChef contestants have been chosen!
In Tuesday night's episode, judges Gordon Ramsay, Graham Elliot, and Joe Bastianich handed out the remaining MasterChef aprons to the amateur cooks who successfully put their "passion on a plate."
Tamar, 27, gave up her day job in the hope of becoming America's first MasterChef. She came to America from Jamaica when she was nine years old, and she enjoys cooking food from her culture. Hence, with only one hour to cook the dish of her life, Tamar prepares lobster curry on a bed of white rice for the judges.
Unfortunately, Gordon has a "huge problem" with the dish -- it looks appetizing in the pot, but on the plate it looks "froufrou" and pretentious. That said, he thinks it's "outstanding and delicious." Tamar begs Joe to say yes, but it's a no for him. Graham also thinks the flavors are "delicious," but he doesn't think she's confident enough to be MasterChef.
Gordon is not happy, calling the decision a "genuine mistake."
"If you've got any balls, you'd go out there and give her an apron," he tells Graham. Graham realizes Gordon is right. He tells Tamar, "I was tasting the dish again, and I think the flavors are really there. After reconsidering..." But before he can even finish speaking, Tamar interrupts him with an ear-splitting scream. She's in! Graham and Gordon hug it out.
Next up is Whitney, a pretty 22-year-old college student who "thinks about food constantly." She may look dainty, but her parents say she has that "competitive fire" -- and she's cooked for them every night since 9th grade. For the dish of her life, she prepares blackened catfish tacos with mango chutney. Gordon calls it "delicious," but he has one big problem: At 22, is Whitney ready for the pressure of this competition? Joe also wonders if the more aggressive cooks will "eat her alive."
Whitney says she may look like a butterfly, but she stings like a bee, however Gordon is not convinced. He thinks Whitney should come back next year. Finally, Whitney's little sister persuades Gordon, promising that Whitney has a "fierce" side and she'll "bust her butt." Whitney will have to put school on hold for a bit. This small-town girl is in.
Jake, a 38-year-old construction worker, calls himself a "closet cook." He looks like he rides a big Harley, but he loves making dainty little dishes. For the meal of his life, he prepares Italian spiedini: scallops with gremolata, which is his version of surf and turf. Graham feels the dish shows a lot of promise, but Jake overlooked the seasoning. Joe thinks Jake took a lot of liberties with what should be classical Italian flavors. In fact, he's insulted that Jake used Italian names to title the dish without the technique to back it up. But Graham likes that he didn't play it safe, and he promises to "make this guy better." Jake is in.
Native New Yorker Tom is not so lucky. A 47-year-old mortgage broker, Tom makes pasta fagioli -- using canned beans (which apparently is a big no-no). He also carves "apple heads" that are supposed to resemble the judges -- another big no-no. Graham says that the apple heads taste better than the dish. Tom is out.
However, Gordon does love Azmina, a 28-year-old attorney who makes a biryani he's been "waiting for all his life," and Sheetal, a 37-year-old teacher who sends him to India with one bite.
Sharone, a 28-year-old financial adviser from California, makes a lobster that's one of the most ambitious dishes the judges have seen so far. He's in. Joe, a 45-year-old equipment builder, also earns an apron.
Jennifer, a 35-year-old homemaker with two special needs kids, loves to cook healthy meals for her family. For the dish of her life, she prepares Chicken Florentine salad with black garlic pomegranate dressing. Gordon thinks that the chicken is phenomenal, but does she really want this gig with all of her responsibilities at home? Also, what can she do beyond the salad? Graham says it's not apron-worthy, but Joe gives her a yes. She's in.
With only a few aprons left, the pressure is building. Adeliz, a 28-year-old legal assistant in Los Angeles, makes a traditional Puerto Rican dish: stuffed plantains with picadillo shrimp and vegetables. However, Gordon thinks she's already "screwed herself by trying to do fancy restaurant food." Gordon gives her two hours to go back home and cook something with "authentic flavor and passion."
Sheena, a 26-year-old marketing executive, is desperate to leave her 9-to-5 existence for a future career in food. Gordon thinks her pork tenderloin with braised fennel and spaetzle has great potential, but it's slightly overcooked. Graham gives it a no, but Joe and Gordon think she's good enough, so she's in.
Darryl, a 28-year-old who works in PR, was born with a very rare birth defect: he has three fingers on each hand and two toes on each foot. But this doesn't hold him back in the kitchen. Darryl uses a pressure cooker to prepare baby back pork ribs with baked beans. Gordon says it's impossible to create this dish in 60 minutes. Joe and Graham are split, but Gordon sends Darryl through on his "incredible" barbecue sauce.
Meanwhile, Adeliz must cook a dish that's true to her heart to win her apron. With moments to spare, she returns to face the judges a second time, serving New Mexican chile relleno with spicy red salsa. No fancy squirty bottles this time -- and it's delicious. She's in.
Now that the top 30 contenders have been chosen, the ultimate kitchen battle begins. Who will withstand the heat in the kitchen? Find out next week, when more than half the contestants will go home!