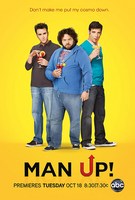 TV Info
---
Episode Premiere
November 22, 2011

Distributor
ABC

Genre
Comedy

Show Period
2011 - 2011

Production Company
ABC Studios, Tagline Television


Cast and Crew
---
Director
Beth McCarthy-Miller
Screenwriter
Christopher Moynihan
Main Cast
Christopher Moynihan
Dan Fogler as Kenny Hayden
Mather Zickel
Teri Polo as Theresa Hayden Keen
Amanda Detmer
Henry Simmons
Additional Cast
Dan Cortese
Kate Gilligan
Mason Charles
Harmon Jones
Kevin Brief
Nick Bush
Synopsis
---
Nathan's getting bullied at school. Will and Theresa tell him to ignore the bully. But Theresa is sucking up: The bully's mom is influential at school and Science Club is in danger. "I wouldn't say sucking up. I'm merely showering her with unnecessary compliments and gift cards to achieve my goals," she says. Theresa wants to save it, so she doesn't want to freak out about the bully thing. But the boys freak out when they find out the bully's dad is Dennis Mayder, who bullied the boys when they were kids. Ah, the cycle of life.
Theresa doesn't want Will to tackle the bully issue, but Kenny takes a crack at it. Except D.J. Mayder is meaner than his dad was, and bullies Kenny. "He said I like turds," says a dejected Kenny. Meanwhile, Craig is intrigued by the iguana in Nathan's class, and rushes off to see it. The teacher - who just happens to be a cute blonde - interrupts Craig's plan to touch the reptile, and mistakes Craig for a dad with whom she was supposed to have a parent-teacher conference. He goes with it: "I just met the cutest teacher and I'm going to dinner with her. Also I have a son named Brandon and he's struggling."
Theresa addresses the bully problem...by inviting the Mayders over for dinner. Will's not happy, but Grant advises him to just agree with Dennis to take away his power. And it works. But Dennis uses his camera phone to record Will's incriminating revelations - "I'm a douche," "I'm a tiny little girl," "I love your meat" - and posts a remix video of the whole thing online. So the high road is proving to be a little treacherous.
Meanwhile, Kenny gets ready to toilet paper the Mayders' house while they're out, with Craig and Grant in tow. But they get distracted when they see Dennis's man cave - so instead they sneak in, have a few drinks and play some dancing video games. It's pretty close to revenge. Craig's romance goes pretty well until his lady friend wants to tell Brandon that they're dating. Brandon's a little lost when he sees his "dad." Craig comes clean, touches the class iguana and gets the hell out of here. The iguana, by the way, is slippery but not slimy.
Theresa presents her case to the school board for Science Club, but Dennis Mayder and his wife both take repeated shots at the Keens during the meeting. It's too much for Theresa, who lets Will loose on Mayder, and Will takes him down: "If we do fund the Science Club, the first order of business should be buying a more powerful microscope so Dennis Mayder can finally find his wiener." Kenny gets revenge by grabbing the mike at the meeting: "I'd like to add that Dennis's kid is a buttmunch and he should be breaded and fried and eaten by cannibals!" It works for him...his road is the low road.