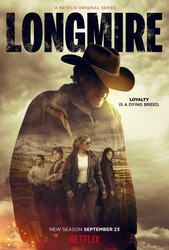 TV Info
---
Episode Premiere
July 29, 2013

Distributor
Netflix, A&E

Genre
Drama

Show Period
2012 - Now

Production Company
The Shephard/Robin Company, Warner Horizon TV


Cast and Crew
---
Director
Michael Rymer
Screenwriter
Tony Tost
Main Cast
Additional Cast
Louanne Stephens
A. Martinez
Zahn McClarnon
Michael Mosley
Synopsis
---
Walt Longmire and Henry Standing Bear approach a fallen tree armed with a chainsaw and an axe. Walt comments that the tree should provide enough wood to finish his deck. Henry gives him a hard time about the upcoming election for sheriff. It takes some doing, but he eventually gets Walt to open up and admit that he actually wants to win. Their conversation ends abruptly as a huge explosion sends a plume of smoke into the air on the horizon.
Branch sits in a speed trap talking on the phone to the press about the election when a car shoots by at 81mph. He pulls the car over and is surprised when Cady Longmire hops out. She admits that she didn't "ass-dial" him the other night; she called him on purpose. She tells him she wants to see him, but her head isn't in the right place for a relationship. She wants to just be friends. Branch tells her that he'll see her soon, but she refuses to meet. He hands her a speeding ticket with a grin saying, "See you in court." Cady rolls her eyes, but can't help but smile as soon as he turns away.
Walt and Henry help to put out the flames at the site of the explosion. Mathias arrives and tells them that the cabin belonged to Dolan Lone Elk, an outspoken opponent of Newett Energy and their fracking operation. Mathias is convinced that a methane leak caused by the fracking caused the explosion. He also believes that it was no accident. Vic arrives and gives Newett, the company where her husband Sean works, the benefit of the doubt. Walt puts all arguments to rest by holding up a lighter to a broken water pipe and watching the liquid burst into flames.
They investigate the cooling cabin ruins and discover that the windows were closed and locked, and the taps on the kitchen sink were open. They also find a body under some rubble. The front of the body is badly burned, and the back is covered in red paint. The team is shocked when Dolan Lone Elk arrives home in one piece. Dolan sees the body and immediately knows it's his brother, Ethan.
Walt and Vic interview Dolan back at the office. He is convinced that Newett Energy is trying to silence his protests. Walt asks if Ethan was involved in the protest movement, but Dolan says that Ethan moved away as soon as he had finished high school. He only returned recently to take a job at Jacob Nighthorse's Casino, and he had decided not to live on the reservation. Walt asks Dolan to notify Ethan's wife of his death, but Dolan says he'd prefer that Walt handle it.
Walt and Vic meet with Doc Bloomfield who is overseeing Ethan's autopsy. Bloomfield says that Ethan was painted red from head to toe. The paint accelerated the fire on his front, but his back is relatively unharmed. Bloomfield believes he was lying down when the cabin exploded. He also tells them that Ethan had been drinking. To get an accurate measurement, he has Walt press down on the burnt body's chest as Vic holds the breathalyzer in place. The reading indicates that Ethan had been drinking heavily, but Vic finds that odd since they saw no empty bottles or cans at the cabin.
Walt and Vic head to the casino to notify Ethan's wife, Lauryn. They find her training new dealers for the casino's eventual opening, and are surprised to see that she is black. Walt tells her about the accident and, although she is upset, she holds herself together to answer their questions. She tells them that Ethan's family doesn't approve of her, and that he worked as the head of Human Resources in the casino. It was his job to run drug tests and decide who got jobs, and who didn't. She tells them that they were frequently threatened due to both her heritage and his job, but they had chosen not to live in fear. She also reveals that Ethan didn't drink.
Meanwhile, Branch and Ruby are at a hardware store attempting to match the paint color found all over Ethan's body. Branch gets a call from Jacob Nighthorse who tells him to stay out of the investigation. He thinks it's political suicide, but Branch thinks it's an opportunity. Jacob quickly hangs up as Walt and Vic approach. Walt asks him for Ethan's list of job applicants. Jacob refuses to help, insisting that the killer is not among his hard-working employees, but under the ground. Walt makes it clear that he'll just get a subpoena if Jacob doesn't cooperate, and he and Vic head out.
Vic gets a call from her husband, Sean, who has found himself trapped in a Newett Energy truck in the middle of a protest. Vic walks up to the truck and loudly arrests Sean for inciting a riot. The crowd cheers as she walks him out in handcuffs. As they leave, Dolan climbs up on the Newett truck and begins to stir up the crowd. Walt warns him to get off the company-owned truck, but Dolan just climbs up on the roof. Walt drags him down and cuffs him. As the crowd boos, he asks, "Who's next?" "I am," Henry replies with his hands outstretched and ready for cuffs.
Back at the office, Dolan complains that Sean's arrest was fake, while he and Henry sit behind bars. He accuses Walt of taking donations from Newett, but Henry, Walt's campaign manager, confirms that they are not donors. Doc Bloomfield arrives and tells Walt that the explosion didn't kill Ethan. His blood alcohol test came back at ten times the legal limit. Someone force fed him alcohol until it killed him.
Branch arrives at the Red Pony where he spots Cady dancing by the jukebox. He asks the waitress how many drinks Cady has had. When she tells him, "Five," he replies, "Well then, you better bring me four more." Later, Branch heads outside where he finds Cady napping in her truck. She sees him and smiles, yelling, "Taxi!" But Branch has a better idea. Moments later they're in the back of a pizza delivery car, splitting a pie.
Walt meets Lauryn at her home and is surprised to find her packing. She tells him that it was Ethan's dream to come back to the reservation and create jobs. She shared it with him, but now that he was gone, the dream has gone with him. Walt tells her that Ethan was probably killed before the explosion, and asks if she knew anyone who might be angry enough to kill him. She tells him that Ethan's family was still upset that he had married her. He asks about people Ethan turned down for jobs, but she says that information is confidential, and Ethan was very by-the-book. After a moment, she says that he was also terrible with passwords. She logs in to his laptop and leaves Walt alone with the information.
Branch and Cady stumble up to her front door. As he fumbles for the key, she sneaks away. He steps back out into the yard looking for her, and gets blasted by Cady who is now wielding a garden hose. He manages to tackle her and they tumble to the ground, soaking wet and laughing hysterically. "You sure you want to be friends?" Branch asks. Cady responds by tearing open his shirt.
Walt asks Dolan to look at the list of job applicants that Ethan disqualified after they failed their drug tests. One of the names is a Mancell Lone Elk. Dolan says that Mancell is his father, but he's been clean for 11 years. Walt replies, "Not according to your brother." Walt lets Henry and Dolan go, but before they can leave a federal agent enters and takes Dolan into custody. According to him, Dolan is now considered to be a domestic terrorist.
The next morning, Branch makes breakfast in Cady's kitchen. She offers him a beer before cracking one open for herself. He asks her what's wrong, and she lists a number of issues before accidentally mentioning her mother. Branch digs for info, and she opens up to him about how her mother actually died.
Walt and Mathias meet at the home of Mancell Lone Elk. Walt asks if he was angry about being turned down for a job by his own son after failing a drug test, but he tells Walt that he was proud of his son."Ethan didn't fail me," he says. "I failed Ethan!" Mancell also says that he would never recognize Lauryn as Ethan's wife. He claims it's not because she's black, it's because she's not Cheyenne. After Mathias finds drugs in the house, he and Walt arrest Mancell.
Walt and Vic return to the office to find Ruby being harassed by a large group of protestors who are picketing the station. Once inside, Walt gives Branch a hard time for not being around, but Branch surprises him when he reveals that he matched the paint found on Ethan's body, and hit every mom and pop hardware store in the county to get a list of people who bought the same color; Tuscan Red. Walt tells Vic he's going to try questioning Dolan again, hoping that being held by the F.B.I. may make him feel a little more like talking.
Branch meets with Jacob Nighthorse at the casino. Jacob tells him that despite Walt's current political issues, it will still be a close race. He asks if Branch has any personal dirt on Walt or his family that might give him an edge. Branch doesn't respond, but he seems tempted.
Walt returns to Dolan Lone Elk's former cabin. He asks the federal agent if he can speak to Dolan, but his request is denied. As they talk, Walt notices a car drive slowly by. On the hood is a custom paint job depicting the iconic "End of the Trail" statue by James Earle Fraser. The image of a slumped-over, weary Native American perched precariously on his exhausted horse is set against a field of red stripes. Walt turns to leave and spots Mathias pulling up. He's also hoping to speak to Dolan. Walt watches the car pull into a driveway nearby and asks Mathias who lives there. He tells him the home belongs to Grady Littlefoot and his brothers. Walt checks his list and heads towards the house.
Walt confronts the Littlefoot brothers, asking about their failed drug tests. Grady says that hey had peyote in their systems, but they don't do drugs. Peyote is a part of their heritage. They were angry that Ethan didn't cut them any slack for observing sacred rituals. Grady attempts to blame Ethan's death on the fracking operation, but Walt tells him that he knows Ethan was dead before the house went up. As Walt explains that the paint on Grady's car matches the paint found on Ethan's body, Grady slowly begins reaching for a knife tucked into his belt. Walt theorizes that the brothers, jealous of Ethan's success, forced him to drink then blew up the house to cover their tracks. Grady pulls his knife, but Walt, expecting the attack, jabs Grady in the gut with a crowbar then whips out his gun, stopping the other brothers in their tracks.
Later in his office, Branch confronts him about Cady. Branch thinks that Walt is spending too much time being sheriff, and not enough time taking care of his daughter when she needs him. Branch tells Walt that he knows what happened in Denver. Walt is stunned. Branch says that he's decided not to go public with the information, but he thinks that, "right now, your daughter might need you more than the county does."