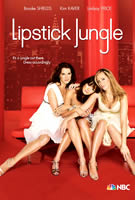 TV Info
---
Episode Premiere
October 29, 2008

Distributor
NBC

Genre
Drama, Comedy

Show Period
2008 - 2009

Production Company
Universal Network Television


Cast and Crew
---
Director
Michael Fields
Screenwriter
Jennie Snyder, Dan Bucatinsky
Main Cast
Additional Cast
Edward Kerr
James LeSure
Kathy Searle
Jennifer Merrill
Ivan Hernandez
Mac Brydon
Synopsis
---
Victory wakes up after a nightmare where she saw Joe falling during a winter mountain climb. While getting ready in the morning, Nico explains to Kirby her dislike of Halloween and her love of holidays like Christmas. She hopes to take Kirby to Aspen to a ski in/ski out resort. However, Nico and Kirby seem to disagree on who should pay.
Wendy asks Victory to help with Taylor's Halloween costumes since Shane is away. She is upset that Shane left for a business trip without kissing her goodbye. Victory tells Wendy and Nico about her dream: Joe, who was climbing a mountain, fell and broke his neck. Nico advises Victory not to call him, but she does anyway. Joe tells Victory that he is training to climb a mountain, which leaves her unsettled.
Wendy attends Taylor's soccer game and catches up with one of the other fathers, Dennis. She takes a call from Sal to confirm a lunch appointment for the next day, and is excited about something for the first time since losing her job. Griffin pays Nico a visit to discuss the acquisition of a sports magazine. She agrees to help him and take a meeting with the current owner, Lou.
Victory pays Joe a visit while he's climbing at an indoor facility. She tells him about her dream, which he agrees is strange and creepy. He then rebuffs Victory's attempt to be friends. Later that night Nico and Kirby have dinner at home and discuss the Aspen trip. Wendy and Dennis spend a bit more time together while fixing the Halloween costumes Victory made; they need to be a little more kid friendly and less Cirque du Soliel.
Kirby is chatting with a co-worker at his catering job when she mentions the paparazzi outside; they are trying to take a photo of a celebrity on the guest list for the party that night. He seems intrigued with the potential payoff he could get from a photo of this celebrity drinking. Wendy and Sal meet for lunch to discuss their potential production company. However, Sal tells her that Griffin just offered him her old job at Parador. Wendy tries to play it off for Sal, but takes a moment in the ladies room to catch her breath.
Upset about the floor plan of her new store, Victory discusses with Roy options to make it better. After listening to her frustration, Roy insists that she go with him to a Halloween party. Nico and Griffin have their meeting that night. Griffin is surprised by Nico's "join 'em" approach with Lou, a man who is surrounded by women in bikinis and booze. Victory and Roy are at a Halloween event when they run into Kirby, who is working the party as a waiter.
Victory tries to give Kirby advice on letting Nico pay for the Aspen trip. Wendy and Dennis take the kids trick-or-treating. He lets Wendy know that he took her advice and talked to Kate, his wife, and it seems like they are going to separate. Wendy is upset that she may have caused their break-up.
Back at the Halloween party, Victory thinks she sees Joe through the crowd. After trick-or-treating, Wendy and Dennis relax with a glass of wine and confide in each other about their marriages. Suddenly Dennis leans down and kisses Wendy. After an awkward moment, Dennis decides to grab his son and leave.
Wendy is pacing her apartment, trying to find Victory and Nico to tell them what happened. Victory is running around the party looking for Joe when she finds a man in a white jacket and thinks it's him. He turns around and Victory suddenly has a vision of Joe, dead, his face covered in ice and blood. Panicked, she rushes out and leaves the party. Kirby, working the room with his "pumpkin-tinis," spots the celebrity -- the one who was being followed by the paparazzi earlier -- secretly downing people's abandoned drinks. He snaps a few photos and keeps walking.
Griffin is hesitant to take the deal with Lou, but Nico encourages him to trust her and go for it. Wendy catches Nico as she's leaving the meeting. She agrees to come over to talk. At Wendy's, Nico and Victory are there to listen to her. Wendy confides in the women that she didn't hate the kiss from Dennis and that's what scares her the most. Then, Wendy apologies to Nico for judging her before about Kirby and her affair.
The next morning, Kirby stops by her apartment and brings Nico a gift -- two tickets to Aspen. He told her he could afford it because he sold a photograph. At Taylor's soccer game, Wendy runs into Dennis. Victory calls Joe again to plead her case as a good friend. Just as she's leaving the message, she spots Joe sitting on her steps. He's there to tell her he didn't go climbing. They share a nice moment, as friends and business partners.
Wendy calls to talk to Shane but gets his voicemail. She leaves a message, saying she loves him and misses him. Upset, she sits alone in her living room.