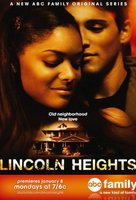 TV Info
---
Episode Premiere
November 09, 2009

Distributor
ABC Family

Genre
Drama, Family

Show Period
2007 - 2009

Production Company
ABC Family


Synopsis
---
Cassie and Charles decide to "take a break." Is this the end of Chassie, and true love as we know it?
Say it isn't so!
Or is it just what Charles says it is -- a chance for them to step back and take a breath?
After all, things have been pretty rocky between them lately. There was the whole "Oops, I took the money and didn't tell you" incident. And the "Oh, and I told Sage before I told you about it" aftermath. But Charles did come clean about everything, and Cassie forgave him.
Then there's the fact that Cassie's focused on her future, and Charles is well, less so.
But the biggest "breaking point this week on "Lincoln Heights" is when Charles sees the video of Cassie's New York photo shoot on the internet. (And we thought Julian was a nice guy. Arrrrrrgh.) Or maybe it's when Cassie tells him she wants to go Pratt in New York, instead of a California school like they had planned.
Either way, Chassie has definitely seen better times. But maybe all this Drama-with-a-capital-D will bring them closer. Or maybe their "breather" is actually the last gasp of their relationship.
In other words: no tears, yet. But get the tissues ready, just in case.