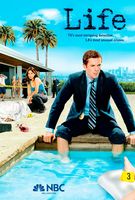 TV Info
---
Episode Premiere
September 29, 2008

Distributor
NBC

Genre
Drama

Show Period
2007 - 2009

Production Company
NBC


Cast and Crew
---
Director
Daniel Sackheim
Screenwriter
Rand Ravich
Main Cast
Additional Cast
Aurelius DiBarsanti
Kim Director
Noel Fisher
Anya Monzikova
Roberto 'Sanz' Sanchez
Jessy Schram
Titus Welliver
Synopsis
---
First Victim: Detectives Crews and Reese are called to the concrete-lined Los Angeles River to examine a murder victim - a young exotic dancer who has suffocated inside a locked box, marked with the number 1.
Box # 2: Minutes later, another trunk, this one left in the middle of the 405 freeway. The victim: a man is his mid-40s, also suffocated. He's Glen Price, an investment banker in partnership with his wife.
Before they can fully investigate victim number two, Crews and Reese are called to the roof of an office building. Victim number three, Lisa Robards, is removed from yet another box. In her wallet, the detectives find her business card: "Unending Notes... sentiments for all occasions." As her body is removed from the trunk, the detectives notice a stenciled "3" on the floor of the trunk - the murderer is taunting them by keeping count.
The detectives head for Unending Notes, a stationery store. They ask the young clerk about his boss, Lisa Robards, but he knows nothing. Later at the station, a man explains to the detectives that a disguised man came into his luggage store recently and bought ten trunks - just like the ones used by the murderer.
The detectives question the dancers at the club where Brandee (victim number one) worked, trying to find a connection, either to the other victims or perhaps a customer. Her co-workers offer no clues, though one explains that Brandee has recently gotten a small speaking part in an upcoming movie - a part she hoped would be her big break.
Crews takes his new boss, Captain Kevin Tidwell, through an analysis of the GPS data recovered from two of the victim's cars. The victims' paths intersect at a public park.
At the park, Crews and Reese talk to a suspicious-looking ice cream vendor. In the side-view mirror of the truck, Crews notices a man hiding inside with a shotgun in his hands. The detectives draw their weapons and Crews says he'll count to three then shoot if they don't give themselves up. He counts one, two... and then fires, wounding the gunman in the arm. "I rounded up," Crews explains. The guys in the ice cream truck were selling crack, but apparently are not connected to the murders. A mom in the park comes forward and explains that she had seen victims number two and three together in the park recently.
The detectives head to the office of victim number two, Glen Price, to interview his wife, Cheryl. They suspect Glen Price was having an affair with victim number three; that Cheryl found out and had them killed. When Crews and Reese arrive at the office, they find Price's wife getting intimate with her executive assistant. Cheryl Price denies knowing of her husband's lover and explains that she and her husband were splitting up over "lifestyle differences." She acknowledges their marriage was at its end, but that she wanted him happy. Indeed, he had just taken a promising new job in London and was looking forward to starting a new life.
Charlie's roommate and former co-inmate Ted Earley is helping Charlie investigate the conspiracy behind the murders that put him unjustly behind bars, twelve years prior. The trail of the surviving daughter, Rachel, has grown cold. After the murders of her parents, she was placed in Child Services, then adopted at age nine, but disappeared at age 11. Charlie and Ted suspect that retired police Captain Jack Reese (a former SWAT leader and the father of Crews' partner Dani Reese) had her kidnapped to cover his tracks in the arranged murder of her parents. Private investigators have tracked Rachel down to a hostel; Charlie and Ted investigate, but can find no trace of the girl who might hold the secrets behind who framed Charlie.
Victim number four is discovered near an airport: an eighteen-year-old high school student. Seemingly unconnected to the other victims, he had been accepted to UC San Diego on a full athletic scholarship.
Crews realizes what three of the victims had in common. They were all on the cusp of finding happiness in their lives: the promising athlete with a scholarship, the dancer with her first speaking part, the investment banker about to start a new life in London. But that profile doesn't necessarily fit card shop owner Lisa Robards; Crews and Reese head back to Notes Unlimited to learn more about her.
Crews and Reese question store clerk John Armstrong as to whether his boss had any recent reason to be happy. Crews realizes that the victims might have all had reason to send announcements of their recent good fortunes. John Armstrong knows nothing and also explains that he can't find the store's customer lists. Reese puts officer Bobby Stark on surveillance outside the store.
After confirming that many of the victims' friends had received recently announcements printed by Unending Notes, Crews and Reese move in on John Armstrong. With the help of his mother, they search John's apartment. His room is filled with celebratory decorations of all kinds - and copies of the cards sent by each of the victims. They find a wedding invitation for a future victim and race to the shop to arrest John.
Inside the store, cops spot a trunk but are able to rescue the victim moments before he suffocates. Crews pull a plastic bag from the victim's head - only to discover that it's John Armstrong, trying to kill himself. The detectives search the store and find one trunk unaccounted for. There's a would-be bride who will soon be John's next victim if they can't find her.
Reese and Crews grill John for the location of the last trunk. Then they explain to John that he can be a hero - and be happy - by telling them where the trunk with the bride is before she dies. But John's already happy: "The thought of that girl, in a box, makes me smile."
The detectives bring John's mother in try to extract the information on the girl's whereabouts. He refuses, explaining to his mother that, "It's all okay. It's all one big smile." Crews realizes what's happening: Armstrong has planted the boxes in a geographical pattern resembling a giant smiley face on a map.
Crews and Reese extrapolate the next victim's location: the coastline near LAX.
A bride is rescued and a murder thwarted.
Crews returns to trying to solve the mystery of who framed him. He questions Kyle Hollis, the trigger man of the Seyboldt murders. Charlie asks Hollis if he's afraid of Jack Reese. Hollis claims to have never heard of Jack Reese. "I killed those people because I wanted to," he says. Charlie asks Kyle to help him rescue Rachel. "You stay away from her!" Hollis screams. Crews and Ted Earley return to the hostel to continue their search.
Examining one of the rooms, Charlie realizes it's smaller than the others - and discovers a false wall. Behind it, Rachel Seyboldt. Charlie takes her away to a new life.