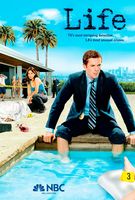 TV Info
---
Episode Premiere
November 14, 2007

Distributor
NBC

Genre
Drama

Show Period
2007 - 2009

Production Company
NBC


Cast and Crew
---
Director
Peter Markle
Screenwriter
Rand Ravich
Main Cast
Additional Cast
Lorin McCraley
Diana Parks
Phyllis Lyons
Victor Rivers
Judith Moreland
Lori Rom
Synopsis
---
While taking surveillance photographs of Ames meeting with a white-haired guy in the park, Crews listens to a Zen tape: we are not alone, we are all connected, there is no difference between us and our enemies. Later, Crews and Reese report to a crime scene. While standing behind a refrigerator door, a guy's stove exploded, vaporizing his legs. There are two IDs on the body, one for Edward Farthing and another for Joseph Gale.
Reese and Crews split up to talk to the victim's two wives. Elena Farthing and Marissa Gale both say their husband had a secret job working for the government and would often become forgetful, disappearing for periods of time. Reese and Crews decide to put both names through the government database, and find it unlikely that the wives conspired to kill the guy, since both seemed happy in their marriages.
Crews discusses the two wives thing with Ted, who admits that he lied to his one wife about girls and private jets. Crews decides it's time to get some furniture. At the station, the fire department report on the stove comes back: it was rigged to explode. Phone records on the two wives indicate that they haven't communicated. Suddenly, Davis gets a call about an officer down in the parking garage: Ames has been shot.
Crews asks Davis if she's removing him from duty; if this was his case, he'd be a top suspect, even if he does have an alibi. Davis is going to handle the Ames murder case personally, and tells Crews to expect a visit from IAD. A hit off the dead man's fingerprints comes in from the government database. He is Rudolph Farthingale, an IRS agent.
According to Ms. Watkins, Farthingale's boss, he was a quiet man who rode a desk for twelve years, anonymously flagging taxpayers for evasion. Crews locks onto Watkins' coffee cup, which reads, "You are what you receipt." Back at HQ, union rep John Garrity informs Crews that he will attend his IAD hearing. Crews can have a lawyer if he wants, but Constance is in New York. Crews leaves a message for her anyway.
On the way to meet with Farthingale's wives, Crews asks Dani if she wants to know if he was involved in Ames' death, but she says "no." The two wives are shocked to meet each other and learn that their husband worked for the IRS. He was supposedly working on a big case, tracking someone who was "not obeying the law." Reese and Crews wonder if Farthingale was really tracking someone, or if he was a merely a conspiratist.
Davis yells at Reese for not helping her get Crews kicked off the force, even if he is doing good work. Crews finds Constance waiting for him at his house. She knows all about Ames, because she accepted a job with the DA last week, and can't be his lawyer anymore. She came back from New York early, needing a break from her husband. She warns Crews that the DA is gunning to nail Ames' murder on him, and advises him to start locking his door.
Crews speaks in Zen platitudes during his initial IAD inquiry, perplexing investigator Judith Raitt. Back on the job, Crews tries putting the two halves of Farthingale back together. After visiting the wives, Reese and Crews return to the station with five bottles of wine from one home, and five baseball caps from the other. No one knows what it means until Davis puts it together. The wines and baseball caps reveal the years and locations of a series of unsolved bombings by an anti-government whack job who calls himself Free State.
Free State lives off the grid and only pays taxes in the years he needs money for bombing supplies. Crews and Reese visit Ms. Watkins to search Farthingale's data. The years of the bombings yield no results, but the years before point to Leonard Slatz, who appears to be planning for another attack. His P.O. box was cleared out three days before by a scruffy guy driving an RV.
Constance calls Crews to tell him to go home now. Both Raitt and Davis are there with a ton of cops and a search warrant. They find the closet door in Crews' bedroom locked, and he claims that he accidentally locked the key inside. The cops bust down the door, but find nothing, amazing Crews â�" the "conspiracy wall" is nowhere to be seen. Ted tells Crews that he took care of it, having figured that Crews was hiding something.
Crews collects both Farthing and Gale's receipts and makes a wall map, searching for some coincidence. Both men have receipts from Dandy's Fast Foods. Crews and Reese spy an RV dealership across the street from Dandy's. A scruffy guy behind the counter claims that Slatz used to work there, but took off two days ago, leaving some boxes behind. When the scruffy guy runs, Reese runs after him. Crews stops her in the nick of time, just as she's about to trigger a trip wire.
Back-up cops cut Slatz off, and Reese and Crews take their man. Back at the station, Reese puts on dress blues to attend Ames' funeral with the rest of the department. The white-haired guy that Crews saw with Ames comes to pick her up - it's Reese's father, Jack, SWAT team leader at the Bank of LA robbery. Although Crews has said he's not going to Ames' funeral, he winds up at the cemetery anyway, attending Farthingale's funeral.