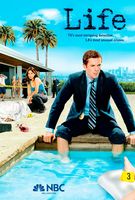 TV Info
---
Episode Premiere
November 07, 2007

Distributor
NBC

Genre
Drama

Show Period
2007 - 2009

Production Company
NBC


Cast and Crew
---
Director
Daniel Sackheim
Screenwriter
Rafael Alvarez
Main Cast
Additional Cast
Synopsis
---
After a dream about light, Crews decides he wants to buy a solar farm. Ted informs it won't turn a huge profit, but Crews wants to contribute to restoring harmony on the planet. Crews and Reese report to a gas station food mart, where two Persian American students have been shoot in the head and stuffed in the freezer. The murderer has scrawled "Go Home" with motor oil, and an angry mob gathers outside.
Someone in the crowd throws a firecracker, and Stark takes down an angry skinhead with a crowbar, averting a riot. A white store clerk knows there were three shooters, who can be seen in security camera footage. Beside herself, Persian Roya Dervishi and her daughter Shahnaz push through the crowd. They ID the victims as friends of Roya's son Amir, who would have been with them.
In the elevator, Reese hears Stark mutter something about the Bank of L.A. robbery and asks him to repeat it. He tells her to step back, because she's crossing a line. Davis wrangles a ton of city and federal officials, explaining that the case will be handled as a regular homicide, and she wants it solved so there are no racial incidents. The victims were honors students at USC Business school and were both arrested for dealing pot previously, though their records were expunged.
Ted reserves his skepticism and finds a solar farm to visit. Crews calls with news that his stepmother-to-be Olivia is coming over; Ted doubts that she'll want to come with him. Reese questions Roya, who only speaks Persian as Shahnaz translates. Amir is a good boy, and had nothing to do with his friends' pot dealing. Crews meets gas station owner Mary Ann Farmer to show her the security camera video. Despite the balaclava, she recognizes her estranged son Jeffrey as one of the shooters.
Mary Ann bonds with Crews while telling her backstory. She came to LA, pregnant at 15, got a job at a gas station, and now owns six of them. Jeffrey became racist in high school, and runs with a bunch of surf rats who live out of a van seen leaving the crime scene. Back at the station, Roya screams, having received a cell phone photo of Amir in the van. Shahnaz takes another call. The surf rats want the drug money, or they'll kill Amir too.
When it's time to leave the solar farm, Ted's car won't start because he's out of gas. Olivia laughs at the irony of it all, but Ted fails to find the humor. Back at the station, Roya screams at Mary Ann in Persian. Mary Ann tells her that she would give her life for Amir's; she knows how Roya must love him. Reese translates, surprising Crews. Davis reminds them that it's always about drugs and money, and sends Crews and Reese to search the Dervishi's home. Mary Ann thinks the cops are going to kill her son.
Reese tells Crews that her mother was Persian, but her father wouldn't let them speak Farsi around the house. Roya again pleads that Amir was a good student, who only studies and plays video games. The cops retrieve Amir's computer and bring it back to the station. Crews sneaks into the LAPD's secure server to learn that Reese's father Jack was the SWAT team leader on the Bank of L.A. robbery.
The only oddity on Amir's computer is a computer file referencing Farah and Level 10, which is nowhere on his hard drive. They return to the house to grab Amir's game console, and find a game called the Prince of Persia. The goal of the game is to rescue Princess Farah. The cops have a tech play the game to Level 10, but he keeps losing. Crews notices Shahnaz playing along, so he puts her in the driver's seat. Once she cracks Level 10, a wealth of spread sheets is revealed.
Ted and Olivia spend the night at the solar farm, and he admits that she makes him nervous: that's why he ran out of gas. She soothes him with a campfire song. A body is tossed out of the surf rat van; it's one of Jeffrey's friends. When Jeffrey calls Shahnaz again, Davis sets up a meet to exchange the spread sheets for Amir. She tells Crews and Reese to proceed to the Rose Bowl for the meet and end it.
Crews is convinced that something's not right. He calls accountant/researcher McAllister, asking him to go back over Amir's spreadsheets. McAllister finds another column labeled MAF, indicating $93,000 in an offshore account. Crews and Reese proceed to the Farmer house. The van is running on the lawn with another dead surf rat in it. It looks like Jeffrey has taken Mary Ann and Amir somewhere in her car.
Crews and Reese track Jeffrey to a bank where he is forcing Mary Ann and Amir to make wire transfers at gun point. Crews tries to talk Jeffrey down, suggesting that he's just after Mary Ann's love, which she's been giving to Amir. This allows for a sniper to get in position. When Jeffrey aims at Crews, he is shot and killed. Meanwhile, at the solar farm, Ted wakes up spooning Olivia as they are rescued by workers.
Mary Ann admits that Amir showed her what to do with her soft cash while he was still in high school when their affair began. Even though he was a drug dealer, he wasn't like the rest of the kids. Exhausted after his all-night ordeal, Crews returns home to meet Ted, who promises they can make the solar farm work. Up in his conspiracy closet, Crews inserts Jack Reese into his schematic.