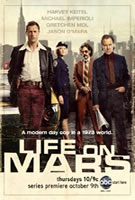 TV Info
---
Episode Premiere
October 09, 2008

Distributor
ABC

Genre
Drama, Mystery, Crime

Show Period
2008 - 2009

Production Company
20th Century Fox Television


Cast and Crew
---
Director
Gary Fleder
Screenwriter
Josh Appelbaum, Andre Nemec, Scott Rosenberg
Main Cast
Additional Cast
Synopsis
---
En route to an arrest, Sam Tyler and Maya Daniels argue over the state of their relationship and whether Sam meant it when he said, "I think it's time to propose." When they meet with Captain Bellow and are about to bust into suspect Colin Raimes's apartment, Raimes, just returning from getting groceries, sees them and runs. Sam chases Raimes through a park and fights with him. After a scuffle, Sam arrests Raimes for the abduction and murder of Laurie Stewart.
Back at the 125th Precinct, Sam, Maya and Bellow question Raimes about his brutal crime. However, Raimes's lawyer is able to produce video evidence that his client was at a casino at the time of the murder. After his release, Maya follows Raimes as he walks through the East River park, thinking they missed something. Meanwhile, Bellow shows Sam photos of Lawrence Raimes Colin's twin brother who's a known gambler. Fearing Maya is in danger, Sam, Bellow, and a bunch of patrolmen race to the park, only to discover Maya's bloody blouse. Sam drives back to Colin's apartment in an attempt to find Maya, but as he gets out of his own car-- BAM! A speeding car hits him.
While unconscious from the accident, Sam discovers himself in front of a muscle car with an 8-track tape playing the song he was listening to on his iPod when he was hit "Life On Mars" by David Bowie. As he's questioned by a police officer and gets his bearings straight, he looks up at the New York skyline to see a strange sight the Twin Towers of the World Trade Center. Sam has been transported back to 1973.
Sam walks the city streets and takes in the strange sights and the strange clothes he's wearing. He goes back to the 125th, where straight-laced Detective Chris Skelton and tough-guy Detective Ray Carling greet him. Sam goes on a rant, still confused as to his situation. The ornery Lieutenant Gene Hunt, in rough fashion, makes clear that it's 1973.
As Sam tries to contact Maya on the telephone, he hears the sounds of an emergency room and the voices of doctors explaining that he's in a vegetative state. What is happening? Is he dead? He screams for the noises to stop. Skelton and Carling, disturbed by the screaming, refers him to "No-Nuts," Officer Annie Norris, for medical attention. Annie is called "No-Nuts" because she's a member of the Bureau of Policewomen, and is not considered equal to her male counterparts. Sam confides in her that he's from 2008, but she doesn't believe him.
Hunt, Skelton and Carling tell Sam they've found a girl who's been missing for two days-- who's blouse was found in the East River Park, just like Maya's in 2008. The girl, Susie Tripper, was found dead, and all the characteristics of her murder are similar to that of Laurie Stewart's... she was held for 30 hours before strangled. When they go to see the body, Sam gets a look at the arcane state of 1973 forensics. But he does find something everyone else missed synthetic fibers under the fingernails that match the Laurie Stewart case--
A confused Sam begins to believe he's been transported 35 years into the past in order to catch Colin Raimes before he can kill Laurie Stewart and possibly Maya in the future. As he tries to put his frantic thoughts together, Hunt orders Annie to take Sam to his new apartment to get some rest.
At his strange new apartment, Sam tries to convince Annie he's from the future and explains that Susie Tripper's killer might have abducted his girlfriend in 2008. Annie tells Sam he's suffering paranoid delusions. That night, Sam suffers more strange experiences, believing a man on television is talking to him, trying to wake him up from his coma. What is happening? Is Sam in a coma?! Before Sam can discern what's happening, the television flips to a test pattern.
The next day at the 125th, Hunt, Skelton, Carling and Sam question Dora, a friend of Susie Tripper's. Dora proves to be less than thrilled to give the police any information, and Sam is appalled with Lt. Hunt's tough tactics in questioning a witness. Sam talks to Hunt at a local bar and attempts to convince him the killer is following a pattern. Hunt laughs him off.
Sam goes back to the precinct to go over the case with the other detectives, using his knowledge of 21st century detective work. He asks Annie, who has a psychology degree, to help him get into the mind of the killer. The detectives find the exercise a bore, decide to ignore Sam, and Annie asks Sam never to put her on the line like that again. Sam, frustrated and unable to figure out whether all of this is happening in his mind, wanders into a record shop with Annie. Almost at wits end, he sees something in the record shop's DJ booth synthetic fibers similar to those he found under Susie Tripper's fingernails.
Sam brings the fibers back to the precinct and explains to the other detectives that the fibers are acoustic padding the killer uses to keep his victims quiet. A somber Carling tells Sam that now Dora has gone missing, her bloody jacket found at a subway station.
On a hunch, Sam brings in Colin Raimes' grandmother for questioning. She had come in to make a complaint three months earlier. She refuses to speak to Sam, but Hunt sweet-talks her into giving up information: her downstairs neighbor, Willy Kramer, used to play his records too loud, but since the complaint, she hasn't heard a thing.
Sam and Lt. Hunt spring into action. They speed to the Kramer's apartment, break in, and find Dora tied up, surrounded by acoustic padding. When they discover her, Kramer happens to be coming home with his groceries. A surprised Kramer hits Hunt and runs. Sam chases him through alleys, streets, and into an abandoned apartment. He thinks he has Kramer cornered, but after a scuffle, Kramer gets hold of Sam's gun and points it right between his eyes.
Staring down the barrel of his own gun, Sam tries to reason with Kramer. When Kramer tells Sam, "It's the only way home," Sam takes it to mean that if he dies in this world, he can go back to 2008. Sam coaxes Kramer to kill him, going so far as to press the barrel of the gun against his chest and beg Kramer to pull the trigger. As he gets closer to death, the sounds of a heart monitor grow louder and louder. Before Kramer can pull the trigger, Hunt enters, punches Kramer, disarms him, and Carling takes him into custody.
As Sam watches officers drive Kramer away, he notices Kramer wave goodbye to a set of young twins Colin and Lawrence Raimes. Sam watches Colin stare admiringly at Kramer, and tells Annie that Maya was right about Colin he killed out of hero worship.
Later on, Sam drives by Colin's house to speak to him. Colin is upset with Sam for taking away his friend Willy Kramer. Sam grabs a hold of his revolver as he speaks to Colin, about to kill him-- until he hears Maya's voice on his radio. She says she's safe and wants him to come back home. Sam suddenly doesn't have the heart to go through with killing the boy. As the boy asks him if he's okay, Sam gets a call from Skelton to investigate an armed robbery. Guessing he must still be in 1973 for a reason, he agrees to meet the other detectives at the scene and drives away from young Colin.