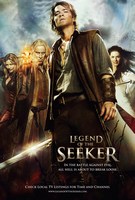 TV Info
---
Episode Premiere
March 20, 2010

Distributor
Disney-ABC Domestic Television

Genre
Drama, Action, Fantasy

Show Period
2008 - 2010

Production Company
ABC Studios, Ghost House Pictures, Buckaroo Ent.


Synopsis
---
When Sister Nicci casts a powerful spell on Kahlan, linking their fates, Richard must protect the evil sorceress while Kahlan confronts her past in a bid to break the spell. Merissa and the other sisters of the dark, fed up with Nicci's lack of success in finishing the Mother confessor decide to do away with her. Nicci, escapes and casts a powerful maternity spell linking her heart to Kahlan. Richard and others realizing the seriousness of the situation agree to Nicci's deal that Richard find the stone of tears or Kahlan dies. As Richard goes with Nicci, Zedd reveals that the spell can be broken by reconnecting Kahlan with her dead mother for which they would have to go to Kahlan's father in order to reclaim her mother's most treasured possession. Kahlan, reluctant to face the man who tortured and terrified her for most of her childhood, is forced to order his release from jail. Believing him to be a monster, she is shocked to learn that her father was more afraid of his children and was forced to join the D'Haran army due to his ambitious father where he was confessed, when he wished to be a stone carver.
Nicci forces a man to hit her until she is drunk as well as bloodied knowing Kahlan would be suffering as well. Merissa sends a poisonous spider to kill Nicci, who is bitten and tells a horrified Richard that she will die in a few hours. Kahlan and Nicci both drop into unconsciousness and stand at the brink of death as Cara tries to reassure the Mother Confessor she won't die. Zedd casts the spell with the necklace Kahlan's father gave her mother in celebration of Kahlan's birth. Richard, distraught that Kahlan was dead, kisses and cries over Nicci hoping his message of love gets through to Kahlan. It works and both wake up. Zedd casts the spell and Kahlan connects with her mother breaking the spell, Nicci kills the rogue sisters and leaves Richard alone. Kahlan's father, apologizes to Kahlan and both repair their relationship somewhat. Nicci breaks her allegiance to the Keeper, the Creator as well as everything else, her powers are stronger and she swears allegiance to herself.