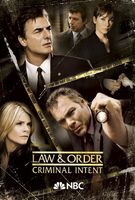 TV Info
---
Episode Premiere
May 11, 2010

Distributor
NBC, USA Network

Genre
Drama, Crime

Show Period
2001 - 2011

Production Company
NBC Universal, Studios USA TV, Universal Network


Cast and Crew
---
Director
Jim Hayman
Screenwriter
Nicole Mirante-Matthews
Main Cast
Synopsis
---
RACHEL's boyfriend JAY refuses to get out of the drug-dealing business. When he is beaten-up by ANDRE, a rival dealer, Rachel takes a blow to the face. She visits a medical center and, after fending off advances from RANDALL, accepts an invitation by nurse's aid MAYA to crash at her place. The next morning, Rachel is found dressed as a prostitute, dead.
Evidence at the crime scene reveals Rachel had been tied up, raped and strangled. The Medical Examiner reports that her body was scrubbed clean, inside and out; there is no DNA evidence. Rachel had been heavily drugged with alcohol and valium.
The cops track down Jay and Antoine. They learn about their fight in the bar, and the blow Rachel received. The stitches on her face, the valium, and the use of a medicinal cleanser on her body lead the detectives to a medical facility that treats the underprivileged and uninsured.
Meanwhile, at the medical facility, Maya fends off advances from co-worker, Randall. They had been an item in the past, but Maya is with someone new. Randall doesn't take rejection easily. Randall spars with DAMON, a macho New York firefighter who razzes Randall about being a nurse. They are interrupted when DANIELLE, a young girl with a minor finger injury, arrives in need of medical help. The next morning, Danielle turns up dead on the streets, killed and cleansed in the same manner as Rachel, and dressed as a prostitute.
Nichols and Stevens visit the medical center and confirm that both Rachel and Danielle had been treated at the facility. They speak with Maya and she mentions that Randall had been harassing Rachel. The detectives interview Randall who denies any wrongdoing and states that he used to date Maya and that she dumped him for another man, Damon.
Nichols and Stevens pay Damon a visit. Damon claims that Maya was at his apartment on the night of Rachel's murder and that they two of them were at a birthday party with his uncle JOE on the night of Danielle's murder. The uncle assures the detectives that Damon and Maya were with him, but they are not convinced.
As the detectives start digging for information on Damon, questions soon arise about Maya and her troubling past. Her relationship with Damon may be far more dangerous than they imagined.