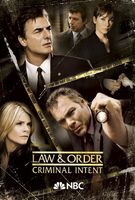 TV Info
---
Episode Premiere
May 04, 2010

Distributor
NBC, USA Network

Genre
Drama, Crime

Show Period
2001 - 2011

Production Company
NBC Universal, Studios USA TV, Universal Network


Cast and Crew
---
Director
Kevin Bray
Screenwriter
Michael Angeli
Main Cast
Synopsis
---
Happily married couple, LINDA and TED, are leaving the marina where they spent the day renovating their boat. As they pack up the car before heading home, they are assaulted and sedated by a masked assailant. Ted later emerges in a forest, confused and traumatized. When some park workers discover him, he says that he may have just killed his wife.
The next day, Nichols and Stevens are called to examine Linda's body. They recognize abnormalities but no signs of theft or sexual assault. The detectives proceed to Linda and Ted's apartment to find that someone, presumably Ted, had been there and taken clothes, valuable watches, a passport and money.
Upon further examination, Linda's body reveals traces of an adhesive and suction cup marks. Captain Callas points out that there have been four similar killings around the country in recent years. The detectives set out to prison to interview VERONICA who was jailed for murdering her husband. Her husband's body also had traces of the adhesive and suction cup marks.
Nichols and Stevens interview Veronica about her husband's murder. She claims that she didn't murder him, but that a man had kidnapped them and forced her husband to shoot himself or Veronica. He shot himself. Veronica mentions that the killer put a hospital band on her wrist and the police kept it as evidence. Det. Stevens retrieves the band and sets out to decipher the series of strange symbols.
The armband leads the detectives to ABEL, a social worker who has worked with both Veronica, Linda and Ted. At Abel's dreary office, the detectives notice an unusual and ornate desk; when asked about it, Abel mentions that his grandfather and father were concentration camp survivors and they built fine furniture. Meanwhile, the detectives are notified that Ted has been arrested at JFK.
The details slowly come into focus, but the primary question that emerges is "Why?" As Det. Nichols and Stevens pursue the case, they discover that motive can sometimes be harder to ascertain than the killer's identity.