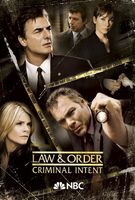 TV Info
---
Episode Premiere
August 09, 2009

Distributor
NBC, USA Network

Genre
Drama, Crime

Show Period
2001 - 2011

Production Company
NBC Universal, Studios USA TV, Universal Network


Cast and Crew
---
Director
John David Coles
Screenwriter
Michael S. Chernuchin
Main Cast
Synopsis
---
With the banks failing and public discontent high, aging revolutionary Axel Kaspers believes the time is ripe to galvanize public reaction and spark a populist uprising. With his radical daughter Birgit and disciple Mel, Axel orchestrates the kidnapping of Continental Bankcorp president, Peter Evans. However, the carefully planned carjacking goes bad when Evans resists with surprising force and hothead Mel shoots and kills one of the nation's most powerful bankers. Detectives Nichols and Eames pursue a surviving member of the radical Baader-Meinhof gang as he stages a revolutionary terrorist campaign.
Following the crime scene, the cops manage to easily track down Axel's getaway car, a stolen Lexus. They prepare to examine the car, but Nichols suspects fowl play. He smashes a window and finds a bakery box containing a fertilizer bomb. They back off and call the bomb squad.
Back at the squad room, the American Workers Army has taken responsibility for Evans' death. They've sent a letter to the Times declaring war on the "fat cat exploiters". Due to the political nature of the crime, Special Agent Carmen Martino is brought on to the case.
Nichols and Eames pay a visit to Evans' lawyer Basil Bloom, who Evans was en route to meet for dinner when he was intercepted and killed. Basil tells that his secretary, Shelley, was the only person who knew where he and Evans were going for dinner. When the detectives go to speak to Shelley, they learn she departed shortly after their arrival. A check on Shelley reveals a phony social security number and a fake address.
At Axel's apartment, we learn that Shelley is actually Birgit, Axel's daughter. They are emboldened by the online reaction to their letter to the Times and their activities. They are being hailed as the vanguard of populist anger.
When Axel and Birgit meet with Mel to plan their next move, Mel mouths off about a plan to kill his boss. Axel sees Mel as out of control and a threat. He kills Mel with a garrote.
A forensics report explains that the fertilizer bomb from the car contained urea. The detectives trace the material to a shipping yard where they finally catch a break: the foreman tells of a politically radical German who worked the yard. They get his work ID, but their investigation lead nowhere: the address provided is false.
Nichols suspects the revolutionary-based terrorism might be instigated by a former Baader-Meinhof gang member. They were a group of radical intellectuals that terrorized Germany in the '70's. The language they used at that time is similar to the language used in the letter to the Times.
Axel and Birgit set off a car bomb in front of a Wall Street bank.
Meanwhile, Nichols has requested information from German authorities about surviving members of the Baader-Meinhof gang. One of the photographs provided matches Axel's work ID. His last known terrorist event in Germany was over twenty years ago: he murdered a German banker, Fichte, and his family.
Birgit arrives home to find a stranger, Rosie, half-naked in the apartment, having recently been in bed with Axel. Birgit sees their letter toThe Times open on the computer. She challenges Axel about bringing Rosie to the apartment and putting their mission in jeopardy.
Martino reports that data mining bots have tracked a woman in Manhattan who has bought supplies for a large bomb. She used a credit card. When the cops reach the woman's address, they find Rosie dead in her apartment - killed with a garrote. A friend of Rosie's identifies Axel as the man Rosie had met in a bar the previous evening.
A slip of paper from a fortune cookie tells that Rosie recently had dinner from a chinese restaurant on the other side of town. The detectives begin a search of all apartments the restaurant made deliveries to the prior evening.
Birgit tells Axel she killed Rosie; she was a threat to the mission, like Mel. Axel erupts and tells her he is the one to make those kinds of decisions. Rosie was a lonely, innocent woman, he says. Birgit backs down, subdued by Axel's anger.
Nichols and Eames, having continued their search for Axel's apartment near the Chinese restaurant, spot Axel emerging from a nearby store. They intercept and arrest him, while Birgit flees out the back of the building.
Martino learns that Axel and Birgit came into the country years ago using the passports of the Fichts - the German banking family Axel murdered in a fire bomb. The cops get word that Birgit is holding a dozen hostages in a bank, demanding the release of her father to Cuba. She has a bomb strapped to her body, designed to explode if it tilts.
In the finale of the episode, Nichols enters the bank using Axel as cover. Nichols tries to talk Birgit out of the tragic situation. He explains that Axel is not in fact Birgit's father. She is Martha Ficht, the child of the couple Axel had killed years before. Birgit dismisses this as irrelevant; she is a revolutionary, she says. Axel appeals to her to give up: he does not want to lose the girl he has come to think of as his daughter. She challenges that the revolution is more important. It's what he always told her. Axel reveals his true character to her: those were just words because the world had left him behind. You are more important to me, he says. Birgit moves toward Axel, ready to submit when a sniper takes her out with a bullet to the head. Nichols catches Birgit to prevent the bomb from exploding, while Axel crumples in grief over Birgit's dead body.