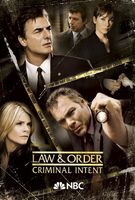 TV Info
---
Episode Premiere
August 02, 2009

Distributor
NBC, USA Network

Genre
Drama, Crime

Show Period
2001 - 2011

Production Company
NBC Universal, Studios USA TV, Universal Network


Cast and Crew
---
Director
Norberto Barba
Screenwriter
Walon Green
Main Cast
Synopsis
---
Hamp Trotter - a posterboy with a million-dollar torso has what others crave: sex appeal. What started as an evening out with his famous ex-wife Amy Townsend - orchestrated for publicity - ends in the arms of a sexy woman, Galla Richter. When dawn rises over Gotham City, Hamp "The Hamp" Trotter is dead.
Detectives Goren and Eames arrive at the crime scene. Goren pressures Hamp's physical trainer, Teru, who reveals that he called Amy when he found Hamp dead. She came over and cleared the crime scene of drugs.
Meanwhile, Stash, an ex-cop, rewards Galla for her night with Hamp. But Galla is upset: Hamp wasn't supposed to be killed. Stash calms her down, explains that 'stuff happens,' and reminds her to be grateful to him for protecting her from the cops.
At the morgue, M.E. Rogers reports that Hamp was drugged with large amounts of OxyContin, and then suffocated.
When questioned by the detectives, Amy says she removed the drugs from Hamp's apartment because she was trying to protect Hamp from a feeding frenzy in the press. She insists that she had nothing to do with Hamp's death. Goren notices a limp and Amy explains that she has a bad hip. She admits to giving OxyContin to Hamp, but adds he hadn't touched the bottle. She found it when she cleared the drugs out of the place; the drugs came from elsewhere. She reveals that she left the club that night because Hamp was interested in another woman (Galla)-someone he had been with before.
The investigation leads the detectives to Duke Deguerin, a real estate mogul with a history of headline grabbing. DeGuerin admits he doesn't like Hamp and resents the fact that the view from his office window is dominated by an enormous billboard of Hamp's near-naked torso.
Thanks to the tabloids and a catfight between Amy and Galla at Hamp's memorial service, the detectives ID the elusive Galla. A background check identifies Galla as a high priced call girl. Goren and Eames find her former pimp, Jaimie, in jail. He explains that Galla talked to him about what happened. She was only supposed to drug Hamp, then call the cops and the tabloids.
Stash prepares Galla for her next John: DeGuerin wants them to set up the city controller in charge of demolition permits. Galla says she wants out. Stash says DeGuerin would never permit it.
Despite Stash's best efforts to protect Galla, DeGuerin knows she is no longer under his control. He's furious she attended Hamp's memorial service. DeGuerin blames Hamp-his physical perfection was something no one could compete with. He still resents Hamp's lingering influence over women.
Stash understands DeGuerin is now a serious threat and arranges airline tickets for both himself and Galla to disappear, but Galla winds up strangled in Hamp's loft. Goren and Eames interrogate Stash, who puts the finger on DeGuerin. Stash tells that DeGuerin had a bizarre fixation on Hamp Trotter, and became enraged when Galla showed up in the tabloids at Hamp's memorial service. He adds that he seemed to be competing with Hamp, but Stash doubts that Hamp ever knew about it.
Goren and Eames gamble by bringing in DeGuerin on circumstantial evidence. They set him up so that DeGuerin thinks he sees a still-alive Galla in the adjoining office. We glimpse DeGuerin's stratospheric ego before he implicates himself in the murders of both Hamp and Galla.