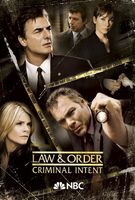 TV Info
---
Episode Premiere
June 21, 2009

Distributor
NBC, USA Network

Genre
Drama, Crime

Show Period
2001 - 2011

Production Company
NBC Universal, Studios USA TV, Universal Network


Cast and Crew
---
Director
Jean de Segonzac
Screenwriter
Walon Green, Antoinette Stella
Main Cast
Additional Cast
David Harbour
Susan Misner
Karen Ziemba
Marilyn Chris
Synopsis
---
PAUL DEVILBIS, a religious conservative and recently fired bank manager, watches with mixed emotions as his only daughter, KATHY, plays a provocative lead role in her high school play. The comfortable and safe life he has given his family seems to be slipping from his control. He rises and leaves the theatre mid-play and begins his mission to save his family. He starts by killing his wife's sister and husband, MILLIE and JOE STEGEMAN, with a ball-peen hammer. Detectives Goren and Eames must track down a family annihilator.
At the crime scene, the detectives determine the victims knew the killer and were comfortable with him; they seem unlikely targets for a double-homicide. Goren notes a flyer for a high school play of CYRANO among family photos, on the refrigerator.
Paul and wife, MARY, visit police headquarters to identify the bodies. Mary tells Goren and Eames that her sister was expecting a baby. She also admits that Millie and Joe had been having financial trouble. She and Paul were planning to help them out.
At the Devilbis', Kathy asks permission to spend the night with a friend to practice a new play by Tennessee Williams for drama class. Paul reluctantly agrees, then drives out to meet Kathy's drama teacher, VILMA, as she returns home. On the pretense of discussing his daughter's future as an actor, Paul joins Vilma for coffee and kills her with the ball-peen hammer.
As Goren and Eames investigate Vilma's murder, they learn she directed the play that was first seen on the flyer at Millie's and Joe's. They discover that Paul and Mary's daughter, Kathy, starred in the play.
Meanwhile, Paul contacts his old colleague and the new bank president, RAYMOND BALGER, to ask him if he will take a look at a restructuring plan of the bank. Paul is making a bomb.
The detectives pay a visit to Paul's home. They confront Paul about his whereabouts on the night of Millie and Joe's death. Paul tells that he was at the play and turns to Kathy to confirm. Kathy gives him an alibi when she assents that she had three curtain calls. Goren prods Paul and learns he had issues about Kathy participating in the play. He also gets an insight into Paul's family values: he was determined to prevent Joe and Millie from losing their house, even though he himself had lost his job at the bank.
Paul speaks in church at the memorial service for Millie and Joe while the package he delivered earlier reaches the bank president, Balger. As Paul invokes the name of God in front of the congregants and mourners, a huge blast explodes at the bank, killing Balger.
A Cyrano flyer found in the debris of the bank draws the attention of Goren and Eames. They interview a wounded bank employee who tells them that Paul Devilbis delivered the package containing the bomb.
The detectives arrive at the Devilbis home to find Paul has killed the family dog and shot his wife, Mary. She lies tucked into her bed as though sleeping peacefully. They expect to find Kathy similarly arranged, but she's not there. The detectives hope to track down Kathy before Paul carries out his final series of murders.
Goren profiles Paul as a family annihilator: a controlling personality and the go-to person for family problems, and devoutly religious. In his mind, these people are better off in God's hands.
Paul takes Kathy to the family farm. She hears the news on the radio about her mother's murder and the manhunt underway for Paul. She breaks into a run, heading for the woods. But Paul has heard too and runs after her. He catches her and explains he has done it to save them all. He has done it so that they might all be in God's hands together. Realizing that he is far from sane, Kathy negotiates to stay alive until the end, when the two of them can go together.
When Paul calls the nursing home where his mother is staying, the police spring into action. Paul arrives to pick up his mother, and he is set upon and arrested.
The police search the farm but cannot find Kathy. Goren interrogates Paul. He quotes scripture, invoking the word of God to force Paul to admit that he has been guided by Satan, not by God. Paul adheres staunchly to his faith until the final moments, where doubt creeps in and he admits that he has indeed served the will of evil. He tells the cops that Kathy can be found at the Morriltown cemetery.
The detectives find Kathy tied to a tree, alive.