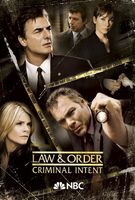 TV Info
---
Episode Premiere
May 17, 2009

Distributor
NBC, USA Network

Genre
Drama, Crime

Show Period
2001 - 2011

Production Company
NBC Universal, Studios USA TV, Universal Network


Cast and Crew
---
Director
Jean de Segonzac
Screenwriter
Antoinette Stella
Main Cast
Synopsis
---
Goren revisits simple family values in the Midwest with his Great Aunt Connie. We pick up Eames as she returns from Staten Island and a complicated family dynamic (she was the surrogate carrier for her sister's baby). They both arrive back in the city and are thrust into the murder of Dr. Ryan Conlon.
While at church, Conlon gets a message from his wife, Carrie, that she wants him home for lunch. Not long after he walks through the door, he is killed. Carrie has been left alive, tied up, and a witness to the murder.
At the crime scene, Eames explains that Conlon was the former high-profile doctor to the Cougars football team. The detectives leave the scene convinced Carrie is having an affair, possibly with the killer. A set of bloody boot prints and an eyewitness suggest the killer was on a motorcycle.
The investigation leads to the church Conlon attended. We meet Reverend Wyler and his wife, Alison. Wyler is a deferential man and his wife exerts some influence within his ministry. An acolyte at the church, Kevin Paxton, wears heavy motorcycle boots beneath his robes. Scratch marks on his neck make him the lead suspect.
The detectives bring Kevin in for questioning: they lean on him hard. Kevin later turns to Alison Wyler for support. They have an overly close relationship: Kevin is in love and he clings to the older woman. Alison coldly rejects him, and suggests he find another church. Kevin is devastated that she would reject him when he needs her support the most. Kevin departs, and ultimately commits suicide.
Meanwhile, we learn that Carrie, as suspected, is having an affair-with Reverend Wyler. He asks her to stop calling and leaving messages on his machine. She insists that she doesn't know what he's talking about. When Goren and Eames force Wyler to admit to the affair, he turns over all of Carrie's phone messages.
Goren and Eames check up on Alison Wyler. They learn she had been a speech therapist before her marriage to Wyler, and that she had tutored a very young Kevin Paxton.
The detectives interrogate Carrie as a possible collaborator in her husband's murder. When they play her the phone messages that suggest she was involved with the murder, she denies that she made the calls-even though she admits it sounds like her.
In the aria of the show, Goren steers former speech therapist, Alison Wyler, into self-incrimination: she manipulated Kevin into killing Conlon and made the calls to frame Carrie for the murder. Her husband, she says, could never love a murderer. It turns out she's right-Wyler overhears her admission and disavows her.