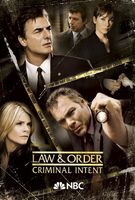 TV Info
---
Episode Premiere
May 01, 2009

Distributor
NBC, USA Network

Genre
Drama, Crime

Show Period
2001 - 2011

Production Company
NBC Universal, Studios USA TV, Universal Network


Cast and Crew
---
Director
Michael Smith
Screenwriter
Pamela Wechsler
Main Cast
Synopsis
---
Twenty years later, GRAY VANDERHOVEN leads a life of privilege and wealth. He is married to LUKIE, a New York socialite, who is currently arguing with her husband about attending his Princeton class reunion. As they prepare for an opulent fundraiser, Gray receives a call. His long-lost brother, ANTHONY, has finally tracked him down. Gray lies when Lukie asks who is on the phone. He sends Lukie to the fundraiser without him. He meets his brother Anthony, and shoots him dead.
Goren and Eames arrive on the scene, and quickly conclude that the Brooks Brother's wallet in Anthony's pocket was planted, and the real one removed. The social security card in the wallet is also a fake: the killer wanted to conceal the victim's identity. But a locker key leads the detectives to Port Authority Bus Terminal, where they find Anthony's prescriptions (treating symptoms associated with cancer), as well as his full name and address.
The detectives travel to the poor flop-house in Philadelphia that Anthony called home. A letter they find there leads them to MAVIS, who admits that Anthony had contacted her about a man she had been engaged to at the time, named Richard Phelps. Anthony believed he knew the man, but when Mavis confronted Richard, he denied knowing Anthony. The next day, Richard disappeared. She adds that she and Richard had both gone to Princeton, though not concurrently. When asked by Goren, Mavis admits that she had given Richard a Brooks Brother's wallet.
We return to Gray, now going by the name Tyler Chisolm. He drives through a salt marsh on Nantucket with JULIANNA, whose house he wants to rent. Gray introduces himself as a writer looking for solitude. She is surprised to learn he is a Princeton alum; she also attended Princeton. Juliana agrees to rent the house to Gray, and is more than a little intrigued by him.
Goren and Eames track down Anthony's ex-wife, PATRICIA. They learn about Anthony's tragic childhood, and that Anthony had lost touch with his brother, Thomas, while in foster care, and had been actively trying to find him ever since.
Meanwhile, Gray has become close to Julianna, weaving her into his fantasies and his new identity.
When the clues lead to Lukie - yet another Princeton graduate - Goren and Eames pay a visit to Princeton. They learn that Gray Vanderhoven and Richard Phelps both died in a mountain climbing accident while at Princeton, and that Thomas Burris had been a dishwasher who tried to pass himself off as a student. The detectives run a check on the names of the two additional students who died on that ill-fated mountain climbing trip. They get a hit for Tyler Chisolm: he's leasing a house in Nantucket.
The detectives arrest Tyler-Gray-Thomas. In the aria of the show, Goren confronts Thomas with the truth about his past. Old videotape shows Anthony testifying that Thomas killed their mother. Thomas, young and impressionable, agreed that he pushed the heater into the tub. But Goren draws a conclusion that it was logically and physically impossible, based on the evidence and written testimony, for Thomas to have done this. For 25 years, Thomas has lived with the belief that he killed his mother. Anthony wanted to find Thomas to finally resolve the truth about the past, and make atonement. Thomas, the master illusionist who feared exposure, has to face his self-deception.