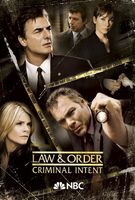 TV Info
---
Episode Premiere
April 26, 2009

Distributor
NBC, USA Network

Genre
Drama, Crime

Show Period
2001 - 2011

Production Company
NBC Universal, Studios USA TV, Universal Network


Cast and Crew
---
Director
Bill D'Elia
Screenwriter
Ed Zuckerman
Main Cast
Additional Cast
Synopsis
---
When a young hipster, Teeter Kenright, is found stabbed to death in an ethnically charged neighborhood, Detectives Nichols and Wheeler enter the world of aspiring artists with big dreams.
Wannabe lead guitarist, Hank, arrives back in town from a failed LA gig and returns to the former sausage factory-turned-loft that hipsters in East Williamsburg call home. The warren-like nature of the place suits the hipster lifestyle: everyone here is a starving artist with big dreams. Reality takes a big bite out of one hipster's dreams after a night out at a bar --Teeter winds up dead.
Detectives Nichols and Wheeler visit the loft where Teeter lived. They meet the aging rocker-landlord, Philip, who was once in a band that played Woodstock. They also meet Hank, who's moving up the loft food chain by taking over Teeter's old room. Nichols gets information from Rafe that Teeter split after the bar to meet his drug dealer, DIX.
The detectives confront Dix, but it turns out he's a pretty nice guy with no motive to kill Teeter.
Back at the loft, an impromptu memorial party for Teeter has sprung up. Philip consoles Sue, who thinks she should give up the life of an artist and return to Wisconsin. Rafe, drunk, listens to Hank play guitar. Rafe tells Hank he's getting pretty good, and confides that his band has just landed a big gig, which may lead to a tour and a recording contract.
Philip puts the squeeze on Sue (she's sleeping with him for rent). But she's not up for it tonight. A scream interrupts their conversation - Rafe has fallen down the elevator shaft, dead.
Nichols and Wheeler question the artists. No one saw Rafe fall into the elevator shaft. Nichols is immediately suspicious that perhaps he was pushed. Back at the squad room, the M.E.'s report comes in from Teeter's murder. He was killed with a serrated knife with a chip in the blade.
On a hunch, Nichols brings Wheeler to Rafe's gig - the one he would have made had he lived. It turns out that Hank is Rafe's replacement. He does a great job as lead guitarist. After the show, Nichols pushes Hank's buttons by telling him that the odds of making it as a great artist are almost nil. To illustrate his point, Nichols takes a seat at the piano and plays a great jazz number. He's fantastic, yet he's still a cop. Hank replies that real artists make their own opportunities.
A background check on Hank reveals that his step-father died by falling off a roof. Nichols and Wheeler speculate that Hank may have a history of getting rid of people in his way.
The detectives talk with Philip, who has gold records lining his walls from his time with the band, Speckled Stallion. Now, he manages bands. Philip confirms that he had encouraged Hank and may have let him think there was a place in the band for him if Rafe weren't in the picture.
Nichols and Wheeler confront Hank about his whereabouts the night Hank fell into the elevator shaft. He was drunk, he says. He doesn't remember.
Meanwhile, Hank and Philip argue over the band. Hank is ready for more action, but Philip doesn't think the band is ready.
Deeply suspicious of Hank's intentions, Nichols sets up Hank by sending a big band manager his way. The manager says he'd love to do things for the band, but Philip's in the way.
Furious, Hank calls Philip. Tells him to meet him at the old, now deserted, McCarren pool.
Nichols and Wheeler, expecting murder, follow and intercept Philip and Hank. Nichols turns the screws on these two, and finds the knife that killed Teeter in Philip's pocket. It turns out that Philip was about to kill Hank too. Hank reacts to this brush with death. We learn that he pushed Rafe down the elevator shaft because Philip had promised to realize his dream of becoming a rock star.