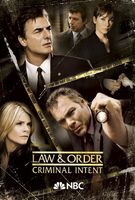 TV Info
---
Episode Premiere
May 18, 2003

Distributor
NBC, USA Network

Genre
Drama, Crime

Show Period
2001 - 2011

Production Company
NBC Universal, Studios USA TV, Universal Network


Cast and Crew
---
Director
Don Scardino
Screenwriter
Warren Leight, Rene Balcer
Main Cast
Additional Cast
Leslie Cohen
Bill Cwikowski
Peter Rini
Synopsis
---
Detectives Goren and Eames investigate the murder of a crooked policeman found trapped in a full-height subway turnstile and stabbed to death.
Goren and Eames initially discover the dead cop had been blackmailing female escorts who had become ill with infectious diseases. Investigating other female patients with infectious diseases, the detectives find a common link -- dated a South African infectious disease specialist doctor, Roger Stern. His former dates had all been infected with uncommon zoonotic viruses normally found in animals in Africa. It is not long before Goren find holes in his story, and refocuses the investigation towards the voyeuristic doctor (Goren notices the mirrored cabinets in Dr. Stern's office which allow him to secretly watch his unsuspecting patients behind the examining curtains).
As the team begin to stitch together the pieces, they trace the suspect's association with an exhibitionist veterinarian, Dr. Scott Borman, who might have been involved in infecting the female dates with zoonotic viruses. When Goren look deeper into the case, he realizes there are unequivocal psychological components. Finally in the holding cell, Goren confronts both doctors by pitting them against each other.
During the confrontation, Goren reveals that the refined and cultured Dr. Roger Stern hated his mother and her refined and cultured upbringing of him. He now dates refined and cultured women and enjoys watching them get humiliated and degraded as Dr. Scott Borman has his animalistic way with them (...turning them into corn cobs in a pig sty, with a rutting pig on top of them). He subsequently gives his dates a gift of earrings secretly coated with a zoonotic virus that renders them ill and can eventually kill them. Unlike the female victims which Dr. Stern infected and killed with zoonotic viruses; Dr. Stern trapped his blackmailer, the crooked cop, in the malfunctioning subway turnstile (the imagery of a trapped animal caged by the bars of the full-height turnstile), then repeatedly stabbed him, and finally enjoyed watching him die.
Dr. Scott Borman is a willing accomplice and fully aware of Dr. Roger Stern's modus operandi. As a proud virile exhitionist, vetinarian Dr. Borman is very upset when the equally proud Dr. Roger Stern denigrates him as a "rutting pig".