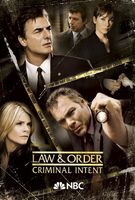 TV Info
---
Episode Premiere
November 03, 2002

Distributor
NBC, USA Network

Genre
Drama, Crime

Show Period
2001 - 2011

Production Company
NBC Universal, Studios USA TV, Universal Network


Cast and Crew
---
Director
Juan J. Campanella, Frank Prinzi
Screenwriter
Michael S. Chernuchin, Rene Balcer
Main Cast
Additional Cast
Ilana Levine
Julian Gamble
Scott Sowers
Synopsis
---
In this episode, the murders of two deliverymen during a robbery lead Detectives Goren and Eames to discover a long-running case of drug tampering.
While investigating the murders, Goren and Eames change the focus of their investigation to a pharmacist, Jim Halliwell, who may be tampering with life-saving, cancer-fighting drugs needed by hundreds of patients, as many of the victims died despite positive survival prognoses from their personal doctors.
The detectives are unable to prove their suspicions until the exhumations of possible victims reveal evidence of an assisted suicide by an elderly husband, Frank Lowell, who reluctantly acted at his wife's request to end her suffering.
Jim Halliwell is selling far more chemotherapy drugs than he is actually buying. The discrepancy is because he is diluting the chemotherapy drugs to fill many more prescriptions, but still charging the full-strength price for each prescription. The extra fraudulent profit he is making is being used to fund his church donations -- medication discounts for Church-affiliated nursing home residents and a $1.5 million pledge for a Church recreation center. Generous church donations are the means to achieve the respect and admiration from the community that Jim and Penny Halliwell seek. In recognition of their donations, their Church has promoted them to "Church Elder" - pillars of the community. To encourage donations, Rev. Norman Mills has no qualms in using shame to compel churchgoer donations.
In the end, as Jim Halliwell and his wife are exiting a church service, in the presence of the Reverend and the other churchgoers, the detectives publicly confront Jim about the assisted suicide and the diluted chemo drugs and arrest him. Both Halliwells are shamed in front of the people they sought the respect and admiration of. Jim Halliwell later reveals to the Assistant District Attorney Carver that he tampered with more than 26,000 prescriptions involving 1200 patients.