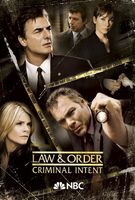 TV Info
---
Episode Premiere
March 03, 2002

Distributor
NBC, USA Network

Genre
Drama, Crime

Show Period
2001 - 2011

Production Company
NBC Universal, Studios USA TV, Universal Network


Cast and Crew
---
Director
David Platt
Screenwriter
Rene Balcer
Main Cast
Additional Cast
Jordan Gelber
Angela Bullock
C. Kavanagh Harris
Synopsis
---
A broker, Lucas Colter, in deep debt to a loan shark, and despite several days of frantic money raising, is unable to meet his obligation. Following a partial, inadequate payment, he returns home from a morning jog to find his family apparently kidnapped. He denies that anything's amiss to his mother-in-law, but she goes to the Major Case Squad with her suspicions that the family was kidnapped for ransom.
Detectives Goren and Eames attempt to gain Colter's cooperation, but he avoids them. As the police follow Colter, he takes a call from the kidnappers, who begin by threatening the lives of his family, and commence to rape his older daughter, Maggie.
Following her rape, Maggie adjusts her blindfold enough to spy a tattoo on the back of her rapist.
Lucas Colter turns to his father, Melvin Colter, who wouldn't help him before but does help him now. The family is returned home, safe but traumatized, and all of them deny any kidnapping to the police. Goren and Eames suggest to Melvin that the kidnapping was staged, but are unable to convince him. Believing that Melvin must know the loan shark, they locate one through his finances, and convince the loan shark to give up his "collector." The loan shark's contact, a drug-mob bagman gives up the kidnappers' location and the leader's unusual "Bonanza" ringtone.
The police sting the kidnappers, and one of them draws a gun on Eames, who fatally shoots the man. Goren pursues the other, who disappears into a diner. Goren calls the man's phone, and finds him by his ringtone.
The police still lack evidence for holding the remaining kidnapper, whom they've identified as Simon Matic, though they've learned of his war record as a Serbian soldier in Bosnia. With time running out before they must arraign or release him, Goren and Eames talk to the family to find any means of positive identification, and learn that Maggie Colter was experiencing Stockholm Syndrome.
After questioning her mother, Susan Colter, Eames and Goren interview Maggie in her room. Eames asks for a basic identification, and plays the comforting therapist. Goren contradicts Eames, and tells Maggie that Eames shot and killed one of the kidnappers. He produces a dossier on Matic, and the history of rape in Bosnia by Serbian soldiers such as Matic. Maggie opens up to Goren, revealing her hatred of her own weakness, and the weakness of all victims.
Goren and Eames return to the police station, and, under the guise of confirming Matic's identity, Goren goads him about his war record. Matic displays a scar on his abdomen, incidentally revealing his tattoo. The tattoo is a match for a sketch by Maggie Colter, a positive identification, concluding the interview and guaranteeing a successful arraignment. Detective Eames and Captain Deakins conclude that Matic's victimizing days are over, a mere 10 years too late.