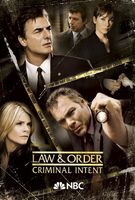 TV Info
---
Episode Premiere
December 09, 2001

Distributor
NBC, USA Network

Genre
Drama, Crime

Show Period
2001 - 2011

Production Company
NBC Universal, Studios USA TV, Universal Network


Cast and Crew
---
Director
John David Coles
Screenwriter
David Black
Main Cast
Additional Cast
B.J. Jones
George Martin
Greg Zittel
Synopsis
---
Detectives Goren and Eames investigate the death of Harold Sternman, an elderly and paranoid banker who died in the penthouse suite of his own luxury apartment building duing an arson fire. The perpetrator is soon found dead as well.
The investigation leads Goren and Eames to Harold's dysfunctional family, consisting of his young trophy wife Kit and his incompetent, alcoholic son Edward. The pre-nuptial agreement between Harold and Kit stipulates that if Harold finds that Kit has been unfaithful to him, she will be cut out of his will altogether. Evidence soon turns up revealing that on the day of the fire, the security code to the penthouse suite elevator was changed so that Harold would be unable to use it and escape.
While searching a safe deposit box at Harold's bank, Goren and Eames find some bedsheets that prove to contain DNA from both Kit and Edward; Harold had been planning to get a divorce, using them as evidence. However, Edward insists that he has never slept with Kit because he is homosexual, and that his DNA must have been planted on the sheets. The detectives now shift their focus to Rick Zainer, Harold's private nurse, who was responsible for giving him his medications. Prescriptions for Zoloft and Xanax are found among these, and Goren concludes that Zainer could have deliberately given Harold incorrect doses to increase his paranoia and anxiety.
Under questioning, Zainer admits that he did exactly that as part of a plan to turn all three family members against each other. He slept with Edward to get the DNA so he could plant it on the sheets, leading Kit to fear losing everything in a divorce. If Harold died first, however, she could inherit his estate and Edward would become the legal owner of the building, allowing him to sell it. Kit and Edward conspired to trap Harold in the penthouse, find an arsonist to set the fire, and kill that person to cover their tracks. Zainer executed his plan out of resentment toward Harold, who had never delivered on a promise to write letters of recommendation so that Zainer's sons could get into an elite private school.
Goren praises Zainer for having committed a perfect crime in which he bears no legal responsibility, but then looks closely at his employment contract. He is held to such a high standard of care that his actions amount to manslaughter, for which he is promptly arrested. Based on his subsequent statements, Kit and Edward are arrested on charges of manslaughter, arson, and attempted murder.