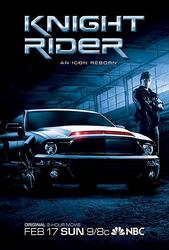 TV Info
---
Episode Premiere
January 07, 2009

Distributor
NBC

Genre
Action

Show Period
2008 - 2009

Production Company
Universal Media Studios, Dutch Oven Productions


Cast and Crew
---
Director
Bryan Spicer
Screenwriter
Rob Wright
Main Cast
Additional Cast
Synopsis
---
The only thing at the exchange point is a rusty, abandoned pick-up truck. When Mike gets on all fours to investigate a ringing smartphone taped under the truck, an unmanned drone flies up and takes off with the briefcase full of ransom money. Mike jumps into KITT and orders him to follow the drone.
KITT refuses to use missiles or lasers, knowing that he will incinerate the money along with the drone, and extinguish all chance of tracking it, even though it has a stealth coating which prevents tracking. He directs Mike back to the phone, which is still ringing and may be traceable.
The Voice on the other end of the phone is teasing and ironic, and proves himself to be Olara's kidnapper by showing video of her bound up. The Voice promises to keep her alive, but only if Mike will do his bidding; the money was only the beginning. Now he wants Mike to meet him at Madras Prison in an hour, after springing inmate and arms dealer Gunnar Haas.
Torres gets the SSC team cracking, calling for Sarah and Graiman, who are working on "sick" robot Hank. Sarah thinks that Hank is malfunctioning on purpose, and leaves Graiman to sort out the problem. When Hank pelts Graiman with a ball, he knows there's more to the problem than meets the eye. Meanwhile, Rivai worries that their case is more than just a political kidnapping -- why Haas?
Minutes before the deadline, Billy informs Mike that the CIA is refusing to release Haas. Torres orders Mike to get creative, so he puts KITT in Attack Mode and turbo boosts over the prison walls to grab Haas and escape an onslaught of armed guards. When Haas gets too curious about KITT, Mike has him deploy gas out of the glove compartment to knock Haas out.
The smartphone rings, and the Voice asks for proof that Mike has Haas. Mike uses the phone to send video proof, then asks when they'll make the swap. The Voice laughs; Mike's day is just starting. He needs to procure a research-quality micro APS X-ray machine in the next 40 minutes. Sarah locates one of the rare machines at State University's research lab, as Rivai tries and fails to connect Olara, Haas and X-rays.
Graiman hooks Hank up to a computer for an AI sweep and turns to leave. Before he makes the door, Hank hurls the computer, narrowly missing Graiman's head. Disguised as a repairman, Mike walks off with the X-ray machine. It isn't until he passes the real repairman in the hall that he has to resort to the back-up plan of running. Guards shoot Mike in the butt with a taser just before he hops into KITT.
The Voice calls to congratulate Mike on his good work, claiming that nothing he's doing is random. Mike is to follow a nearby Navigator to an amusement park parking lot and exchange Haas for a small box. Billy learns that Ivana Alexandrov is the registered owner of the Navigator, and that she's a member of SVR, the Russian Secret Service. Torres orders Billy to cross reference Ivana with Haas and Olara.
Hank runs amok, destroying the office, so Graiman finally shuts him down. Only then does he find an article that Hank's been hiding, about earlier days when Hank was the hottest AI robot and the star of the show. Meanwhile, Ivana and two hot henchwomen climb out of the Navigator holding a small box and big guns.
Haas recognizes Ivana and tries to run for it, so Ivana orders Mike to catch him. When Ivana refuses to hand over the box, KITT takes the girls and Haas out with non-lethal darts. As the drone returns to orbit overhead, KITT orders Mike to get out of the car -- the small box is radioactive!
Billy finally identifies the Voice as belonging to Christopher Stevens, a Pentagon weapons designer who was building a self-targeting low orbit laser when he was fired for selling secrets to the Russians. When three instrumental witnesses in the Stevens investigation disappeared, Stevens did, too.
KITT activates a hazmat storage unit in his trunk to store the small box and decontaminate Mike. The box contains hafnium, which can release a bomb-like charge when struck with an X-ray. When the smartphone rings again, Mike accuses Stevens of having him build a bomb. Stevens maintains that Mike is merely collecting the bomb's pieces, and orders him to bring everything to the Hesperia Sugar Mill in 20 minutes, which is when Olara's oxygen will run out.
Graiman comforts Hank, apologizing for not showing him enough attention, promising a new job in the SSC alongside KITT. Graiman rushes off to tell Mike that the sugar mill must be Stevens HQ. Since the mill is surrounded by an electromagnetic shield, they'll probably lose contact. Torres dispatches Rivai and her FBI team to meet up with Mike at the mill.
As KITT distracts the drone with laser fire, Mike bails out of the car. The SSC loses contact as KITT pulls up to Stevens. Thinking Mike is in the car, Stevens asks him to drive into a warehouse. At a different spot in the warehouse, Mike fights off two of Stevens' henchman to discover Olara, concealed behind a locked trap door in the floor. When Stevens finally realizes Mike isn't in the car, he runs off to find him with Olara.
Stevens demands his bomb parts, threatening to kill Olara, so Mike gives in. Stevens has his men put together the bomb and place it in KITT's trunk. Mike is instructed to get in the car and drive at 100 mph due north. If he falls behind speed or deviates off course, the bomb will incinerate them all. Promising to come back for Olara, Mike gets in KITT and takes off.
KITT and the SSC regain contact and Mike explains what's happening. Meanwhile, Rivai and her team search the warehouse, which now appears to be empty. Rivai spies a wire leading to a door. She calls out, but can't stop one of her men from opening the door and triggering a huge explosion. Mike spies the fireball in KITT's rear view... TO BE CONTINUED!