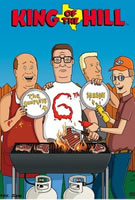 TV Info
---
Episode Premiere
March 19, 2000

Distributor
Fox TV

Genre
Animation, Comedy

Show Period
1997 - 2009

Production Company
Deedle-Dee, Judgmental, 3 Art, Film Roman, Fox TV


Cast and Crew
---
Director
Boo Hwan Lim, Kyoung Hee Lim
Screenwriter
John Altschuler, Greg Daniels
Main Cast
Mike Judge
Kathy Najimy
Pamela Adlon as Bobby Hill (voice)
Brittany Murphy as Luanne Platter/Joseph Gribble (Age 12)
Johnny Hardwick
Stephen Root
Toby Huss
Additional Cast
Karen Maruyama
Soon-Tek Oh
Synopsis
---
Bobby becomes "Little Buddha."
On the eve of the Laotian New Year, called "Pimai," the Kahns have a party and invite the entire neighborhood. Also on the guest list are the prestigious Wassanasongs, whose son Chane is in constant competition with Connie. Chane has been identified by three visiting monks as a potential lama, or "chosen one." When Connie hears this, she becomes determined to beat Chane in the lama game.
At the party, Chane and Connie compete for the monks' attention while Bobby and his parents mingle. The monks set up a test to see whether Chane or Connie is the new lama. They lay some articles out on the lawn: a cane, a pair of eyeglasses, some bowls, etc. One of these articles belonged to the previous lama and only he or she who possesses the great lama's spirit can identify which item was his. While Connie and Chane prepare, Bobby casually picks up the cane and begins twirling it. The monks immediately bow in honor of the new chosen one, for Bobby picked the lama's cane! No one is more shocked than Hank when the monks tell Bobby that he may be destined to become a great spiritual leader.
Bobby starts meditating and peacefully solving conflicts within the neighborhood. He even takes Connie to a Buddhist Club meeting. They meditate and make out. Connie, who was initially mad at Bobby for ruining her chance to be a lama, is now proud to be his girlfriend. Hank is appalled and tells Bobby, "There will be no enlightenment in this house." He takes Bobby to see Reverend Stroup to get him back in touch with his Methodist roots. But the Reverend feels this is a great opportunity for Bobby to explore his spirituality. Meanwhile, the monks are preparing another test and Bobby is convinced he'll pass. However, Chane points out that lamas are not allowed to be married or even have girlfriends, so if Bobby's the "chosen one" he'll have to break up with Connie.
The second test is just like the first: Bobby must choose from a variety of objects, including bowls, statues, a prayer drum, and an ornate hand mirror. But when he sees Connie's reflection in the mirror, Bobby chooses his girlfriend--and relinquishes his Little Buddha for love.