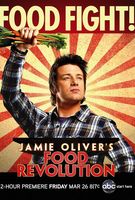 TV Info
---
Episode Premiere
April 23, 2010

Distributor
ABC

Genre
Reality

Show Period
2010 - 2011

Production Company
Fresh One Productions, Ryan Seacrest Productions


Synopsis
---
Jamie is throwing a huge food festival for all of Huntington with the promise of a big surprise. It's his way of saying thank you to the community. Doug Sheils will be at the festival. If you recall, Doug is the local hospital representative who can help provide the money needed to keep the revolution rolling.
The festival set-up is underway with many familiar faces lending a hand. The Edwards family looks like they've lost about a hundred pounds between them! As nice as it is to see all his old friends, Jamie is most excited by the fact that Doug Sheils is there. He presents school officials with a check for $80,000 to keep the Food Revolution going in all Cabell County schools. It's a wonderful moment, but it's not over yet. Doug says his CEO authorized him to cut another check for $50,000 to keep Jamie's Kitchen open, too. Excellent!
It's up to the community to keep things going after Jamie leaves. So, Jamie's Kitchen gets a name change. Its now called Huntington's Kitchen. U.S. Foods is going to sponsor all the food for the year so everyone can have free cooking lessons. To celebrate all the wonderful things happening in Huntington, Jamie introduces the musical entertainment for the festival: Rascal Flatts! Their fee for the concert: Zero dollars and zero cents. They just wanted to be part of something special. Mission accomplished.
Jamie embarks on a massive PR tour to promote all the good things happening in Huntington. Three months pass. And, as we all know, a lot can happen in three months. Problems hit the Huntington area. There's a stockpile of processed food that needs to be used. The number of brown bag lunches is increasing as the new food comes in. There are several other issues that need to be addressed. So, Jamie heads back to West Virginia.
Rhonda shows Jamie a freezer-full of processed food. She says that more processed items have been ordered for the next school year because it's so cheap. Jamie asks if there's any way to cancel the order. Rhonda promises to try. There are also problems in the elementary school cafeteria. The flavored milk is back. But that's not the worst news of the moment. It seems that more and more parents are packing lunchboxes for their kids and the meals from home contain absolutely no nutritional value.
Jamie wants to assemble a large meeting that includes both school officials and parents. He needs Alice and the rest of the gang from the Central City Elementary kitchen to serve as his ambassadors. Since the show went on the air, Alice has actually received hate mail. Jamie wonders if that will impede any desire to help him. No way. When Jamie mentions Rhonda's plan to serve the surplus processed food on Fridays, the lunch team hates the idea. He asks the ladies if they'll help him out one more time. Everyone jumps onboard without hesitation.
Jamie and his ladies hit the road to drum up support for Jamie's boot camp. They go from school to school pleading their case. They also head over to the radio station for an on-air chat with DJ Rod, Jamie's old nemesis-turned-supporter. Rod makes good on the bet he made with Jamie back when he was a non-believer in the revolution. They share a beer and toast Huntington.
The boot camp takes place at Pastor Steve's church. Jamie rounds up a crew of local lunch cooks and introduces them to Alice, who gives advice on how to deal with the challenges ahead. Jamie is so grateful to have her on his side. Who would have ever guessed this would happen after that day they first met?
Jamie is happy to hear that the parents who showed at the boot camp don't want the processed food back in their schools on Fridays. The school officials don't want it either. But their hands are tied thanks to the USDA. Jamie tells the crowd that if everyone does their part, change really can happen.
It's a bittersweet moment as Jamie sums up his feelings about the incredible people of Huntington who have touched his heart. It's been an amazing journey, but it's time for him to go. Jamie says, "This is not the end. It's the beginning." Video messages from all those who now support the revolution seem to echo that sentiment. Jamie closes the show by saying, "Go for it. Make a difference." It's not just his fight anymore. It's ours. And based on what we've seen in Huntington, this is a fight we can win.