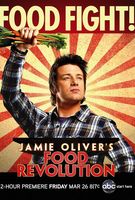 TV Info
---
Episode Premiere
April 09, 2010

Distributor
ABC

Genre
Reality

Show Period
2010 - 2011

Production Company
Fresh One Productions, Ryan Seacrest Productions


Synopsis
---
Rod Willis, the local talk radio host who has been giving Jamie a hard time since day one, is still a huge doubter of the revolution. Yet Jamie keeps returning to Rod's show hoping he'll eventually see the light. The two adversaries make a bet. If Jamie can get a thousand people to come into his kitchen to learn how to cook, Rod will consider changing his attitude and buy him a beer. Jamie has five days to make it all happen.
To entice some of the 14,000 kids at Marshall University to visit his kitchen, Jamie enlists the aid of a dance choreographer to help with a "Flash Mob." Jamie says, "A Flash Mob is about creating a really unusual experience in a really normal place and shocking everyone with something brilliant." What's the "something brilliant," you ask? Let's just say you have to see it to believe it.
Dozens of tables are set up on campus. Music fills the air. Dancers pop portable burners and woks onto their tables. Their synchronized dancing quickly draws in curious observers. The entire crew is rockin' and wokin'. It's a total party. The music ends, the stir fry is done and a college campus is instantly inspired.
Jamie sets up tables along the street in front of his kitchen for a cook-a-thon. His PR work along with the buzz from the Flash Mob has paid off. Huntington citizens show up in force for cooking lessons. It's a beef stir fry with ingredients like ginger, garlic and chili. Looks tasty!
Jamie takes photos of all the new chefs to place on a wall inside his kitchen. He needs to fill the wall with a thousand photos to win the bet. Old friends like Marisa from Huntington High, Pastor Steve, Stacie Edwards and Justin are all part of the action. Rod stops by, too. But he still doesn't believe Jamie can ever win the bet.
With just two days to go, Jamie still needs 554 people. He hits the road to recruit more cooks like the 50 workers at Huntington Steel. The crew gives Jamie a red, white and blue hardhat to replace his chef's hat. Back at the kitchen, Jamie is thrilled to see his friends from the elementary school walk through the front door. Even Alice!
With one day left, it looks like Jamie is going to lose the bet. This forces him to adopt a rather odd strategy. He wants to recruit his adversary to assist him. Jamie asks Rod to meet him at a local mortuary. The gentlemen who run the place show them the oversized coffins they've needed to utilize to bury the obese people of Huntington. Rod had no idea such items even existed.
Back at the kitchen, Rod meets a few of Jamie's friends. Stacie tells him how frightened she was when the doctor said her son weighed over 300 pounds. Marisa shows Rod a picture of her overweight father who adopted her and later died. Marisa says it's sad because her mom lost her husband but she lost her best friend. Rod is especially moved when Brittany tells him that she may only have seven years to live because of her weight. Will Rod finally come around? The answer to that question is a resounding YES!
Rod does a live broadcast from Jamie's Kitchen. He wants everyone listing to come down to cook. He's basically asking his loyal listeners to help him lose the bet! Jamie is happy that Rod and his co-host, Rocky, are there. But he's even more pleased by the fact that they are asking their fans to help him reach his goal. This isn't about winning a bet anymore. This is about the city of Huntington.
The mayor of Huntington is part of the first group to fire up their woks for a cooking lesson. Jamie uses frozen veggies that contain the same nutrients as the fresh stuff. Dozens of visitors take turns whipping up a tasty stir fry noodle dish, but they still need a few more folks to crack a thousand. Good thing people are still piling in through the front door, including the Governor and First Lady of West Virginia.
In addition to Rod's radio show, a team from Good Morning America is also doing a live broadcast from Jamie's Kitchen. Governor Joe Manchin appears on national TV to show his support for the revolution. He even takes time for a picture. But Governor Manchin isn't in the picture. No, he's the one taking the snapshot. It's a picture of Jamie standing alongside his one thousandth cook, a guy by the name of Rod Willis. Judging by the smile on Rod's face in the photo, you'd never guess he lost the bet.