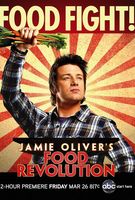 TV Info
---
Episode Premiere
March 21, 2010

Distributor
ABC

Genre
Reality

Show Period
2010 - 2011

Production Company
Fresh One Productions, Ryan Seacrest Productions


Synopsis
---
With a population of about 50,000 folks, Huntington, West Virginia has been called the unhealthiest city in America. One man wants to change all that. Super chef Jamie Oliver has crossed an ocean to help save a city. How's he going to do that? Well, Jamie is plotting a food revolution!?
Jamie kicks off his mission at the Central City Elementary School. He's given one week to change the food, get the kids to eat it and come in on budget. Jamie is shocked to see that the cafeteria is serving pizza for breakfast. The kitchen workers are a little leery of Jamie. How do we know this? Well, a woman named Alice gives him the look of death when he refers to her as a lunch lady. They prefer to be called cooks.
When Jamie hears that mashed potatoes are on the lunch menu, he's ready to peel. But Alice and the others don't play that way. They have a wonderful potato-like mix called Potato Pearls. Oh, it says it contains potatoes on the pouch, but it also has a bunch of artificial stuff. Jamie is told to whisk quickly; otherwise it'll set like concrete. The one food that is actually made from scratch is the bread. Unfortunately, the kids never eat it.
The lunch crew doesn't believe the food they are serving is bad. This forces Jamie to seek help from a higher power. He goes to church where he meets Pastor Steve, a guy who is tired of seeing the people of his town die before their time. Finally, Jamie has an ally.
Pastor Steve introduces Jamie to Stacie Edwards. She's a mom to three boys and one girl. Her husband drives a truck and is away from home for weeks at a time. Jamie feels the best way to initiate a change is one person at a time. So, he begins with Stacy and her family.
The first thing Jamie does is breakdown the family shopping list. It's filled with junky, fatty foods. Jamie cooks every single item which makes for one disgusting pile on the table. Stacie realizes that by feeding her kids this slop, she's killing them. Jamie assures her that they can put a stop to that. All of the bad food is trashed and the family's deep fryer is buried in the backyard. Wonder what dad's gonna say when he comes home!
Jamie offers Stacie's son, Justin, some one-on-one cooking lessons. His first meal is something his brothers dubs "Justin's Good Spaghetti." We have to admit, it looks pretty tasty. Want the recipe? We have it right here! Before he leaves, Jamie gives Stacie some recipes and a menu for the week. We're pretty sure that nothing involves the use of a deep fryer.
Jamie's Kitchen is opening in the center of town. It's where the food revolution will begin. During the set up, Jamie meets with Rhonda, the person in charge of all school food. Rhonda educates Jamie about the red tape involved in feeding the kids. As we already mentioned, he only has a week to get them to accept his meals.
Back at the school, Jamie wheels in a bunch of fresh food that he wants to dish out for lunch. The menu features roast chicken, rice, salad, yogurt and fruit. The kitchen ladies are taken aback. Alice seems especially ornery. Jamie says, "Alice is a very experienced school cook and basically, at the moment, I am her worst nightmare."
Jamie has bigger problems than Alice at the moment. The principal informs him that he needs to conform to the school's guidelines of two bread items on the menu. Jamie is already serving brown rice and believes that adding bread would just make the kids fat. But rules are rules. So he borrows some bread from the lunch cooks.
When lunch is served, it's Jamie versus the lunch ladies in a head-to-head battle of entrees. Will the kids choose Jamie's roasted chicken offering or the school's regular pizza meal? Well, the verdict is in. Most of the kiddies pick the pizza. The ones that actually did go for the chicken didn't always finish it. It was a rough start.
Things go from bad to worse for Jamie when comments he made about the town's eating habits are taken out of context. He tries to explain things to a very upset school staff and makes a public apology to a local news crew. Will it be enough to keep Jamie's dream alive? We have no idea. But we can see that creating a food revolution in Huntington will clearly not be a piece of cake.