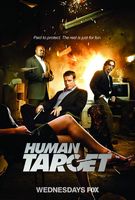 TV Info
---
Episode Premiere
December 08, 2010

Distributor
FOX

Genre
Drama

Show Period
2010 - 2011

Production Company
DC Comics, Warner Bros. Television


Cast and Crew
---
Director
Bryan Spicer
Screenwriter
Jonathan E. Steinberg, Robert Levine
Main Cast
Additional Cast
Lennie James
Cameron Dado
Wendy Glenn
Tim Perez
Jorge Montesi
Synopsis
---
Four days ago, Ilsa's journalist friend Susan Connors was kidnapped while chasing a story about Paraguayan criminal Miguel Cervantes. So Ilsa goes to Paraguay - alone - hoping to exchange cash for Susan. She meets with a man who tells her to leave . . . and don't come back.
Chance can't believe Ilsa tried to see Cervantes, the most dangerous warlord of the Triple Frontier (the shared border of Paraguay, Argentina, and Brazil). No one knows where to find the guy, and they kill people just for asking. Well, Ilsa had to do something; Chance said that there weren't any rescue options.
There might be one, he says. But it's a little unorthodox. Winston arrives, saying no and HELL NO. He won't be a part of this. They tell a puzzled Ilsa that, a few years ago, Cervantes had hired an assassin to take out the president of Paraguay. But then Cervantes tried to kill the killer. So maybe the guy, whom Chance knows, will help them.
Guerrero walks in. "Dude," he says, "NO." Winston and Guerrero agree? This MUST be a bad idea. But Ilsa will do whatever it takes.
Chance visits the assassin in a Siberian prison. "Hello, matey," says the killer. It's Baptiste - Chance's partner from his days with the Old Man. Seven years ago, the fancy-watch-obsessed hit man killed the woman Chance loved; more recently, he tried to kill Chance. Chance demands that Baptiste show him Cervantes' compound on a map. In exchange, Chance won't beat him senseless. "Man," chuckles Baptiste, "I've missed you."
Baptiste doesn't know the compound's location. He escaped Cervantes thanks to Esteban, a local enemy of the warlord. But Esteban won't help unless Baptiste is there. He promises to help save the girl in exchange for a chance to retrieve the rare vintage watch he took off the Paraguayan president - and accidentally left behind. Chance bribes an official to give him Baptiste for 48 hours. OK, but a prison guard has to go too. It's the rules. Meanwhile, Winston tells Ilsa the whole Baptiste/Chance story.
Aboard Ilsa's private plane, the guard watches sexy TV as a handcuffed Baptiste longingly sniffs a cognac bottle. Not now, says Chance. He lays out the ground rules: 1) The cuffs stay on at all times. 2) You will not touch a weapon of any kind. 3) When this is finished, you're going back to prison.
Captain Mike Harmen, the Defense Department contact Ilsa's been talking to about Susan, knows that her private plane is at an airfield near the Triple Frontier. He's having it seized. In Paraguay, troops surround the plane. There goes Chance's getaway!
At Esteban's bar, Baptiste's handcuffs alarm the bartender. Chance springs into action as Baptiste grabs the bartender's gun, shooting a guy who's about to kill Chance. Momentarily, the two former friends are side-by-side, guns pointed at the room. Then they whip around and aim at each other. Paraguayan standoff! Their trash talk turns into a fist-slamming, karate-kicking, chair-shattering battle. Then Esteban's men arrive - and Esteban now works for Cervantes.
While bumping along in Esteban's trunk, Chance and Baptiste rehash their trust issues. At a remote spot, Esteban makes them dig their own graves.
Meanwhile, the HQ gang plans to find out who Harmen's liaison is, call him, and impersonate Harmen. A nervous Ilsa is drafted into field work. Her job? Distract Harmen and put a pirate modem in place, so Guerrero can download the info and release the plane.
While grave-digging, Chance learns that the Old Man cut Baptiste loose after their last encounter. A Rolls drives up. The elusive Miguel Cervantes greets Baptiste, who asks for a job. CLONK! Baptiste knocks Chance out with a shovel.
Chance wakes up, hands tied above his head, next to Susan Connors. She says that she's been interrogated about who told her Cervantes had the president assassinated. Chance asks her to slip her foot into his pants . . . to retrieve a syringe of anesthetic they can use on the interrogator. Shortly later, they take out the guy and escape.
A handcuffs-free Baptiste notices Esteban's wearing "his" watch. Cervantes asks him to kill Chance, to prove that they aren't conspiring against him. No problem. Then Chance appears with a gun. He reminds Baptiste about his promise. Baptiste apologizes, says he'll take back that watch now, shoots Esteban, and grabs the timepiece. Susan screeches up in an SUV; they speed off as bullets fly.
Ilsa accomplishes her mission - and accidentally asks the highly confused captain for a date. The troops let Chance's people through, and they jet away.
As Ilsa and Susan catch up at HQ, Captain Harmen drops in. He's still confused but thinks Ilsa pulled some shenanigans with the plane. And he'll pick her up at 8.
On the plane to Siberia, Baptiste admires his watch. He picks up the cognac, and Chance notes it's Baptiste's favorite. They almost share a moment . . . then Baptiste grabs the Russian guard's gun. He isn't going back. But first, his favorite cognac. Chance, sensing Baptiste might want to change, offers Baptiste a job. Baptiste glugs his cognac and then wobbles. Ketamine in the bottle! "Man, I really missed you." Laughing, he passes out.
At HQ, Guerrero admires Chance's watch. Ilsa, wearing a slinky black dress, notices her partner's battered face. Chance says that sometimes a mission stays with you after it's done. "So I'm learning," she says - and leaves to meet Captain Harmen.