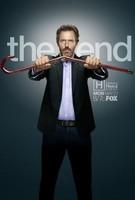 TV Info
---
Episode Premiere
April 13, 2009

Distributor
Fox TV

Genre
Drama

Show Period
2004 - 2012

Production Company
Heel and Toe, Shore Z, Bad Hat Harry


Cast and Crew
---
Director
Matthew Penn
Screenwriter
Eli Attie, Thomas L. Moran
Main Cast
Additional Cast
Tim Rock
Parisa Fakhri
Jill Remez
Bruno Oliver
Grinnell Morris
Paul Benz
James McAndrew
Cory Blevins
Bobbin Bergstrom
Synopsis
---
A group of protestors sit with their arms chained outside a coal mine. Angry employees try to stop them. A protester named Doug speaks up and a rock is thrown at his head, barely missing him. Doug yells back at the employees. A woman named Susan asks him to stop yet she suddenly passes out. A state trooper demands a stop to the protest so that she can be taken to the hospital. As they unhook their arms, Doug calls to the employees that they will be returning. Doug is then unable to stand.
Cameron approaches Chase about postponing their getaway. Chase is not thrilled.
House, along with Cameron, Thirteen and Foreman discuss Doug's case. Cameron believes he is not faking the illness even though the others don't seem as convinced. Cameron tends to Doug and injects water into his ear. This makes him sick.
Wilson and House discuss Cameron and the case she brought to House. Wilson thinks House is avoiding the Kutner topic. House says he's no longer on his team. Cameron and the team report to House that Doug is lying about his symptoms. House wants them to try more tests.
As Cameron examines Doug further, he is hiccupping and says he has had that problem for the past week. His doctors didn't seem to think it was a big deal.
Chase presses Cameron about going away on their postponed trip. He is concerned that she lied to him. Cameron asks him to trust her about why she needs to stay.
When Cameron goes to House to discuss the patient, he only wants to know why she cancelled the trip. He doesn't believe the reasons she gives him.
The team analyzes Doug's case. Taub brings up the possibility that it could be Multiple Sclerosis. House has Cameron perform a lumbar puncture to confirm MS. Cameron wonders how she will do so to a patient with intractable hiccups.
Cameron tries to get Foreman to help her do the lumbar puncture. He too would rather talk about her reasons for staying home as it risks her relationship with Chase.
Chase turns to Cuddy about Cameron's reason for staying to work on the case. He wonders aloud if Cameron is in love with House. Cuddy finds that ridiculous. When he asks flat out if she is in also in love with House, Cuddy gives the same answer.
Doug's wife, Franni, finds Dr. House to inquire about Doug. House is surprised because Doug's history said that he was single. Franni figured he didn't want her to worry. She was told he was currently in jail, which he is most of the time. She looked through her husband's email, which is how she figured out that he was there. With this information, House figures that the reason Cameron is staying is to spy for Wilson. Franni doesn't understand what this has to do with her husband's health.
Foreman notices something wrong with Doug's neck. House touches it, and it makes a crunching sound. This sound means they can rule out MS.
Cuddy asks Cameron why she isn't on vacation and advises her not to screw things up with Chase. Cuddy also warns Cameron not to get involved with House.
Franni asks Doug to quit his crusading for her and her son. He refuses.
House accuses Wilson of changing his diet. He is interrupted when Doug is screaming in excruciating pain. They believe it could be an infection called osteomyelitis. Taub and Thirteen begin x-rays and discover Doug's femur is broken. He injured it while lying in bed. Taub, Foreman and Thirteen believe cancer could be the cause, and they prep him for chemo.
House confronts Cameron about ending her relationship with Chase. She says that Chase is actually going to propose, but that she isn't ready.
After the chemo, Foreman reports to Franni that Doug doesn't have cancer. However, they still have no clue what caused the break. As Foreman peels back the dressing to check Doug's staples, the incision trickles blood. There are bruises on both legs. Doug is bleeding out.
House still believes that it must be cancer but they can't find anything to prove this. Taub thinks they should make the cancer worse so that they can find it. Franni is upset with the idea of growing her husband's cancer. Doug is OK with it because he wants his life to mean something. Suddenly, his heart monitor begins alarming.
Cameron and Chase have a talk about their problems. Chase is angry that Cameron isn't telling him what is wrong. He refuses to give her more time and asks when he can pick up his things from their place.
The doctors still cannot find the cause of Doug's maladies. House orders the team to redo all of the tests.
When House goes to mooch food from Wilson, he is put off when Wilson is only suddenly eating healthy because he knew House wouldn't like it. Wilson says that this screwing with him is proof that he's bringing things back to normal. So is House solving it. Wilson encourages House to return to normal after Kutner's death.
House discovers that Doug has sporotrichosis, an infection from the thorn of a rose. Franni and Doug don't believe this because they don't buy from commercial growers in protest. Yet Doug admits that he did bring roses home one night because he missed an important anniversary dinner when he attended a rally instead. He threw out the roses and bought earrings instead. He will be fine.
House tells Cameron to stop avoiding Chase. He believes that she wanted Chase to dump her. Cameron apologizes to Chase and says she found the ring. She does want to marry him. Chase gets down on one knee and she says yes.
House sits alone in his apartment, happily playing the piano. Amber suddenly appears, lying across it. She congratulates him for solving the case and figuring out that Wilson had been messing with him.