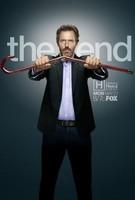 TV Info
---
Episode Premiere
November 16, 2004

Distributor
Fox TV

Genre
Drama

Show Period
2004 - 2012

Production Company
Heel and Toe, Shore Z, Bad Hat Harry


Cast and Crew
---
Director
Bryan Singer
Screenwriter
David Shore
Main Cast
Additional Cast
Rekha Sharma
Maya Massar
Dylan Basu
Ava Rebecca Hughes
Kvarra Willis
Ethan Kyle Gross
Synopsis
---
A young woman named Rebecca is teaching her kindergarten class when she begins to have trouble speaking. Soon, she collapses on the floor and begins convulsing.
At the hospital, Dr. James Wilson, describes the case to Dr. House. Female, 29, first seizure one month ago, progressive deterioration of mental status. The doctor asks House to take this case and put his team to work on it.
House's team consists of three young genius doctors: Allison Cameron, Robert Chase and Eric Foreman, all bored stiff by House's lack of cases. After much persuasion, House agrees to look over the patient. Later, the hospital administrator, Dr. Lisa Cuddy, scolds House about not doing his job. Even though he has tenure, she can still let him go if he avoids his duties of seeing patients.
Cameron and Foreman give Rebecca a CT scan, but she has another seizure inside the machine. The doctors perform an emergency tracheotomy to facilitate breathing. Later, House wonders if Rebecca has vasculitis, or inflamed blood vessels. Allison points out that you can't diagnose vasculitis without a biopsy. House recommends they give her steroids to treat it and just see what happens.
House suggests to Foreman that he break into Rebecca's apartment to inspect it. Foreman is reluctant, but does it anyway. Elsewhere, the steroids seem to be having a positive effect on Rebecca. Later that night, Wilson gives Rebecca some basic tests and she proclaims that she can't see. More convulsions follow.
The next day, Foreman gives Rebecca a basic test which she fails, then passes. House suggests that they let her die, but pay attention post-mortem so that they can finally learn what disease she was suffering from. Foreman and Cameron inspect Rebecca's apartment. They find nothing.
Back at the hospital, Foreman reveals in passing that Rebecca had ham in her fridge. House has an epiphany -- Rebecca must have a tapeworm in her brain. Although this new revelation is diagnosed, Rebecca doesn't want any more treatments. She just wants to die in peace. House calls her a coward. She wants proof it was a worm since he was wrong on vasculitis. Chase suggests a plain old x-ray to check for worms. House realizes he's right. If there's a worm in the brain, there is definitely one in her leg.
Chase shows Rebecca the x-ray. A worm larvae is in her thigh muscle. She will make a full recovery, and only require a small number of pills to get rid of the worm.