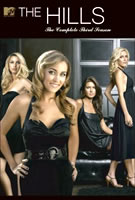 TV Info
---
Episode Premiere
December 15, 2008

Distributor
MTV

Genre
Reality

Show Period
2006 - 2010

Production Company
MTV


Synopsis
---
Heidi and Spencer arrive in Mexico for a weekend getaway, which Spencer's planned as a surprise to take some tension away from their relationship. Spencer hints to Heidi that although the trip itself was a surprise, she still has a surprise waiting for her later that weekend that will make this the most memorable vacation of their lives.
As they relax beach-side with a bottle of champagne, they decide to try not to let Heidi's problems with her family effect her relationship with Spencer.
While at work at People's Revolution, Whitney gets a call congratulating her on getting the job in New York City with Diane Von Furstenberg. Whitney is ecstatic as she tells Lauren, who looks sad, but is happy for Whitney's success at the same time.
Back in LA, Stephanie stops by Audrina's house to tell her she hasn't seen or heard from Heidi for awhile, and that Heidi failed to show for a recent hang out. Stephanie says she's concerned that Heidi might have gone somewhere with Spencer, and since she didn't tell anyone, it can't be good.
Later that night in Mexico, after Heidi's enjoyed a few beverages, Spencer seizes the opportunity and asks Heidi if she'll marry him that night. Heidi barely hesitates before she agrees, and Spencer orders celebration drinks.
Lauren, Audrina and Lo go to Palihouse Holloway for Whitney's going away party. While Whitney is occupied with saying her goodbyes, Audrinda confesses to Lauren that Stephanie stopped by earlier that day to tell her Heidi had disappeared. Meanwhile, Whitney says it hasn't hit her yet that she's moving away, but when her dad gives a toast and her mom starts to cry, it's clear that Whitney's move is starting to sink in.
Back in Mexico, Heidi begins to question her quick agreement to marry Spencer. She worries about what her family will think, but Spencer insists it'll be their secret wedding, and Heidi agrees.
Later on, Lauren and Whitney meet at Lemonade to say their final goodbyes. Whitney wonders what life will be like in New York, and assures Lauren she'll never meet another friend like her. The girls reminisce about old times together at Teen Vogue, and Lauren has to fight back tears. Finally, they say their last, tearful goodbye and part ways.
The next morning in Mexico, Spencer cheerfully greets Heidi as "Mrs. Pratt." Heidi not-so-happily admits that the tequila the night before played a role in her decision to get married, and the evening's events are a little fuzzy. Luckily, Spencer has it all caught on a hand-held video camera. Spencer and Heidi both admit they were nervous, and Heidi says she can't believe they actually went through with it. She decides that despite their plan to keep the wedding a secret, she needs to tell her mom.
As Heidi and Spencer head back to LA, Whitney gets ready to leave 'The Hills.' When she arrives at the airport, she takes one last look around outside, and prepares herself to start her new life in New York City.