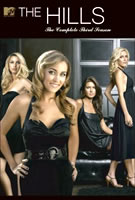 TV Info
---
Episode Premiere
December 01, 2008

Distributor
MTV

Genre
Reality

Show Period
2006 - 2010

Production Company
MTV


Synopsis
---
Still annoyed with Audrina's accusations about hooking up with Justin, Lauren asks Lo for advice. Lo tells Lauren that if Audrina had to question her so many times, it's clear that Audrina does not trust her. Since Lauren sees trust as a top priority in relationships, she says the only way she will forgive Audrina is if she sincerely apologizes.
While at work, Audrina vents to Chiara about her argument with Lauren at Winston's the night before. She tells Chiara she's never had an argument like that with anyone, and it really upset her. Audrina admits that after talking with Justin, she's pretty sure the whole scandal never happened. But she's afraid that she's gotten herself in so deep, things can never go back to the way they were.
Spencer stops by Stephanie's apartment and, after criticizing the way Stephanie decorates, Spencer tells her he'll be going to visit their Grandmother the next day. When Stephanie argues that she can't come because she has school, Spencer tries to guilt her into it.
While relaxing with Lauren by her pool, Brody jokingly asks Lauren why she's been hooking up with Justin. Lauren gets angry, and tells Brody it's disgusting and embarrassing that people are talking about it. Brody suggests that Lauren doesn't need people like Audrina, who spread nasty rumors, in her life. He tells her to let Audrina go as a friend. Lauren says she already has, but Brody isn't convinced.
Audrina tells her sister, Casey, that she's upset Justin still hasn't called her back. Audrina says it's even more hurtful because their fight wasn't just over a random girl; it was over one of her best friends. She asks Casey if she should apologize, and Casey tells her if she thinks Lauren is really genuine, she should. Audrina says she's nervous, and the whole situation just sucks.
Stephanie goes to visit her Nana with Spencer and Heidi, and Spencer doesn't waste any time trying to get Stephanie on Nana's bad side. Spencer makes it clear that he is the favorite grandchild. But, at the end of the visit, Stephanie makes plans to see her Nana without Spencer around.
While working at People's Revolution, Whitney and Lauren catch up on some gossip. Whitney confesses that things with Jay, her New York love interest, are going very well. Lauren tells Whitney all about the situation with Audrina, and how Audrina wants to meet with her again. Lauren admits that she doesn't really want to see Audrina, but Whitney stays optimistic, and suggests that maybe Audrina has something different to say, and really needs Lauren during this difficult time.
On her solo visit, Stephanie goes for a walk with her Nana, and lets her know that Spencer's not really the person he pretends to be in front of her. When Nana says Spencer has always treated her well, Stephanie insists that if Nana knew how mean Spencer really was, he wouldn't be the favorite anymore. Nana tells Stephanie she just needs to wait until Spencer grows up a little, and in the meantime, she and Stephanie should make shopping dates to spend more time together.
Lauren decides to give Audrina one last chance, and meets her at a restaurant. The girls begin to have the same argument they have been having for the past few days, until Audrina apologizes for not trusting her. Audrina wonders if she would be happier if Justin wasn't in her life anymore. She admits to Lauren that she's been very unhappy lately, and feels like she's lost and doesn't know who she is. Lauren is sympathetic, and tells Audrina to call her so they can go out the next week.
Is Lauren really ready to forgive Audrina, or did another rumor ruin their friendship forever?