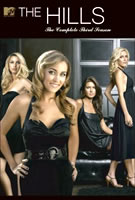 TV Info
---
Episode Premiere
November 10, 2008

Distributor
MTV

Genre
Reality

Show Period
2006 - 2010

Production Company
MTV


Cast and Crew
---
Director
Hisham Abed
Main Cast
Additional Cast
Adrew Buckler
Kelly Cutrone
Synopsis
---
Whitney and Lauren are summoned by Kelly Cutrone to fly to New York City to help with a line of fashion shows. Whitney seems even more excited when Kelly tells her that Alex will be one of the models.
As soon as they arrive in New York, Lauren and Whitney get to work dressing the models. After some slightly awkward introductions and fittings, the boys are free to go. Alex promises Whitney he'll see her later that night, but Whitney seems distracted by other male models in the room.
Meanwhile, Heidi is trying to recover from being fired from her dream job because of her 'little' mistake. Unfortunately, Spencer isn't much help. While Heidi insists she has to go out to try and fix things, Spencer tries to convince her to try and have some fun. Finally, Heidi agrees to go out to celebrate her newly found free time.
Back on the east coast, things get a little more hectic for Whitney when all the male models are in hair and makeup. Kelly warns Alex that a lot of guys are hitting on Whitney. Kelly was right as Lauren and Whitney were quickly invited to a party by some of the guys.
Whitney admits she's excited to go out and meet some "fresh faces," and when Lauren asks her about Alex, Whitney says he seems too nervous. When the girls arrive at IL Bastardo to meet up with the guys, Whitney immediately sets her sighs on Jay, the lead singer of the band. She can't seem to take her eyes off of him even when Alex invites her to come upstairs. Instead of joining Alex, Whitney says that she can't leave Lauren alone.
Heidi and Spencer head out for their celebratory night on the town, but the mood is soon ruined when they spot Brent Bolthouse. Despite Heidi begging Spencer to keep quiet, Spencer decides to confront Brent. But Brent isn't having it and puts Spencer in his place by telling him he's seen nothing but problems when Spencer comes around. After a brief conversation and uncomfortable conversation, Brent ends the conversation by letting Spencer know that he doesn't want to see him around.
Back in New York, Lauren tries to convince Whitney to go talk to Jay, who has just finished performing another set. Whitney is nervous at first, but after ordering a shot of tequila, she loosens up enough to talk to the hottie Australian boy. Meanwhile, Alex looks on at their flirting, looking annoyed and a bit dejected. Jay asks Whitney to hang out with him, and with Lauren's blessing, she decides to take him up on the offer.
After Spencer was shot down by Brent, Heidi feels the need to apologize to Brent for Spencer's behavior. Brent makes it clear to Heidi that he thinks Spencer is a nightmare, and bad to have in her life. Heidi ignores his comments about her man and asks him to consider her for any new positions at Bolthouse. Brent only responds that he has to get back to work.
As Alex tells his friends at the bar that he hopes Whitney will still come around, Whitney is openly flirting with Jay. Alex decides to make a move, and asks to speak to Whitney when she gets a chance. But Jay has other plans in mind as he whisks Whitney out of IL Bastardo and into the night.