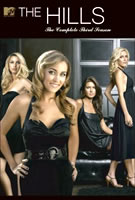 TV Info
---
Episode Premiere
October 13, 2008

Distributor
MTV

Genre
Reality

Show Period
2006 - 2010

Production Company
MTV


Cast and Crew
---
Director
Hisham Abed
Main Cast
Additional Cast
Synopsis
---
Already over her short-lived relationship with Colin, Audrina dishes to Lauren about her upcoming date with Cory, the Australian who Audrina hasn't seen in a while. Audrina tells Lauren that Justin doesn't know about this date yet, but she wants him to be jealous. Lauren points out that Audrina's attracted to Justin because normal guys are no fun for her; hopefully, Cory won't be too normal for Audrina!
Spencer asks Stephanie to meet with him at a coffee house, where he vents how much he can't stand having Holly living in his house. Spencer admits he is worried about the letter Heidi wrote to Lauren, because it's the first secret she's ever kept from him. Stephanie reminds Spencer that he can't go to war with his girlfriend's family, but Spencer stays stubborn and insists Holly has to go.
During Audrina and Cory's dinner date, Cory asks Audrina how long she has been single, or if she has been hanging out with any other guys. Audrina admits she had been hanging out with Justin, but insists they're just friends. Cory tells Audrina he recently got out of a long relationship, and just wants to take things easy for now, so Audrina invites him to a party in Malibu for the weekend.
The next morning, while Audrina and Cory are having breakfast in the kitchen, Lauren comes in to see the pair laughing together. Excited that Audrina seems so happy, Lauren gives Cory her approval by inviting him on the group's upcoming trip to Cabo.
Back at Heidi and Spencer's house, Spencer begs Heidi to tell Holly her free stay is over. When Heidi hesitates, Spencer lays down an ultimatum, saying that either Holly has to move out, or he will.
While in Malibu, Audrina happily hangs on to Cory in the pool, and Lauren and Whitney admire the good pairing. But Doug and Frankie show up bringing bad news: they've invited Justin Bobby. On top of that, they tell Audrina that Justin Bobby's already given his RSVP for Cabo. Audrina shrugs it off and tells Frankie she doesn't care what Justin thinks, because she's found someone who treats her well, which Justin has never done.
When Audrina second-guesses her decision, Lauren reminds her that things with Justin aren't going anywhere, while her relationship with Cory is fun and new.
Back at Heidi and Spencer's pad, Heidi makes her decision and reluctantly tells her sister they need to find her another living situation. Even though Holly says she hasn't found a job yet, Heidi refuses to sacrifice her relationship with Spencer, giving Holly the boot.
Despite Lauren's advice, Audrina and Justin have some wine and go for a late night swim. Justin, wary of the cold water, tells Audrina he'll only come in the pool if she heats things up by taking her top off. Audrina surprises him when she quickly agrees. But their romantic night swim is short-lived when Justin tells Audrina he'll probably get in trouble with other girls in Cabo. Justin reasons that since Audrina has dated another guy, he should get a free 'hall pass' as well. As Justin jumps out of the pool, Audrina tells him she doesn't care, but can't keep the worried look off of her face.