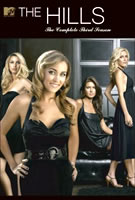 TV Info
---
Episode Premiere
October 06, 2008

Distributor
MTV

Genre
Reality

Show Period
2006 - 2010

Production Company
MTV


Cast and Crew
---
Director
Hisham Abed
Main Cast
Additional Cast
Synopsis
---
While Lauren and Lo make plans to go out to S bar with Holly, Lauren worries that Holly is trying a little too hard to play matchmaker with her and Heidi. But Lo assures her that drinks are harmless, and Lauren decides to go for it.
Meanwhile, Audrina excitedly tells Chiara about her upcoming date with Colin that Justin doesn't know about. But she figures as long as she doesn't have a ring on her finger, and Justin's also doing whatever he wants, she doesn't owe him any explanations.
Heidi and Holly get together for lunch to discuss their friendships with Lauren. When Holly suggests that Lauren misses her sister, Heidi finds it unfair that she can't talk to Lauren because of something she "had nothing to do with." Holly suggests that Heidi write Lauren another letter to remind her of the good times.
On her date with Colin, Audrina can't help but bring up Justin's name. Colin assures Audrina he's nothing like Justin, and he asks for a second date.
Heidi decides to take her sister's advice and writes Lauren a letter, which Lauren shows to Whitney while at work at People's Revolution. In the letter, Heidi apologizes for all the negative and hurtful things she has ever done to Lauren. While Whitney thinks the letter seems genuine, Lauren is still bothered that after all this time, Heidi still can't just blame Spencer.
Audrina and Colin try going on a second date, but Audrina can't stop talking about Justin. She insists she and Justin are not an official couple, but she's still attached to him. Audrina and Colin quickly come to the awkward realization that this will probably be their last date.
Holly comes over to Lauren's for dinner, and decides to bring up The Letter. Lauren feels badly when she finds out that Heidi doesn't have any other girlfriends (aside from her sister), but can't bring herself to reconcile with her former BFF until Spencer is out of the picture. The next day, Audrina and Lauren wonder what life would be like if Spencer had never come into their lives.
Out to dinner, Audrina decides to tell Justin about her date with Colin, but Justin just turns it into a big joke. Audrina reminds him that he's dating, too. Playfully, Justin asks if his dating other people would make her angry. Audrina tries to tell Justin that things change, but Justin refuses to take her seriously and tells her "not for long."
Back at Heidi and Spencer's apartment, Heidi admits to Holly that she's ready to be Lauren's friend again. Spencer walks into the conversation, and is not happy that Lauren Conrad's name is being mentioned in his house. Spencer is also angry that Heidi has been keeping a secret from him, and retaliates by yelling at Holly to stay out of the conversation.
Spencer's happy to discover that Lauren and Heidi can't be friends until he's out of the picture, because he thinks that could never happen. But, Holly insists there could still be a chance.