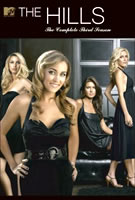 TV Info
---
Episode Premiere
September 07, 2008

Distributor
MTV

Genre
Reality

Show Period
2006 - 2010

Production Company
MTV


Cast and Crew
---
Director
Hisham Abed
Main Cast
Additional Cast
Synopsis
---
Lauren may have dumped Doug, but a little breakup shouldn't get in the way of a good time, right? Right! That's why Lauren, Lo and Stephanie are heading to Las Vegas for Frankie's birthday -- on Doug's private jet. Why did Lauren break up with a guy that has a private jet?!
Meeting up with Frankie, Doug and Brody at the airport, Lo wonders whether Brody's going to make Stephanie uncomfortable. He's made it well-known that he doesn't approve of Lauren's friendship with Spencer's sister, so things could get awkward. Still, The Hills gang takes off.
In the jet, Lauren reveals that Audrina and Justin are also heading to Vegas. When Stephanie asks why they aren't onboard, Lauren says it's a long story. Then, Brody makes a backhanded toast to Stephanie, saying he doesn't want to hold a grudge, especially since she's the next best thing to having Spencer as a friend. Ouch!
When the group gets to the hotel in Las Vegas, Lo stirs the pot in the girls' room when she brings up Brody's toast. Stephanie is concerned that he's talking trash about her. She and Brody go way back because of Spencer, so he knows she's a good person. So why's he gotta badmouth her? Lauren has just three words: prove him wrong.
Meanwhile, Spencer's working hard at beating his high score on Area 51 when Heidi returns from work with some news -- her sister, Holly, is moving to The Hills, which means Holly's crashing at their pad while she gets settled. Shocked, Spencer tells Heidi to take the offer off the table and send Holly elsewhere. When she refuses, he threatens to move out if Holly infringes on his space.
Back in Las Vegas, Lauren, Lo and Stephanie head to the boys' suite. When Audrina's name comes up, Lauren fills everyone in on the drama that went down at Goa the night before. Apparently, Audrina and some friends sat across from Lauren and Lo, but Audrina failed to say hello. When Lauren tried to talk to her, Audrina allegedly gave her the brushoff.
After hearing the story, Brody's advice is simple -- tell Audrina to move out of the house. But for Lauren, it's not that easy. By sending Audrina packing, she'd be putting the final nail in the friendship coffin -- and Lauren isn't ready to lose another BFF.
Just then, Audrina and Justin arrive in Las Vegas. Telling her side of the story to Justin, Audrina says Lauren tried talking to her while she was in the middle of a conversation. Although Audrina just told her to hold on for a second, Lauren's feelings were hurt. Before, Audrina thought Lo was the root of her problems with Lauren. But now she thinks they are just growing apart.
In The Hills, Holly shows up at Heidi and Spencer's apartment just as the couple is about to head out for dinner. Holly hangs back, and Heidi promises that she can stay as long as she wants. But, by the look on his face, it doesn't seem like that's gonna fly with Spencer...
In Sin City, Frankie and his birthday posse sit down for dinner. When there's a break in the conversation, Stephanie seizes the opportunity to ask Brody why he told Lauren not to trust her. Brody's surprised Stephanie can't figure it out -- after all, Spencer is her brother. Baiting her, he says he's known her for a long time, and knows just how crazy she is. Stephanie credits those times to her past drug problem, but Brody thinks she's just plain psycho.
Feeling like the conversation is going down the wrong path, Doug steps in. But Brody and Stephanie keep going at it. Lauren then gets in the middle, telling Stephanie that Brody just doesn't want her to get hurt. When Brody tells Stephanie she's not wanted in their inner circle, Stephanie winds up in tears and Lauren takes her up to the room for a timeout.
In the room, Stephanie says Brody sounds a lot like her brother, and she can't understand why he would want to make her cry. Stephanie admits that even when she was abusing drugs, she was never a mean person. After some comforting, Lauren coaxes Stephanie to touch up her makeup and head back downstairs.
Hitting LAX, Lauren and Stephanie find everyone partying -- including Audrina and Justin. As Audrina gives Frankie a big hug, he asks how things are going with Lauren. Audrina admits the tension's been rising. When Lo motions Lauren over to say hi to Audrina, Lauren focuses her attention on Frankie instead.
Away from the group, Audrina tells Justin that she's upset over what's happening with Lauren. She's totally tired of the awkwardness. Emotionally drained, Audrina and Justin decide to leave.
The next morning Spencer pays Heidi an unexpected visit at Bolthouse and starts spewing a list of grievances against Holly -- like, not only was she half naked on the couch but she also deleted some shows from TiVo. Fuming, Heidi can't believe he's bothering her at work to talk about such petty things. She doesn't have time for this...
In Vegas, Stephanie tells Lauren that she's still bummed about the Brody situation. Just then, Frankie bangs on the door, looking wrecked. But not because he's recovering from his all-night birthday bash ... he just learned that Brody and Doug are in jail after getting into a fight!