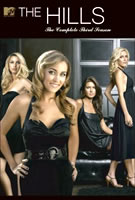 TV Info
---
Episode Premiere
September 01, 2008

Distributor
MTV

Genre
Reality

Show Period
2006 - 2010

Production Company
MTV


Cast and Crew
---
Director
Hisham Abed
Main Cast
Additional Cast
Synopsis
---
After getting a big promotion at People's Revolution, Whitney keeps getting more and more responsibility piled on her plate. When Whitney learns that she has to head to New York City on business, she's not quite sure what to expect ... or pack.
While talking to Lauren, Whitney asks for an update on Doug. Lauren just sighs and says there aren't any juicy details to dish. Truth is, Lauren's just not that into him, which is surprising since she liked him a lot when she was younger. She thought there'd be tons of old chemistry, but the butterflies just aren't there. She compares him to Brody, saying she was way more excited at the beginning of that relationship. Maybe it's time to give Doug the boot...
At the Fashion Institute, Stephanie reveals to Lauren that her brother, Spencer, has disowned her for inviting Lauren to her birthday party. Since the awkward run-in, Stephanie has been afraid of being on the outs with Lauren. But Lauren says she'd still like to be friends -- after all, Stephanie has been making a big effort.
In New York City, Whitney makes her way to People's Revolution, where owner Kelly Cutrone's a little crazed with casting. She wants Whitney to step in and help out with the male models. Taking a deep breath, Whitney jumps into the madness, pulling clothes for all the hot guys. One guy in particular catches Kelly's eye, a model named Alex who's got something in common with Whitney -- they both went to USC. As he takes his shirt off, Kelly asks him to have drinks with the People's Revolution crew that night. Whitney blushes at her boldness, but Kelly just calls it "multi-tasking."
Back in The Hills, Spencer and Heidi enjoy a relaxing dinner. Spencer remarks that the pair hasn't spent much time alone lately. While Heidi argues that that they had fun when her sister Holly was in town, Spencer clearly wasn't into it.
Abruptly switching subjects, Spencer says he wishes he'd thrown Stephanie's birthday cake in Lauren's face when they were in close proximity. Heidi thinks he should forgive Stephanie, but Spencer feels that his sister is only friends with Lauren to make him mad. Heidi continues to defend Stephanie, but Spencer refuses to budge, saying that the day he makes peace with Stephanie is the day he decides to be friends with Lauren again.
At Sushi Roku, Lauren's running late for dinner with Brody. When she sits down, he notices her friendship bracelets and asks which friends they represent. When Lauren points out the one for Stephanie, Brody's baffled. Although Lauren trusts Stephanie, Brody assures her that Spencer's sister has ulterior motives. And Brody doesn't want Lauren to fall victim to another "I told you so" moment.
When Brody brings Doug up, Lauren reveals that things aren't really working out. Brody smirks when Lauren admits that she's already dated the right guy, leading Brody to suggest they get "naked." Lauren just coyly giggles and looks away.
Back in New York City, Whitney waits for her co-workers as she chats up Alex the model at the SoHo Grand. After a few minutes, Kelly Cutrone calls to say that the rest of the People's Revolution folks won't be joining the pair. Looks like Kelly has set Whitney up on a date!
In The Hills, Lauren stops by Stephanie's apartment and plops down on the couch. When Stephanie says she's sitting on Spencer's former bed, Lauren just laughs. After Stephanie asks where Doug is, Lauren admits she thinks the relationship is a dead end.
After finishing their drinks, Alex asks Whitney to walk around the city with him. As they hit the streets, Whitney admits she feels a strong connection to L.A. and isn't sure she'd be able to make it in NYC. When they get back to the hotel, the two share a hug and say goodbye. Alex, wanting to see her soon, says he's willing to help her make new friends in the Big Apple.
When she returns from NYC, Whitney tells Lauren about her business trip ... and date. Lauren, on the other hand, admits she hasn't been so lucky on the boy front. She's admittedly been avoiding Doug, but plans on heading to his house later to tell him it's over.
Meanwhile, Stephanie pays a surprise visit to her brother's pad. She brings him a peace offering, but Spencer isn't too keen on opening it. When he finally reaches in the bag, it's a book about the CIA. Spencer gives Stephanie half a point for the good gift but refuses to open up to her, giving her one-word answers. When Stephanie suggests they hang out, Spencer gives the thumbs down because she's still friend with Lauren.
Ready to end things with Doug, Lauren makes her way to his house. There, Doug questions why he hasn't been able to get in touch with her lately. Lauren admits she's not feeling their relationship. Doug is shocked; he never saw that coming. After getting defensive, Doug realizes they just weren't in the same place. Lauren feels bad, but she thinks they are better off as friends.