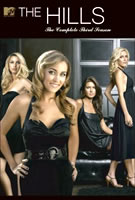 TV Info
---
Episode Premiere
August 25, 2008

Distributor
MTV

Genre
Reality

Show Period
2006 - 2010

Production Company
MTV


Cast and Crew
---
Director
Hisham Abed
Main Cast
Additional Cast
Synopsis
---
While in class at the Fashion Institute, Stephanie invites Lauren to her birthday bash. When Lauren asks if she can bring someone, Stephanie's eager to learn the details. Lauren dishes that he's a baseball player, and Stephanie reveals that athletes get the thumbs up from her.
Before Lauren accepts the invite, she asks whether Heidi and Spencer are planning on making an appearance. Stephanie's not sure; she hasn't talked to them in weeks. In fact, she doesn't even know if she wants the newly reconciled couple there ... especially since she's hoping for a drama-free evening.
On a lunch date, Lauren gives Doug an update on the whole Lo and Audrina situation, admitting that her roomies seem to be growing further apart every day. Lauren feels like her life's one big ball of stress right now, and she expresses concern over the possibility of Heidi and Spencer showing up at Stephanie's party. To ease her worries, Doug agrees to go with her, but not before warning her that blood is thicker than water when it comes to siblings versus friends.
At People's Revolution, Whitney tells Lauren that some colleagues from the New York office are in The Hills and she was invited to an important dinner. When Whitney learns that Lauren's going to Stephanie's party, she immediately expresses concern over Heidi and Spencer showing up. When Lauren says the couple has opted out of the festivities, Whitney's surprised that Spencer would miss his sister's shindig. Lauren just shrugs, saying she'll just have to be prepared for their arrival if they come -- she's learned from experience that it's never good when the three end up at the same place at the same time.
Eating at Don Antonio's, Spencer gets a call from Stephanie, who asks if he's coming to her party. Still reeling over Stephanie's newfound friendship with Lauren, Spencer ignores the request and tells Heidi that he won't have anything to do with his sister if she continues to hang out with Lauren's "posse." Heidi sides with Spencer, but still thinks they should go. Spencer is willing to give Stephanie one last chance, but if she continues to spend time with Lauren, he will never speak to her again.
While getting ready for the party, Lo tells Lauren that she's nervous about Heidi and Spencer showing up. Lo points out that no one would have ever thought Lauren would be going to Stephanie Pratt's birthday party! Lauren agrees, but says she likes to give people the benefit of the doubt. When Audrina pops in and says she's coming, Lo doesn't look too thrilled.
At a business dinner, People's Revolution owner Kelly Cutrone gives a toast in front of Whitney, her co-worker Jessica and some New York staffers. There are a lot of changes going on within the company, and Kelly announces that she would like Whitney to visit the New York office. When Jessica tries to throw her two cents in, Kelly cuts her off and warns that staff will be cut if things don't go her way.
In the car ride over to Stephanie's birthday party, Lauren asks Lo why everyone can't just get along. Lo responds that the only people that matter are getting along. And that's all the counts, right?
At Boulevard3, Lauren and Lo greet Stephanie with a big hug, and Audrina soon follows. When Doug, Brody and Frankie arrive, Doug plants himself next to Lauren. While the two cozy up, Lo pulls Audrina aside for a quick talk. Lo tells Audrina that she wants to be friends, and Audrina admits she's been trying to ignore the tension and is working on her friendship skills. But when Lo acts like everything's water under the bridge, Audrina looks concerned.
The party's drama-free until Heidi and Spencer enter with a big bouquet of birthday balloons. Stephanie's pleasantly surprised by their appearance, but she's clearly the only one happy about the unexpected arrival. Brody immediately decides to split, grabbing Frankie on his way out. Doug stays behind with Lauren, who opts to try to stick it out. But when Spencer calls her and Lo "obnoxious chicks," The Hills girls take their cue and leave with Doug in tow. With the table cleared, Spencer smirks.
The next morning, Spencer shows up at Stephanie's apartment. He admits that he can't handle his sister's friendship with Lauren, claiming Stephanie has left him feeling betrayed. As Spencer compares his situation with Lauren to the Iranian-Israeli dispute, it becomes crystal clear that the feud has reached epic proportions in Spencer's mind. Although Stephanie just wants to be the peacemaker, she's clearly causing more conflict.
As the conversation unfolds, Spencer points out that Stephanie's only known Lauren for three months ... compared to the 22 years she's been his sister. Laying down the law, he says he'll have nothing to do with her if she remains friends with Lauren. End of story.
At People's Revolution, Whitney is called up to Kelly Cutrone's office. Kelly has some big news: she fired Jessica and wants Whitney to take her place. It's a big step up at the company, and she warns Whitney not to make any plans for the next few months. It seems Whitney's going to be living a bicoastal lifestyle as Kelly's right-hand woman, learning the ropes on the fast track.
At the Fashion Institute, Stephanie apologizes to Lauren, saying she had no clue that Heidi and Spencer were going to show up at her party. Stephanie hopes that Lauren doesn't think she purposefully betrayed her trust, but Lauren just looks annoyed. Stephanie knows the pair's intentions weren't sincere, especially since they seemed to gloat after everyone left. Lauren admits that her friends have continuously cautioned her to stay away from Stephanie, and this bump in the road has sent everyone reeling.