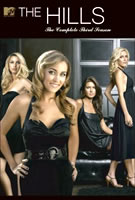 TV Info
---
Episode Premiere
August 18, 2008

Distributor
MTV

Genre
Reality

Show Period
2006 - 2010

Production Company
MTV


Cast and Crew
---
Director
Hisham Abed
Main Cast
Additional Cast
Chiara Kramer
Holly Montag
Lauren Bosworth
Synopsis
---
At the end of season 3 of The Hills, Spencer surprised Heidi during her business trip in Las Vegas and won her back. But by putting Spencer before work, Heidi found herself in hot water with her boss, Brent Bolthouse. Now she constantly has to prove herself at the office.
Meanwhile, the tension revolving around the Lo-Lauren-Audrina living situation has put Lauren right smack in the middle of things. While hard at work at People's Revolution, Lauren tells Whitney that the awkwardness hasn't improved. But she has a plan -- she's recruited Lo to help throw Audrina a birthday BBQ.
But smoothing things over at home isn't Lauren's only concern, she's got a new man in her sights. Well, sorta new. She ran into a former Laguna Beach fling, Doug, and the two made dinner plans. Lauren's looking forward to dating again. After all, her last official date was with Brody. Clearly, it's time for a new man!
At Bolthouse, Heidi tells Kimberly that her sister, Holly, is coming to The Hills that night. Kimberly's surprised that Heidi isn't too jazzed, but Heidi explains that the timing isn't the best considering she just reconciled with Spencer. The two have been busy repairing their relationship, and she hasn't quite mentioned her sister's weekend stay. Plus, Holly hasn't been given the 411 that Heidi and Spencer are back together.
At Epic Records, Audrina tells Chiara that Lauren's throwing her a birthday BBQ. Audrina admits she's a little anxious about the bash, but gives Lauren credit for making an effort. Wondering if Lo will be in attendance, Audrina tells Chiara that her new roommate is "always super-bitchy."
Sitting in silence, Spencer shares an awkward moment with Heidi's sister at the apartment when she first shows up. As soon as Heidi walks through the door, Spencer retreats to the bedroom. Heidi runs after him and tries to explain the situation, saying Holly's only there for a couple days. A sulking Spencer gives Heidi some serious attitude, leaving her to tell him to "be nice" during her sister's stay.
As Lauren primps for her date, Lo suggests that she invite Doug to Audrina's birthday party. Although she's crossing her fingers for a second date, Lauren wants to see how things go before extending an invitation.
At dinner, Doug and Lauren catch up. Although they're only minutes into their date, Doug tells The Hills leading lady that she's gorgeous and asks if they can hang out again. Lauren takes the opportunity to invite him to Audrina's birthday bash, and he jumps at the opportunity.
Early the next morning, Heidi's sis whips up some breakfast. Although she's only trying to make nice, Holly's help isn't appreciated by Spencer, who likes to sleep in. A grumpy Spencer comes out of the bedroom to see what all the fuss is, pushing a plate of food away when Holly offers it to him. When Heidi calls him out for his rude behavior, Spencer decides to head back to bed, slamming the door behind him.
Audrina's birthday BBQ starts off with a bang when Frankie and Doug show up in matching Lakers attire. Ready to lend a hand on the grill, Doug immediately makes himself useful. But Lauren is too caught up with what's going on between Lo and Audrina to pay too much attention to her new beau.
When a bunch of pierced and tattooed guys arrive at the party, Lo questions Audrina about her friends. Although Lauren sees this as an opportunity for Lo to learn more about her new roomie, Lo is less than impressed with the company on hand. Looks like things are already off to a bad start...
Meanwhile, Heidi spends time at the salon with her sister. As Holly gets an L.A. makeover, she mentions her surprise over Spencer being back in Heidi's life and wonders why Heidi hasn't confided in her family lately. Holly also brings up Lauren, asking whether or not Heidi misses their friendship. Heidi's taken aback by the line of questioning, but Holly says she just hopes her sister isn't sacrificing everything in her life for Spencer.
Back at Audrina's birthday BBQ, Lauren notices that Lo is nowhere to be found. When Lauren finds Lo in the kitchen and asks where she's been, Lo says she was playing with the dog. Lauren is peeved, since Lo's supposed to be making an effort to get closer to Audrina, but Lo says she feels uncomfortable around Audrina's odd friends. Tired of the situation, Lo tells Lauren that she's done trying to make peace with Audrina.
Exiting the kitchen, Lauren runs into Frankie, who notices she's stressed. Feeling like the party is a disaster, Lauren tells Frankie that she's not sure how she can help bring Lo and Audrina together. Frankie thinks she might not be able to repair their relationship, which leaves Lauren wondering where she stands with her two besties.
With a new and improved look, Holly's visit with Heidi and Spencer comes to an end. But she hints that she might be seeing more of them in the future -- yes, she's considering moving to The Hills! Heidi's enthused about the idea, but Spencer finds the news annoying.
At People's Revolution, Lauren gives Whitney the lowdown on the BBQ. Lauren says she was stranded by Lo, who decided to hang out upstairs. To make matters worse, Lauren was so stressed about Lo and Audrina that she completely ignored Doug.
After a push from Lauren, Lo decides to chat with Audrina. In an attempt to apologize, Lo says she's sorry for bailing on the party. But she makes it clear that their current living situation is not ideal. Lo thought they'd all be friends, but there's been a lot of tension in the house. Audrina agrees, saying the threesome just doesn't click.
As the conversation continues, Lo says she doesn't think Audrina has tried hard enough to make the friendship work. Audrina admits that she feels left out, but thinks it's because Lo has an attitude. Fed up with the situation, Audrina says she doesn't care about trying to mend the bad blood between them; she doesn't think they'll ever be friends. Realizing their conversation is going nowhere, Lo gets up and leaves.