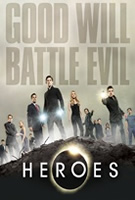 TV Info
---
Episode Premiere
October 15, 2007

Distributor
NBC

Genre
Drama, Sci-Fi

Show Period
2007 - 2010

Production Company
NBC Universal, Tailwind


Cast and Crew
---
Director
Adam Kane
Screenwriter
Tim Kring
Main Cast
Additional Cast
Jackson Wurth
Justin Evans
Countrified Wedman
Taira Soo
Synopsis
---
In an awkward encounter, a disturbed Noah Bennet asks Claire if she's dating someone. "There's no boy," she responds after a long pause. In New York, Molly wakes up from yet another nightmare. In Washington, D.C., Nathan surprises his sons at their school to promise that he's coming home soon.
Maya, Alejandro, and Derek cruise along a dusty Mexican street when they almost run over someone passed out in the road... Sylar! Maya gets excited when Sylar tells her he's going to New York to find Chandra Suresh. She shows him "Activating Evolution." Sylar said he's read it and even knows Dr. Suresh. Maya thinks it's a sign from God, but Alejandro is suspicious of their new traveling companion.
Micah's rowdy relative Damon wakes him up by splashing water over his face. Nana Dawson tells Damon to watch himself as Monica sets out to get the results from a regional managerial test she took. Damon asks his grandmother for money for a wrestling pay-per-view but is turned down.
From her hospital bed, Angela Petrelli confesses to murdering Kaito. She sends Matt a mental message: let it go. In the halls of the NYC police station, Matt tells Nathan that he's aware Angela is innocent and that Nathan can fly. Matt tells Nathan about being able to read minds and asks for his help. Back in California, West finds Claire, and she tells him they shouldn't hang out. He persists and asks for one date, and she agrees.
Camille, Monica's coworker at Burger Bonanza, warns her childhood friend not to get her hopes up about the test. Monica says that if she makes manager, she can earn enough money to return to school and get her degree so she can help her struggling family. They look down to see that Monica just chopped a tomato into the shape of a rose: it is something she saw that morning on a cooking show. Moments later, Monica is told that she wasn't accepted into the management program.
Claire lies to her family about going to the library and meets up with West outside. In New York, Nathan shows Matt a photo of 12 people that features Linderman, Charles Deveaux, Kaito, and others. Matt is shocked to see one of the people in particular... his long-missing father.
Atop the Hollywood sign, Claire opens up to West, but feels that she can't trust anybody. He asks her to jump as a way to show trust in him. She relents and jumps off the sign, only for him to catch her in mid-air. Later, he convinces her to tell her father she's going out for cheerleading so she has a better excuse to leave the house to go see him.
Micah interfaces with Damon's cable box and manages to get the wrestling program to come in. Monica comes home and sees the show. Damon says that Micah rigged the cable. Monica tells Micah that it was wrong for him to do so as she stares at the wrestling program on TV as one wrestler hits another with an acrobatic attack.
Matt arrives home and tells Molly and Suresh that his dad left home when he was 13. He explains that his dad stole a lot of money, and that he needs Molly to find him. When Molly sees the photo she flips out and throws the photo down, explaining that he's the man from her nightmares.
When Derek finds a "wanted" flier for Maya and Alejandro, he shows it to Sylar and says they need to ditch them. Sylar responds by killing Derek and asking the brother and sister what's going on. Maya gets upset and Sylar sees that they both have power. Sylar hits the gas and they head on their way.
Claire sneaks home to find her dad waiting up for her. She admits to lying... she wasn't at the library; she was trying out for cheerleading. She begs him to allow her this one "normal" thing and he relents under the stipulation that she won't date. When Claire leaves, wind chimes start tingling. The Haitian enters the house to tell Bennet that they have to go to Odessa in the Ukraine.
Down in New Orleans, a burglar attempts to rob the Burger Bonanza at gunpoint. Monica shocks herself by perfectly using the same wrestling moves she saw on TV, defeating the thief and sending him scurrying away.
Against Suresh's wishes, Matt insists that Molly find his dad. Molly comes out of her room, agreeing to help. Molly closes her eyes and locates him. However, Matt's dad sees her and she starts screaming. When she opens her eyes, she falls into shock and won't wake up.