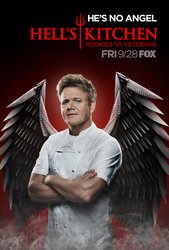 TV Info
---
Episode Premiere
December 08, 2010

Distributor
FOX

Genre
Reality

Show Period
2005 - now

Production Company
Upper Ground Enterprises, A. Smith & Co., Granada


Synopsis
---
After a brief reprieve last week in which no one was eliminated, the final four contestants had a much needed visit with their families. Now Jillian, Trev, Russell, and Nona are more determined than ever to win "Hell's Kitchen." And now, before the first challenge begins, Chef Ramsay announces that because no one went home last week, two people will be eliminated after tonight's service.
In the first challenge, Ramsay instructs the final four to create a fusion dish using a combination of two countries' cuisines. They draw flags to determine which nations each will represent in their dishes. When they are done cooking, Chef Ramsay introduces the contestants to the judges, all from acclaimed Los Angeles restaurants - Philip DuBose from Asia de Cuba, Helene An from Crustacean, and Lee Hefter from Spago.
The judges are less than impressed with the first three dishes presented. They agree that Trev's Mexican/Chinese carne asada with habanero chili is bland. Chef Hefter thinks Nona's seafood ragu combining the flavors of Greece and Italy has "too many things at one time in the same dish." And Russell is told that his French/Indian Duck a l'Orange with curry powder is overcooked and missing the fusion of the spices of India.
After her competitors fail, a less-than-confident Jillian presents her Spanish/Thai shrimp with chorizo, spicy mayonnaise, and soybean curry. The judges unanimously choose her Thai paella dish as the winner. For her reward, she gets a limo ride and a one-on-one lunch with Chef Ramsay at Spago.
In addition to prepping the kitchen for tonight's dinner service, the remaining three players have to remove all the extra furniture from the dorm, which was furnished for 16 but now only houses the last four contestants.
When Chef Ramsay and Jillian arrive at Spago, her husband and two sons are there to greet them. Chef Ramsay spends some time at the restaurant but then leaves them for a private family visit.
Meanwhile back at "Hell's Kitchen," Trev, Nona, and Russell start packing up the dorm and loading boxes onto a moving truck before turning to prep the kitchen for dinner service. Russell gets annoyed when he finds that he needs to teach Trev how to dice shallots, and the two butt heads over how to make the cream sauce.
Before dinner service starts, Chef Ramsay announces that each contestant will get a turn running the pass during the evening. He warns them, "You run the kitchen - or the kitchen runs you."
Russell is first to take charge, and he gets off to a good start. Then Chef Scott tests his quality control by using pecans instead of walnuts in the truffle salad. Russell notices the error immediately and sends back the salads. He also rejects Trev's raw fish, causing him to get defensive and angry. Russell is having trouble keeping Trev in line, but after urging the other chefs not to argue, he regains control of the kitchen.
Next up is Nona. After a slight hesitation, she takes charge at the pass, and the kitchen is running smoothly. For her quality control test Chef Scott gives her mashed celery root instead of mashed potatoes. She does not taste the difference, and moments before she sends out the incorrect food, Chef Ramsay stops her. She quickly redeems herself by asking for more seasoning in the chowder from Russell.
Then Trev steps up to the pass for his turn. The other contestants are not listening to him, and he loses control of the kitchen. When he calls out the entrees before the appetizers are sent, Chef Ramsay loses his patience. Service has stalled under Trev's leadership, as Chef Scott steps up to test his quality control. But Trev easily catches the sabotage attempt and sends back the sea bass that should have been halibut.
Jillian is last chef to run the kitchen, and she commands respect from her fellow contestants. Her assertiveness pays off with a smoothly running kitchen, but when it comes time for her quality control test, she does not do as well. She questions the amount of sauce delivered with the steaks, instead of noticing that Chef Scott has delivered a New York strip instead of a rib-eye. She tries to overcome the mistake by demanding better fish from Trev, but he is unable to deliver.
A frustrated Chef Ramsay takes back control of the kitchen and threatens to throw Trev out if he brings one more piece of improperly cooked fish to the pass.
After completing dinner service, Chef Ramsay sends the four competitors up to the dorm to discuss who should be sent home. The chefs cannot come to an agreement, but when they return to the kitchen Chef Ramsay does not even ask whom they have chosen. Instead, he immediately announces that one of them is not ready to be the executive chef at L.A. Market.
"That person is Trev," Chef Ramsay says. "Take your jacket off, big man. You fought against all odds, and your determination never wavered."
After the three remaining contestants give their heartfelt pleas to move on to the last round, Chef Ramsay declares that Russell is the first person advancing to finals. He then decides that Nona will be joining him.
He tells Jillian that she was "a fierce competitor," and he lets her hold on to her "Hell's Kitchen" jacket because she "deserves to keep it on."
In her confessional, a disappointed Jillian says she thought she deserved a spot in the finals because she was the only person all season who never got put up for elimination.
Next week Russell and Nona will go head-to-head to determine who wins Season 8 of "Hell's Kitchen."
"It's going to be an amazing final," Chef Ramsay tells the final two contestants. "Good luck!"